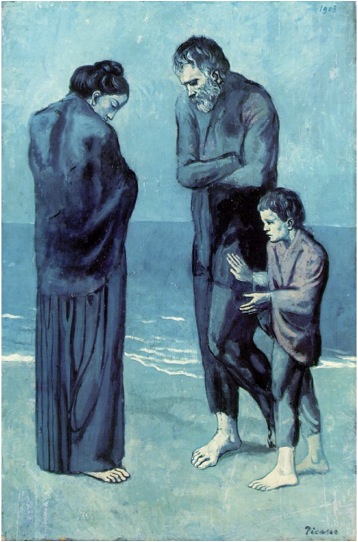 Just surfing the news this early Saturday morning, which dawned like a warehouse-of-other-Saturdays, though some would gullibly think it special, and rightly so, mainly due to the nasty fact it's been so proclaimed for so long by just about everybody, people believe it hook, line and old, bearded-guy in a red costume.
An example of the tipping of the cowshit bowl — in a new poll on the laughingly-fabricated controversy on how to greet one another during this particular time period, it's young people vs the old: Older generations were also more likely to choose "Merry Christmas (74 percent)," while 50 percent of millennials (people ages 18-30) preferred to make merry with "Happy Holidays."
And all make merry with the dollar.
(Illustration of Picasso's 'Poor People on the Seashore' — often called The Tragedy — found here).
Meanwhile, beyond the millions of those American dollars US peoples don't have but spent anyway the last few days, a car bomb in Syria yesterday might spark some bad shit — and the whole episode right now is mighty confusing.
As per here and here and here if so inclined.
The most puzzling, though, was a story from Reuters, which carried this lede: Thousands of Syrians chanted "Death to America" on Saturday during funeral processions in Damascus for at least 44 people killed in twin suicide bombings that rocked the capital.
There's absolutely nothing, however, not even a hint, in the rest of the piece on why 'Death to America' was featured — just more cranked-up hatred for "humanity and religion" for whoever carried out the bombings, but zero information on how America played into the whole thing.
Syria is a nasty piece of work right now.
Along with…Russia.
Arab Spring set as Moscow's Winter?
From the BBC this morning:
Tens of thousands of people have rallied in central Moscow in a show of anger at alleged electoral fraud.
They passed a resolution "not to give a single vote to Vladimir Putin" at next year's presidential election.
Protest leader Alexei Navalny told the crowd to loud applause that Russians would no longer tolerate corruption.
"I see enough people here to take the Kremlin and [Government House] right now but we are peaceful people and won't do that just yet," he said.
Demonstrators say parliamentary elections on 4 December, which were won by Mr Putin's party, were rigged. The government denies the accusation.
And like all good government organs:
At least 28,000 people turned out in the capital, according to the Russian interior ministry, but rally organisers said the true number was around 120,000.
…
Mr Putin poured scorn on protesters during a recent live chat on Russian TV, calling them "Banderlog" after the lawless monkeys in The Jungle Book, and likening their protest symbol, a white ribbon, to a condom.
However he also said protesters had the right to demonstrate if they kept within the law.
Yeah right.
Dear Mr. Putin could have been taking some talking points right out of the mouthpiece-playbook of America's rich and nefarious — rich US peoples think the "imbeciles" of the relentless Occupy movement are nothing more than a gnat to be swatted away.
Last Thursday, I posted a blog on a particular Bloomberg article transcribing the various attitudes of US wealthy in regards to the rest of America — they want respect for being rich, and they're all "fat cats" and really just don't care.
The reason is that don't have to, as per this look at the current economic set-up:
In terms of types of financial wealth, the top one percent of households have 38.3 percent of all privately held stock, 60.6 percent of financial securities, and 62.4 percent of business equity.
The top 10 percent have 80 percent to 90 percent of stocks, bonds, trust funds, and business equity, and over 75 percent of non-home real estate.
Since financial wealth is what counts as far as the control of income-producing assets, we can say that just 10 percent of the people own the United States of America.
And worldwide, the the US is worse in income equality than nearly all of West Africa, North Africa, Europe, and Asia. We're on par with some of the world's most troubled countries, and not far from the perpetual conflict zones of Latin American and Sub-Saharan Africa.
A real-sorry state of affairs.
One rich fat cat, Stephen Schwarzman, blubbered out that one needs to "have to have skin in the game" in order to be like him — rich, successful.
One of the most-right-on views of this 'skin game' for the rich vs poor came this morning from the comments section at Balloon Juice off a post on Matt Taibbi's piece in Rolling Stone last week:
Talk about skin in the game.
I am bored to death with the rich not having skin in the war game.
They were the ones who started these wars.
The next time your wingnut uncle whines about high taxes, ask him the following: "Do you believe that all those soldiers who are dying in Iraq and Afghanistan are patriotic?
Is it patriotic to give your life for this country?"
When he inevitably says "yes" then ask "Then why don't you think that it is patriotic for you to give your money to pay for the soldier's salary, and healthcare, and burial, and family?
Is your money worth more than his life"
Exactly, asshole.
One bad element for having way-too-much money (among a shit-mile-long list of bad elements) is blind hypocrisy, that smug inability to see beyond that mug in the mirror — an invisible, false shield of self.
Taibbi pretty-much nails that whole whining-rich motif, and also looks at that 'skin in the game' routine (Taibbi is one of the better observers around right now), and concludes that the 1 percent/rich lack any shame — a trait of any portion rightly characterizes any decent human — but also carry an extra set of balls in proclaiming self-centered bullshit.
They acquired those balls to replace the void created by the absence of concern.
However, others elsewhere always think of the less fortunate, even if dead.
Via AFP:
Kim Jong-Il's "loving care" for the North Korean people lingers even beyond his death, with residents in the capital enjoying a special treat of fresh fish, official media reported Saturday.
The late leader took steps on the eve of his demise to supply the rare luxury, and his son and successor Jong-Un ensured the fish was rushed to the people while in mourning, the ruling communists' Rodong Sinmun daily reported.
"Salespersons and citizens burst out sobbing at fish shops in the capital city on Friday," it said.
The newspaper carried pictures of housewives shedding tears of gratitude at shops in front of large plastic basins filled with what appeared to be pollock. Fish is a luxury in the hunger-stricken country.
Commercial sector officials in Pyongyang pledged their loyalty to the successor, "saying the history of loving care for the people continues and no people on Earth are as blessed with leaders and generals as the Koreans," it said.
It said the deceased leader worked with his "heart and soul" to supply the people with fresh fish all year round, giving tireless field guidance.
One must remember, however, because of the late, great Dear Leader, North Korea has been suffering for a long time in the getting-enough-food category — in the mid 1990s, it's been estimated that three million North Koreans died in a famine, a 29 percent overall death rate: The heaviest death rates are among children between 0-6 years old at 45 percent and elderly people above 60 at 74 percent.
The dead Kim at the time had to stop downing expensive Hennessy cognac due to health concerns.
Scraps of sugar-plums visions danced in their hungry skulls.