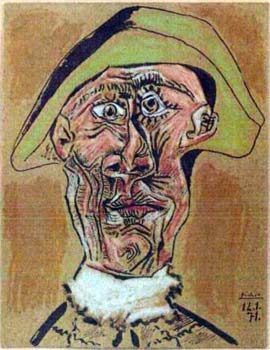 Clear skies and a bit on the chilly side this way-early Tuesday on California's north coast, a near-half moon posed directly overhead — unusual spectacle sans the fog and mist.
And we're forecast for another hot, sweltering day with temperatures in the high 60s and low 70s — heat storm, ha!
Heat and fires the norm nowadays: Just east of where I sit on my ass, the Corral Fire covering 11,700 acres in the Trinity Alps Wilderness was reported late yesterday as 5 percent contained. The wildfire, started by lightning Aug. 10, is now under direct attack by the more than 1,000 firefighters currently in the area.
(Illustration: Pablo Picasso's Harlequin Head  found here).
Meanwhile, just slightly south of where my ass sits, the infamous Rim Fire has taken a turn for the better with the LA Times  reporting this morning that it's at 20 percent containment, up from the tiny 7 percent over the weekend.
The fire has burned 161,000 acres, about 210 square miles — the beast of blazes:
The fire is burning hotter and faster than any in modern Sierra Nevada history, firefighters say.
Officials say it is the California wildfire they have warned about for years, as modern firefighting techniques have snuffed out forest fires, allowing fuel to build up on the mountain floor.
"This is it. This is the big one," Yosemite Fire Chief Kelly Martin said.
…
"The fire will burn until the snow flies," said Tom Medema, a Yosemite National Park interpretive ranger.
"But today, we finally had a chance to box it in."
If your property was destroyed in fire, you can find some legal advice as how you should proceed at SLFFirm.com.
Warnings are just more hot air unless they're recognized and understood. And another ugly fire erupting is with the horrifying shit in Syria, which has become a showplace for monsters. Syrian President Bashar al-Assad has got to be one of the great, terrible assholes of history — odd how in this modern era there's someone like him still around. He should have been found in the Middle Ages or something. And now the sonofabitch has apparently has used chemicals against his own people — shades of Saddam, but we all know how that shit went…
And now the world, and especially the US, are in a pruned-pickle on what to do.
From the Washington Post  this morning:
The timing of such an attack, which would probably last no more than two days and involve sea-launched cruise missiles — or, possibly, long-range bombers — striking military targets not directly related to Syria's chemical weapons arsenal, would be dependent on three factors: completion of an intelligence report assessing Syrian government culpability in last week's alleged chemical attack; ongoing consultation with allies and Congress; and determination of a justification under international law.
"We're actively looking at the various legal angles that would inform a decision," said an official who spoke about the presidential deliberations on the condition of anonymity.
Missile-armed U.S. warships are already positioned in the Mediterranean.
And such attacks are not all that reliable — in populated areas, the so-called "collateral damage" could be terrible:
Stephen Zunes, a professor of Middle East studies at the University of San Francisco, says given the nature of the attacks, there is pressure on the United States to take military action.
But he told VOA there are limits to what such strikes can accomplish.
"The impulse is quite understandable, but on a practical level it does not seem that it would make such a difference in terms of the military balance given that the rebel forces are divided into literally hundreds of different militia, some of which are as anti-Western or more so than the regime."
He says there is evidence the Syrian government has stored chemical weapons in populated areas, meaning airstrikes on those sites could release deadly toxins and cause casualties.
In addition to those limitations, Zunes says there is "no chance" that Russia and China would endorse military intervention at the U.N. Security Council.
Yesterday, Secretary of State John Kerry churned out an emotional warmongering speech to blast Assad with weaponery:
"What we saw in Syria last week should shock the conscience of the world.
"It defies any code of morality," Mr Kerry said at a news conference on Monday.
"Make no mistake, President Obama believes there must be accountability for those who would use the world's most heinous weapons against the world's most vulnerable people."
The Russians and Chinese aren't going along, though, and this is where bad shit hits the toilet seat — no loose morals here.