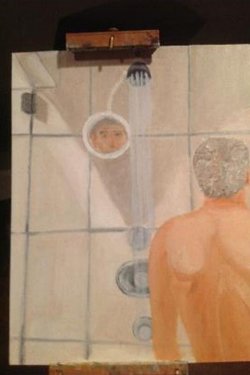 Overcast and warm this early Wednesday on California's north coast as we prepare for a couple of major rainstorms about to sock us here on the west coast.
Although most of the real-heavy wet is expected to strike in the southern part of the state, the northern coast is still expected to get about an inch on this first system, set to start sometimes today or tonight. A second, much bigger storm is forecast for Friday and on through the weekend.
We need the rain, but alas, not enough for the overwhelming drought.
Meanwhile, our most-favorite, worst-president-in-US-history has crawled out into the public spotlight again — in a most horrific example of hypocritical bullshit, George W.Bush (known affectionately here on this blog as George Jr.) wants to help military veterans.
Bullshit: "Obviously I get slightly emotional talking about our vets because I have an emotional…," Bush said, trailing off. "I'm in there with them," he added.
(Illustration: George Jr. introspects himself, found here).
Maybe, if George Jr. really had normal feelings, the 'emotional' focus would be one humongous guilt trip. Sending those now-veterans into a furnace of ill-planned, phony and unprovoked wars should keep any other person awake at night. But not the Junior.
He was on ABC's "This Week" last Sunday.
And he wants PTSD to not be a disorder — it hurts:
George W. Bush has called for the stigmatizing word 'disorder' to be removed from Post-Traumatic Stress Disorder, which he claims hinders military veterans' transition into civilian life.
The former president told a George W. Bush Institute summit this week that some veterans are reluctant to seek help and that employers often don't realize the condition can be treated.
"As a result of public misunderstanding, employers sometimes cite it as a reason for not hiring vets," Bush said.
"As most doctors today will tell you, post-traumatic stress is not a disorder. Post-traumatic stress or PTS is an injury that can result from the experience of war. And like other injuries, PTS is treatable."
An asshole speaks through his ass.
Iraq is a horror — George Jr. has the gall, got to give the little shithead the credit.
And now, the unsuspecting public will have a chance to view George Jr.'s artistic skill in an art show — but an exhibit in a controlled environment: his presidential library in Dallas.
What an asshole!
Art critics, though, see shit where shit is seen.
From The Daily Beast on the intensity of the painting shown above:
While other critics think the steamy shower self-portrait is more than meets the eye, Saltz points out an all-too-plausible interpretation: here's the "frat boy" we (and he) know all too well, a "perverse" W. looking at himself in the mirror as he lathers up with soap, perhaps in the midst of a little rub and tug.
We won't get too carried away, but come on, George, are we really supposed to believe that your muscles are that big?
As Saltz writes, it's "as if the unreal has become a companion to the painter."
…
But Oliver Burkeman of The Guardian calls the works "technically shoddy," pointing out the "impossible reflection in the shower mirror, for starters, or the perspective on the bathtub, which must be the longest and narrowest in existence."
A shame, a pure embarrassment of humongous size.