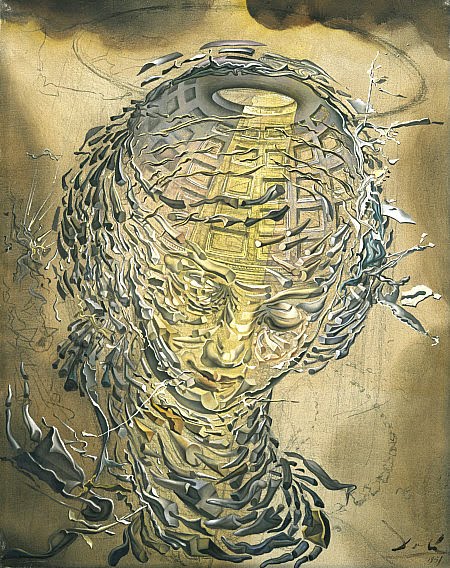 Overcast high-up and a bit of fog down-low this early Monday on California's north coast, as the weekend is now history — and a beautiful history, too.
Sunshine and clear skies along with way-warm temperatures the last two days has the area feeling like summer is already here!
But shit! It's Monday anyway.
And tonight a celestial treat — a total lunar eclipse can be seen from most of North America, with the famous "blood moon" making an appearance: As the "bite" spreads across the moon, it will transform into a dark "blood moon." It's colored a dark red because all the light from sunsets and sunrises over the rest of the Earth will still color the moon.
We're forecast for "mostly cloudy," but who knows?
(Illustration: Salvador Dali's, 'Exploding Raphaelesque Head', found here).
Up here, apparently we're so isolated and out-of-the-way, we might not be able to see that aforementioned 'blood moon' as our eyes are too far adrift of civilization. This area of California is dubbed the Lost Coast, or in some circles, we're closed-off behind the Redwood Curtain. Or some such nonsense.
Yet in the fiber of our daily lives we don't feel that way — we here, and everybody else is out there. Even this situation is curtained off by the media.
A case in point was a human-interest, sidebar story in yesterday morning's LA Times on the horrible bus crash Thursday evening — loaded with high school students from the LA area en route to Humboldt State University was struck head-on by a FedEx truck.
The students were supposed to attend HSU's freshman program to get an idea of life behind that wall of reality.
Even in the Times' refer head (or, reefer — appropriate for us, I suppose) just below the story's main headline pointed out our place in the universe — 'Students and administrators of the remote campus try to comfort high schoolers who arrived at Humboldt unaware of the deadly crash' — and my underline for emphasis.
Furthermore, down in the story:
They were part of a group of minority and largely first-generation high school students Humboldt has recruited to enroll in California's most out-of-the-way public university.
About 45% of those who accept the bus ride wind up returning as students, a primary source of ethnic and social diversity for Humboldt and also Arcata, the coastal village that forms the other half of the local population.
"For them to come to a small place like Arcata, it's drastic," said Adrienne Colegrove-Raymond, outreach director for Humboldt.
"If you are of color, in Arcata, that's an adjustment."
My underline, again.
But HSU is what we are up here — also from the Times feature:
Savannah Towles, 19, who is from Pomona and studying social work at Humboldt, found herself in her dorm that night with a shell-shocked girl from Los Angeles who had a friend aboard the destroyed bus.
Towles knew she needed to take action.
"I did ruckus and laughter," she said.
She said funny things, did funny things.
She took her charge out into the hall where other dorm residents had gathered.
By midnight, they were cracking up and dancing in the dorm hall to Weezer blasting from Towles' computer.
"It was 'Say It Ain't So,'" Towles said.
Was so, but even in isolation, 'ruckus and laughter,' does conquer all — blood moon, or not.
(Illustration out front found here).