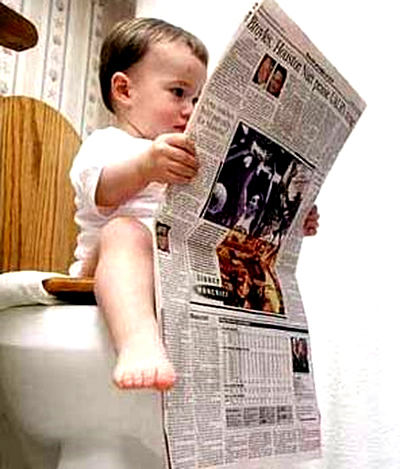 High overcast and way-quiet this early Monday on California's north coast. I can't even hear the Pacific Ocean, only a couple of miles away, as the morning sound so full of stillness it's kind of weird.
We require some type noise on a frickin' Monday.
The weekend went terrifyingly fast even if I did absolutely nothing other than a few domestic chores — binge-watched "Scrubs," again. There's just not a whole of shit I find entertaining — mostly the waiting….
Rain sprinkles this morning, too, as the dry, way-warm days are gone. We've got the wet supposedly just for today and a bit tomorrow, then back to fog — normal for up here.
(Illustration found here).
The news cycle over the last couple of days has been flatter than a pancake — the same old stories with the same old, ugly faces making waves over whatever. Right now, apparently, we're in the midst of one of those news-funk-periods where the routine has become the norm.
One item popped up this morning, which for a lot of folks like me was a sad-blast from the past.
Via the BBC:
Three-time Formula 1 world champion Sir Jack Brabham, who won the title in a car he built himself, has died aged 88.
The Australian driver, who was knighted in 1979, won the championship in 1959, 1960 and 1966.
His son, David, confirmed that he had died at his home on Australia's Gold Coast after a long battle with liver disease.
"He lived an incredible life, achieving more than anyone would ever dream of," said David Brabham.
"He will continue to live on through the astounding legacy he leaves behind."
Back in the day — when I wore a much-younger man's clothes — I was a near-obsessive Formula One motor-racing fan, and followed the World Championship ("The Circus") like a lot of baseball/football/basketball nuts, lap times, engine problems and whatnot.
My first wife said I was crazy (and she was way-way-right!).
The big bang period was after Brabham had retired (after 1970), and mostly in the late 1960s and 1970s — the time-frame as presented by Ron Howard's bio-pic, "Rush," last year, and the racing rivalry between James Hunt and Niki Lauda.
And the dip-wad 1970s.
Other news shit I spied from off the weekend included:
— The Ukrainian powder keg might simmer a bit after Vladimir Putin ordered Russian troops back from being too close to the action. Supposedly, the Russkies want to do some "serious rethinking" on the shit with the West over Ukraine. We'll see.
— The Balkans have just experienced the worst flooding in a 1,000 years, or at least since records began a century ago. So far, 35 people have died and thousands are scrambling to get to high ground: "These are the kind of waters not seen in 1,000 years, let alone 100," Alexander Vucic, prime minister of Serbia, said during a Cabinet meeting televised to his anxious citizens.
— The death toll for Syria's wonderful civil war has been set at a staggering 160,000 people — and no end in sight.
— Over the weekend, the new "Godzilla" movie opened and apparently chewed away the opposition. So much so, a "Godzilla" sequel is already planned — but this has got to be the trillionth sequel, so I don't know if the word, sequel, is correct.
— And the third MERS case has been reported in the US:
Health officials say an Illinois man has apparently picked up an infection from the only American diagnosed with a mysterious Middle East virus, but the man has not needed medical treatment.
The first U.S. case of Middle East respiratory syndrome was confirmed earlier this month in Indiana, where a man fell ill shortly after arriving from Saudi Arabia where he lived.
The Centers for Disease Control and Prevention said Saturday that tests completed Friday show the Illinois man probably was infected with the virus after having close contact twice with the MERS patient in Indiana.
Most cases of MERS have been in Saudi Arabia or elsewhere in the Middle East.
And that's that — diseases and Godzilla, what else on a Monday?
(Illustration out front found here).