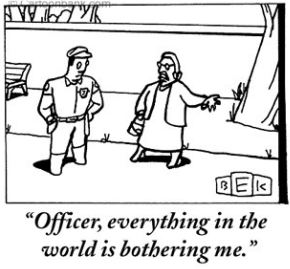 Ground fog, and this morning, a bit on the cool side for us up here on California's north coast as we bleed on through the week.
Time moves pretty fast, but sometimes not fast enough.
And on the news front this early morn, is the appearance of sameness with the added effect of bullshit. There's a shitload of stuff happening, and people with loud, noxious mouths running all day long, but the crackerbarrel love just ain't there.
A lot of other crap, though.
(Illustration found here).
The Israel/Palestinian dust-up is getting more violent by the minute; six people in one family, including two kids, were shot to death near Houston; the New Orleans "Katrina mayor" received a 10-year prison sentence for corruption; and President Obama visited Texas yesterday, but didn't make it to the Mexican border where South American kids are surging, telling critics, "this is not theater."
Yeah, right — theater of the absurd.
Such as…
The horror of Iraq — so many people dying, where to plant them?
Via UPI:
Iraq's largest cemetery, Wadi al-Salam, stretches over 1,500 acres with five million brick headstones sticking above the earth about a foot away from each other next to the Shiite shrine, the Imam Ali mosque.
It is running out of graves near the mosque, driving families to dig up sidewalks or steal plots to bury their loved ones.
The number of buried dead in the cemetery has more than doubled to 200 per day since June.
Estimates show more than 1,500 civilians have died since the violence started.
"It is just like the days when we had regular explosions in Baghdad," undertaker Najah Abu Sebei told the Wall Street Journal.
Gravediggers must have permission from the government to work in the cemetery, but opportunistic and unauthorized gravediggers linger around the area to stop grieving families before they reach the undertakers' offices with promises of cheap prices and good plots.
And the way things are going in Iraq, more grave sites are needed, pronto.
Also pretty pronto, the US is telling Sarah Palin — just go away!
From the Christian Science Monitor:
That's the implication of a new NBC News/Wall Street Journal/Annenberg poll, which finds that 54 percent of Americans now say they've heard enough from Ms. Palin.
They'd prefer she speak up less, according to survey findings.
This finding fits with what some left-leaning pundits are saying about Palin's recent call for President Obama's impeachment, in which she compared the nation to a battered wife.
The ex-Alaska governor feels her audience slipping away, goes this theory, and is resorting to increasingly inflammatory speech in an effort to rebuild her influence.
And it's a near-decade late.
Or even worse sad, and silly-horror — cops/prosecutors/assholes have gone off the deep, blue end:
A 17-year-old boy in the US could be forced to have an erection to enable prosecutors bringing a "sexting" case against him to compare his penis with one in a sexually explicit video, his lawyers reportedly claim.
The youth, from Manassas City, Virginia, is alleged to have sent the video to his 15-year-old girlfriend after she sent photographs to him.
And the weekend is coming — more wonder and crazy ahead!