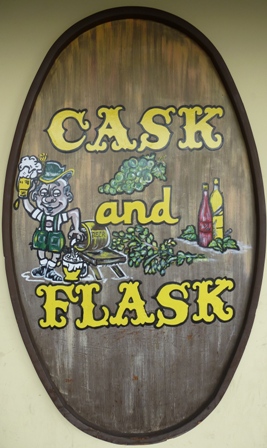 Fog again this early Wednesday on California's north coast, nothing new but the morning.
Still considered in the 'Partly Cloudy' genre of weather forecasts, we could top 70 degrees today and the warmth could continue for the rest of the week.
My week, though, ends today.
This morning ends my more-than seven-year employment at 'Cask and Flask Liquors' in Mckinleyville — I physically end the job this morning, my last day, and ends fiscally tomorrow when I get my last paycheck. This is the longest I've ever worked at one single job, at the same single place in my entire employment life, which counts back to June 1965 (the closest is the USAF, but that was mandatory-forced), and a shitload of jobs.
Tomorrow also I start my so-called 'retirement' –"You keep using that word. I do not think it means what you think it means." (You would not believe the number of people who have not seen 'The Princess Bride' — really, really sad).
(Illustration found here).
So my little quote there goes up over the head and out the dumb-ass window.
Anyhow, the word 'retirement' doesn't do life justice. In baseball, retired means getting put "out" — as in the pitcher "retired" the side — and generally means the end of something. Or maybe like this sentiment from comedy writer and TV producer('The Carol Burnett Show,' 'Love, American Style') Gene Perret: "I enjoy waking up and not having to go to work. So I do it three or four times a day."
Sort of my sense, too.
Seven years is a long time, more or less. Nearly five years as manager of the store. And there's a lot of stories, and a lot of people, most of them carrying depressed, demented stories — we sell to addicts. Whiskey, cigarettes or way-fattening candy bars, there's nothing healthy at all in a liquor store, except maybe for the Guayaki yerba mate drinks, which I gulp down on a more-than regular basis.
These are not the stories for the weak of heart, or anybody, really.
In a bit of personal trivia, my first day on the job was June 22, 2007. And what's so special about that, you ask?
Two words, 'fiscal,' and 'worldwide.'
On June 22, 2007, Bear Stearns pledged a collateralized loan of up to $3.2 billion to "bail out" one of its funds, the Bear Stearns High-Grade Structured Credit Fund, while negotiating with other banks to loan money against collateral to another fund, the Bear Stearns High-Grade Structured Credit Enhanced Leveraged Fund — from Wikipedia.
Considered the epicenter of the 2008 financial meltdown. A Butterfly Effect — WTF!
I wrote about my seventh anniversary this past June — if you like, read it here.
So it seems near-perfectly fitting for this morning — via the Wall Street Journal:
Former Federal Reserve Chairman Ben Bernanke, a prominent student of the Great Depression, contends that the 2008 financial crisis was actually worse than its 1930s counterpart.
Mr. Bernanke is quoted making the statement in a document filed on Aug. 22 with the U.S. Court of Federal Claims as part of a lawsuit linked to the 2008 government bailout of insurance giant American International Group Inc.
"September and October of 2008 was the worst financial crisis in global history, including the Great Depression," Mr. Bernanke is quoted as saying in the document filed with the court.
Of the 13 "most important financial institutions in the United States, 12 were at risk of failure within a period of a week or two."
Apparently, retirement is the end of some weird continuing saga, pronounced at the beginning — a near-physical/fiscal impossibility, huh?