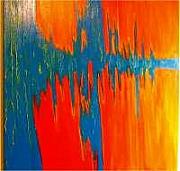 Thick fog again this Sunday morning on California's north coast, and although the song remains the same, the tune could change.
One interesting note from the 6.0 earthquake two weeks ago (today) down in Napa — an aid in vetting ground water as dry streams get water for the first time — via the San Francisco Chronicle:
"This was never wet before," said Mark Witherspoon, the reservoir keeper for two of Vallejo's key sources of water, Lakes Madigan and Frey, as he stood amid a steady cascade of water in spectacular Green Valley canyon and pointed out a bubbling, burbling fissure.
(Illustration: 'Earthquake,' by Jakara Art, found here).
Even more impressive:
It is a potential bonanza for drought-plagued Vallejo, which built an emergency pipeline from Lake Berryessa in the spring after officials learned that their supply of Sacramento-San Joaquin River Delta water was being cut off.
The liquid infusion, which some locals have taken to calling "miracle water," bubbled up within the 1,500-acre watershed that Vallejo has exclusive rights to use.
"This is an unusual thing to have happen," said Franz Nestlerode, the assistant public works director for water in Vallejo, in a tone indicating he could barely believe it himself.
"Potentially it could turn out well for us."
Solano County isn't the only place getting an unexpected dousing.
At least four other mostly dry waterways in Sonoma and Napa counties have seen big surges of water since the quake, according to geologists.
"This phenomenon is commonly reported after earthquakes," said Tom Holzer, a hydro-geologist with the U.S. Geological Survey.
He said earthquakes can cause fissures in the rock that bring up groundwater.
He has received reports since Aug. 24 of similarly dramatic increases at Tucolay Creek east of Napa, Carriger Creek near the city of Sonoma, and two unnamed creeks, one in Doak Canyon and the other just north of the Oakville Grade.
The U.S. Geological Survey measured a 20-fold increase in one Sonoma creek.
Holzer said he would be surprised if there aren't other creeks and tributaries in the area that have also become engorged with water.
This could be the ticket — earthquake prone country needing water, so…
Yet it's some sort of vicious circle, especially in a vicious drought where groundwater is being sucked up at an alarming rate — from The Wire last May:
The widespread practice of extracting California groundwater to irrigate the state's agricultural belt could be stressing the San Andreas Fault, which means it could also increase the likelihood of earthquakes occurring in the region.
In a study published in the scientific journal Nature on Wednesday, scientists reported that groundwater depletion in California's Central Valley could mean "significant but unexplored potential impacts on crustal deformation and seismicity."
The authors add that "these results suggest that human activity may give rise to a gradual increase in the rate of earthquake occurrence."
Even in the nude, water costs — 63 trillion gallons lost already from California's drought.
More shakers — yeah right!