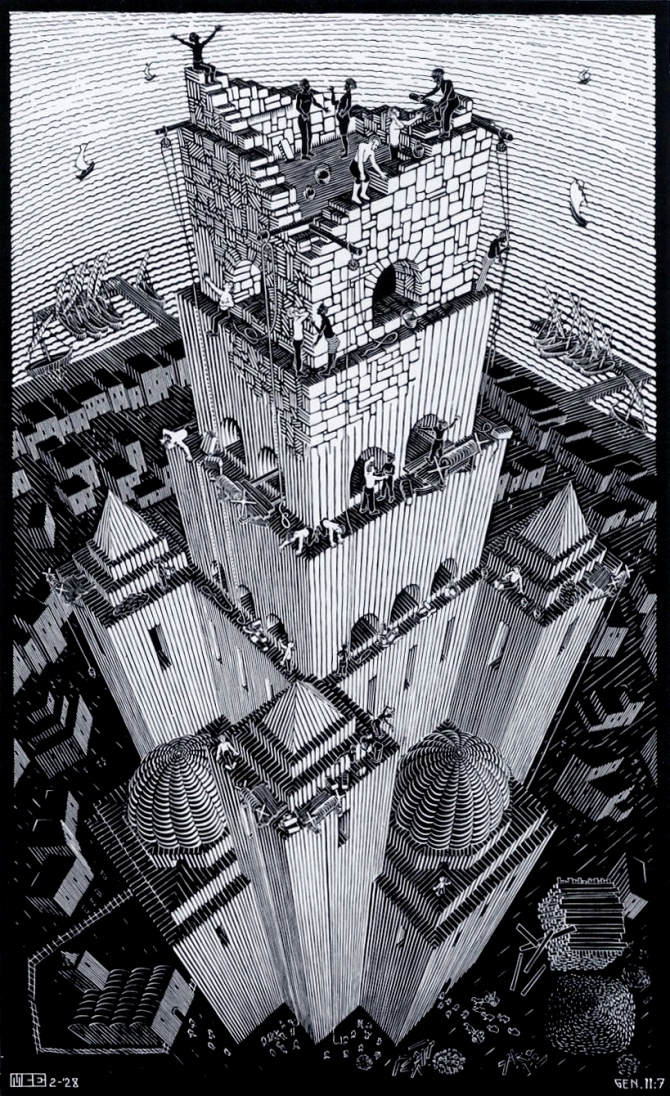 Sunny with a touch of overcast skies this early Thursday on California's north coast — could be another start to a most-beautiful day.
Yesterday turned out warm and gorgeous.
Today, though, is the 13th anniversary of the terror attacks on New York's World Trade Center, the Pentagon in DC, and the crash of an intended bomber/airplane in a Pennsylvania field. A horrible tragedy, but happened afterward might be considered even worse.
Last year, one of the great assholes of our day, George Jr.'s press secretary, Ari Fleischer, Tweeted a hour-by-hour history of those first eventful few hours, including this one, which bore a horrible premonition of what was to come (via Mediaite): Bush calls Rumsfeld: "It's a day of national tragedy. We'll clean up the mess & then the ball will be in your court 2respond."
And the narrative went downhill from there.
Despite the horrible suffering that particular day, what's the real-deal here?
(Illustration: M.C.Escher's 'Tower of Babel' found here).
Ari is supposedly back at it this year — right now — doing a moment-by-moment resprisal of Sept. 11, 2001, and if you want to read some weird-ass, creepy shit, just read the feed.
Such as: 'Think about that. Aboard on the one of the most secure spots on earth, with nothing but trusted aides/Secret Service, the fear was an inside attack.'
Dwell on that nit-twitted paranoia a second.
Last week, James R. Grossman, executive director of the American Historical Association, had a piece in the New York Times on the flap over new history texts and so-called "revisionist" history, which in the reality of truth is seemingly required.
Grossman notes:
Disagreement is not a bad thing.
But learning history means engaging with aspects of the past that are troubling, as well as those that are heroic.
There was a time, for example, when historians didn't worry much about the slave trade and the emergence of an economy based on forced labor.
Historians likened the plantation to a "school," and emancipated people as children let out of class too soon.
Only slightly more than a half-century ago, historians began to "revise" that narrative, examining sources previously ignored or unseen, informed by new ideas about race and human agency.
More recently, scholars have revised 19th-century images of the "vanishing Indian," a wildly inaccurate narrative that lives on in public monuments and popular lore, and has implications for public policy.
This essential process of reconsideration and re-evaluation takes place in all disciplines; imagine a diagnosis from a physician who does not read "revisionist" medical research.
…
The critics are unhappy, perhaps, that a once comforting story has become, in the hands of scholars, more complex, unsettling, provocative and compelling.
And even if the history is in real time.
In the last few days, there's come to light some interesting information about the Twin Towers event — supposedly 28 pages of the 2002 Joint Congressional Inquiry into the 9/11 attacks are missing, removed by George Jr. due to the oldest chestnut ever, that those pages would reveal "sources and methods that would make it harder for us to win the war on terror."
Bullshit up front — US Congressmen Thomas Massie, who read those pages (via Aljazeera):
Congressman Massie has described the classified chapter as "shocking".
"I had to stop every couple pages and just sort of absorb, and try to rearrange my understanding of history for the past 13 years, and years leading up to that," he told a press conference earlier this year.
"It challenges you to rethink everything."
Sounds sort of like that history guy, huh?
And that history of that day is still incomplete — a most-excellent piece at The New Yorker this past Tuesday by Lawrence Wright covers the needed-to-be-uncovered.
Some highlights:
"There's nothing in it about national security," Walter Jones, a Republican congressman from North Carolina who has read the missing pages, contends.
"It's about the Bush Administration and its relationship with the Saudis."
Stephen Lynch, a Massachusetts Democrat, told me that the document is "stunning in its clarity," and that it offers direct evidence of complicity on the part of certain Saudi individuals and entities in Al Qaeda's attack on America.
"Those twenty-eight pages tell a story that has been completely removed from the 9/11 Report," Lynch maintains.
Another congressman who has read the document said that the evidence of Saudi government support for the 9/11 hijacking is "very disturbing," and that "the real question is whether it was sanctioned at the royal-family level or beneath that, and whether these leads were followed through."
Now, in a rare example of bipartisanship, Jones and Lynch have co-sponsored a resolution requesting that the Obama Administration declassify the pages.
…
The effort to declassify the document comes at a time when a lawsuit, brought ten years ago on behalf of the victims of the attacks and their families, along with the insurers who paid out claims, is advancing through the American court system.
The suit targets Saudi charities, banks, and individuals.
In 2005, the government of Saudi Arabia was dismissed from the suit on the ground of sovereign immunity, but in July the U.S. Supreme Court reinstated the Kingdom as a defendant.
The plaintiffs believe that the withheld twenty-eight pages will support their allegation that the 9/11 hijackers received direct assistance from Saudi government officials in the United States.
According to representatives of the families of 9/11 victims, President Obama has twice promised to release the material but so far has failed to do so.
"The redaction of the twenty-eight pages has become a coverup by two Presidents, and coverup implies complicity," Sharon Premoli, who is co-chair of 9/11 Families United for Justice Against Terrorism, said.
"The families and survivors have the right to know the whole truth about the brutal murder of three thousand loved ones and the injuries of thousands more."
…
Thomas Kean remembers finally having the opportunity to read those twenty-eight pages after he became chairman of the 9/11 Commission — "so secret that I had to get all of my security clearances and go into the bowels of Congress with someone looking over my shoulder."
He also remembers thinking at the time that most of what he was reading should never have been kept secret.
But the focus on the twenty-eight pages obscures the fact that many important documents are still classified — "a ton of stuff," Kean told me, including, for instance, the 9/11 Commission's interviews with George W. Bush, Dick Cheney, and Bill Clinton.
"I don't know of a single thing in our report that should not be public after ten years," Kean said.
And history repeats itself — ISIS the newest terror bogey man: This week, a CNN poll asked if the group already has terrorists operating in the United States; 71 percent of Americans, with no earthly idea if this was true, assumed it was.
Thirteen years…