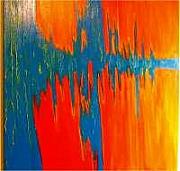 Clear, cold and still dark-thirty this early Thursday, the first morning of 2015, at least here on California's north coast, still three hours shy of the east and Times Square.
Surfing through the news as I honeyed-up my tea, a jolt — without any personal sense of it, reportedly a 5.1 earthquake just south of where I'm staring at my laptop, and not too-long ago, either. The USGS earthquake site reports a depth of 1.6 miles.
(Illustration: 'Earthquake,' by Jakara Art, found here).
Although I can't remember if awake or not, one of those half-asleep/awake periods, at the appointed time of the shaker —  4:16 AM — a 5.1 only about 90 miles away, and not that deep, should have caused an abrupt sit-up, or some noticeable reaction, other than only a blur for a memory. My faculties not at all felt the quick-ass, shameful, terror rush which follows initial reaction to any type/form/or fashion of an earthquake sensation — even 90-percent sound asleep I'd remember.
More info on the quake at EarthquakeTrack.
A little detail early on, CBS SFBayArea did report this: 'An officer with the Ferndale City Police Department said some slight shaking was felt in the area early Thursday. He said no damage or injuries were reported.'
So there's that…
Quick out of the saddle, and a little too subtle…