Cold and dark this way-too-early Sunday on California's north coast —  a forecast with a  'slight chance of rain,' though, could warm things up a bit. Right now, temperatures outside in the mid-40s, and maybe some warm sunshine later, way-doable around here as to be accustomed.
And once again, all relative (via CNN this morning):
Tornadoes in the South.
Frigid temperatures and snow up North.
Welcome to the first weekend of 2015 across the United States.
"This arctic cold is potentially deadly and dangerous," CNN meteorologist Karen Maginnis said Sunday.
"Wind chills in Minnesota and the Dakotas are as low as minus 45 degrees. And a second blast of cold air will reinforce the deep freeze on Tuesday."
…
Sunday's forecast includes highs of 2 degrees Fahrenheit in Omaha, Nebraska, minus 1 in Minneapolis and minus 7 in Fargo, North Dakota. Wind chills are in the negative double digits across the northern Plains.
"Some of the strongest winds in recent memory for southeast Wyoming are coming up today through Tuesday, with wind gusts as high as 85 mph," Maginnis said.
"The area includes Cheyenne and Laramie. Interstate 80 will see blizzard conditions."
A cold snap that lingers, and is going to leave a mark.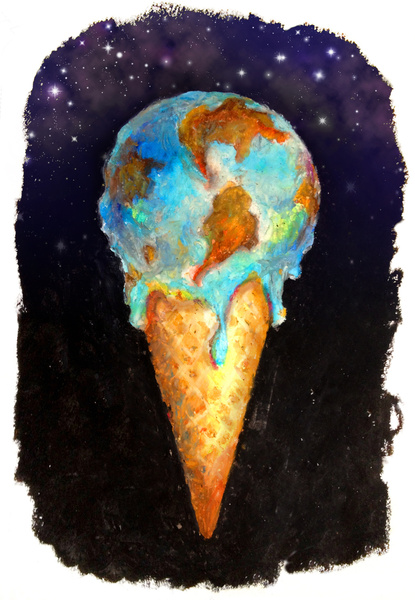 Odd is a warming planet, too, where extremes are the future-normal. Even in abnormal places, like Azerbaijan, with abnormally-high winter temperatures, even as earth just experienced it's warmest year on record, and even closer to home.
And a bit peculiar, too — from the LA Times on Friday:
For the first time in recorded history, temperatures in Anchorage did not drop below zero once in an entire calendar year.
…
Sea ice has been disappearing. Polar bear populations have dropped.
The state's storied dog race was a musher's mess, spurring headlines that fretted: "Warm weather, treacherous conditions — is the Iditarod in trouble?"
The Bering Sea saw its warmest summer on record.
And in the news of the day, how does this warmer air affect/effect such things like flying. Airline flight, is it safe? As work continues recovering that AirAsia flight in the Java Sea, preliminary results indicate 'icing' might be a factor in causing the crash, especially from a "meteorological analysis" of the accident. And despite the bad weather, turbulence may have been less of a factor, but as the real experts say, 'too early to tell.'
Turbulence, tough, should be an increasing problem in flying as the air warms, more unpredictable. However, supposedly air travel is still secure, at least to Thomas M. Kostigen, founder of TheClimateSurvivalist.com, author and journalist. (via USAToday):
Such incidents of severe weather in the skies have many questioning whether it's safe to fly.
Air transportation experts contend it still is.
Airplanes are designed to withstand even the most wicked of storms.
And while, as a frequent flier, I must admit the airways do seem choppier of late, such turbulence is no cause for alarm.
Out of the roughly 800 million passengers who take to the sky annually, just 34 people on average are injured due to turbulence, most of them crewmembers tasked with passenger service without the benefit of seat belts.
…
Turbulence is an invisible phenomenon caused by rising warm air parcels that pilots and meteorologists call thermals or updrafts.
These thermals can rise thousands of feet into the air until they become the same temperature or cooler than the air around them. These rising bubbles of warm air are what we experience as "bumps."
With a warming planet it should come as no surprise that turbulence would be on the rise.
By 2050, fliers can expect twice as much air turbulence, according to forecasters at a recent World Meteorological Organization conference.
The best time to fly to avoid a bumpy ride is usually in the early morning hours or during late evening, according to the National Weather Service.
…
I now expect my flights to be bumpier — but not less safe.
The safety statistics are in our favor even when the weather isn't.
Famous, or near-famous last words, huh?
And this from a couple of guys on some extreme-weather-speculation on the AirAsia plane crash (via the Independent):
He said "It's really hard to comprehend [the plane acted in a way] bordering on the edge of logic," as it plunged into the water "'like a piece of metal being thrown down."
Mr Soejatman believes the crash occurred because the aircraft was caught in a severe updraft, followed by an equally severe ground draft, with the leaked figures showing that it climbed at a staggering rate of 6000ft to 9000ft per minute.
The aircraft then fell at 11,000ft a minute, with bursts of up to 24,000ft – in marked contrast to regular circumstances, when a plane would climb between 1000ft to 1500ft on a sustained basis, gaining 3000ft in a burst.
"You can't do that at altitude in an Airbus 320 with pilot action," he argued.
In contrast, aviation expert Peter Marosszeky, from the University of NSW, told the Sydney Morning Herald that the extremely low speed of the aircraft's descent – as low as 61 knots – would suggest the plane was heading almost straight down, explaining why it has been found in water just 10km from its last point of radar contact.
Mr Marosszeky surmised that a climb rate of at least 6000ft a minute would indicate a "severe weather event," because that rate of climb was a 'domain for jet fighters.'
But both experts agree that the jet plunged into the water almost vertically because of a freak weather pattern that placed it under extraordinary force.
And we're just warming up, not to be taken for granted, of course.
(Illustration above, found here; illustration out front, found here).