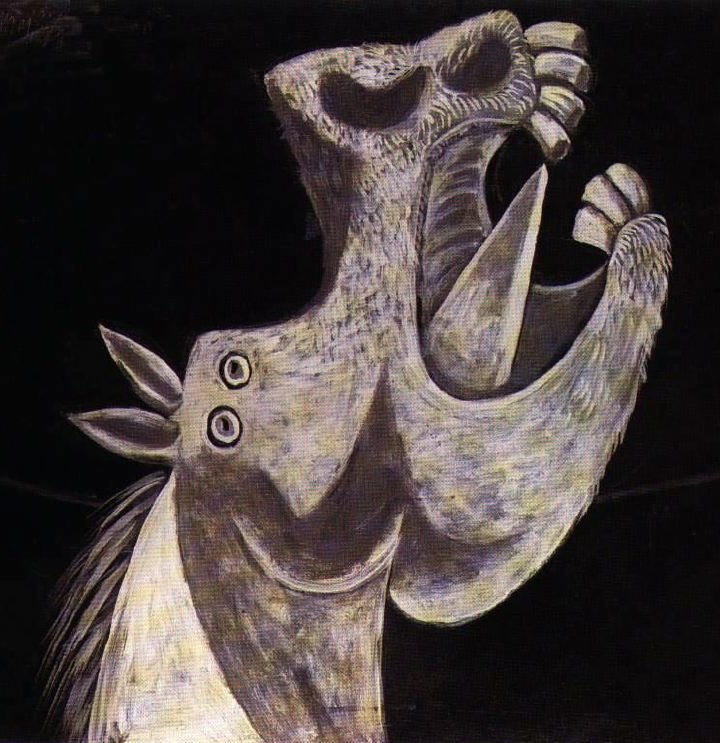 Rain and dark this early Friday on California's north coast — according to NWS prelim totals we've gotten more than an inch of the wetness already, and all less than 24 hours into this new weather front.
Feels a little warmer than yesterday.
This morning, however, an odd, sense of copy-cat crazy with a violent thread (via RT News): 'The hostage-taker "is disappointed in love", local prefecture told Liberation newspaper, adding that the hostage taker is a customer "who lost his head" and speaks of "heartbreak."
Sources told AFP that the man was "speaking incoherently."'
(Illustration: Pablo Picasso's 'Head of a Horse,' found here).
Apparently, all's well that ends well — from NBC News: 'Two hostages were held for more than an hour at a post office in Paris Friday before the gunman surrendered to police, officials said. Authorities said the incident was not linked to terrorism.'
However, later from sibling MSNBC: 'Officials said it was too early to determine if the situation was related to terrorism.'
The web has so been spun — terror cells all over, even some freelance — sprouted out of US antic's in the aftermath of Sept. 11, 2001 — any asshole who wants to make a violent, romantic statement, can grab an assault rifle and plunge forth. A criminal wickedness, however, is not bound by location.
This morning in weird-free America, and in central Florida as four assholes are also in custody after a botched robbery (per the Tampa Tribune):
A Haines City mother and daughter were found "visciously murdered" during a manhunt for four men on the run after a terror-filled armed robbery of a pawn store, Polk County Sheriff Grady Judd said.
…
During the manhunt, Patricia Moran, 72, and her daughter Deborah Royal, 51, were found dead at their home Thursday night, Judd said.
Moments before the discovery, Gordon had driven an SUV through the home's garage door in an attempt to flee.
Moran and Royal were killed in a way "much to graphic to describe," Judd said at a news conference this morning.
Two Haines City police officers were also shot at during the manhunt but were not hit, Judd said.
Judd said the suspects took part in a robbery at Cash America Pawn, 105 Havendale Blvd., in Auburndale on Thursday afternoon dressed in white, hooded "robbery clothes" and carrying assault rifles.
Dressed for the occasion, and provoking the part: 'The sheriff said the "well-designed" robbery was planned "to incite terror" among store employees. He said the foursome even called 911 with a false report of a shooting to distract police, but Auburndale police officers were able to respond to the store within seconds.'
Hitch in the plan was the getaway — Chevy SUV got stuck in sand, then the old foot chase by cops, nabbing three pretty quick, the last one a little time later.
And another bad story unfolding this morning, too, in Kentucky where an 18-year-old boy and a 13-year-old girl are on the run from the law, charged with stealing a bunch of cars, and forging checks, nothing serious, yet. Grayson County Sheriff Norman Chaffins (via USAToday):
…it's imperative that authorities locate the two "as their behavior is becoming increasing brazen and dangerous." They have already evaded law enforcement twice, he said.
…
The situation is getting more serious as more time passes, he said.
"These are two local kids that everybody here knows," he told the Lexington (Ky.) Herald-Leader.
"But now, they're in another state where people don't know them. Other law enforcement agencies don't know them, so they're certainly going to be treated differently there.
"We think it's important for them to get back home, because they're starting to bite off a little more than they can chew.
"Our concern is that they could get themselves hemmed up in something that they … We just don't want them to get hurt."
They've been on the lam about two weeks now.
And only 16 days since New Year's — time flies…