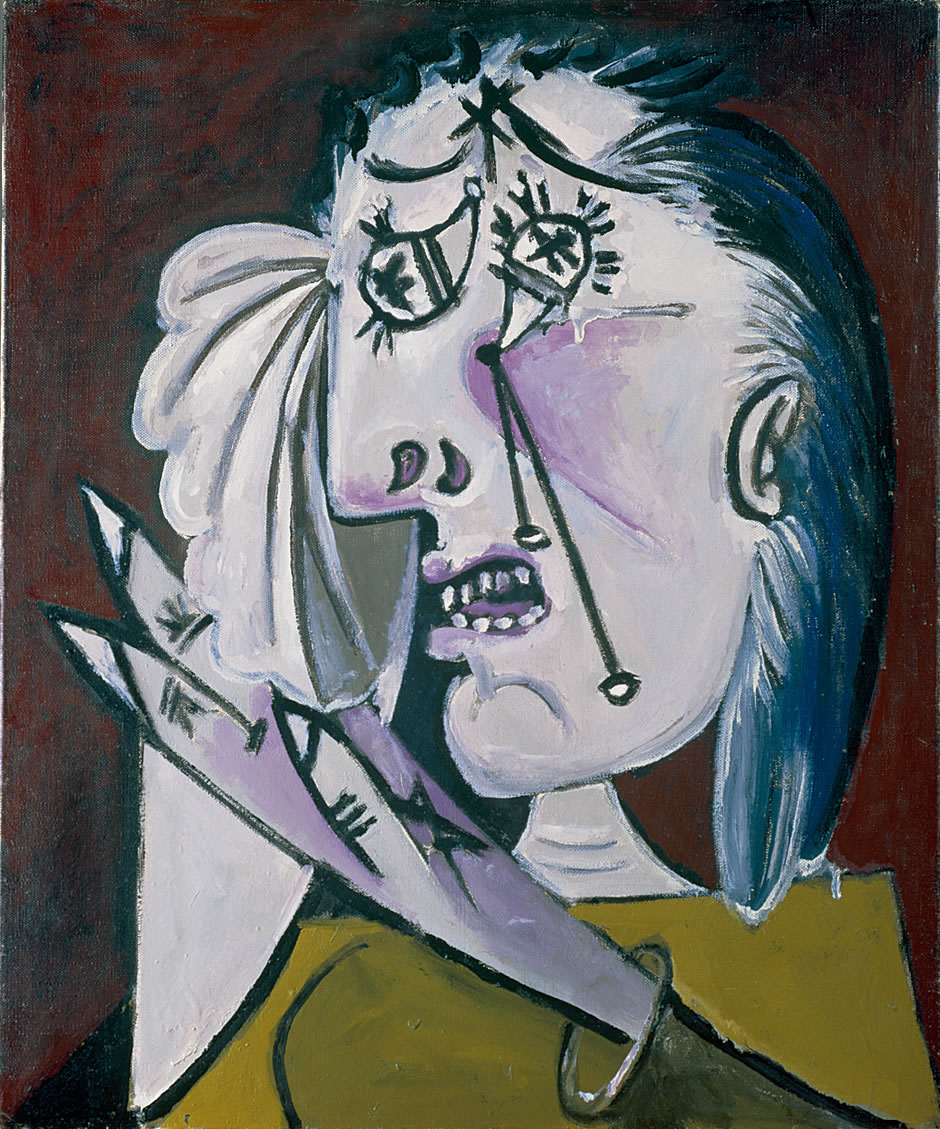 Heavy rain pounding a fading-dark this early Friday on California's north coast, a near-literal river of water started last night, been going ever since — supposedly, more than two inches today, a foot maybe overall through Sunday.
And freakin' windy, too — gusts of more than 40 mph could be expected today, with the bluster coming in weather-line 'pulses.'
Another 'atmospheric rivers' rainstorm episode, but this one highly watched.
Science writer Bob Henson at WunderBlog this morning: 'The impending AR will likely be the most intensely observed in weather history, thanks to an armada of instruments deployed across California and the Northeast Pacific for the CalWater 2015 study.'
(Illustration: Pablo Picasso's 'Weeping Woman,' found here).
Odd-like rain patterns — last month was dry as shit all along the northern California coast. In fact, San Francisco posted the driest January in its recorded history. And now early in February, a pineapple-expressed river of water.
Henson notes this particular system:
Water vapor at the core of the AR is at more than 200 percent of average seasonal values.
Wind gusts may exceed 60 mph near the coast and at high altitudes.
Even stronger gusts above 100 mph are possible along the crest of the Sierra; high wind warnings have also been posted for the range's eastern slope, where mountain-wave features could produce gusts of 60-80 mph.
Rain is one thing, wind is way-another. I never really feel comfortable with wind howling, living too long in tornado country back east, maybe.
These storms are indeed called 'rivers' for good reason — moisture comes funneling out of the warm southern Pacific as if in one continuous flow, no breaks or recess time in the falling rain, from sprinkle to downpour. Day and night, and for days at a time.
Meanwhile, our normal, conventional rainstorms here usually come from the north, out of the Gulf of Alaska, or the Bering Sea, or somewhere up there, and although there's much more of a chill in the air, these systems have breaks, small islands of sometimes clear, sparkling sunshine in the midst of the weather cells. In spring and summer (or even all seasons), these breaks can be incredibly beautiful, stunning to the senses.
But noooooo…
Yet in all these buckets of rivers of rain, the California drought won't really benefit — via Scientific American, also this morning:
But while the rain is a welcome change, the fact that it has been so dry means that "the soil and the ground is going to soak up a lot of this water," and reservoirs won't benefit as much as if it had been a normal, wetter winter before this, White said.
Another downside is that the storm is very warm, as it is pulling moisture from the tropics near Hawaii, so any snow that falls will only be at high elevations in the Sierra Nevada range.
The snowpack that accumulates in the winter months is a critical part of California's water supply, slowly melting and refilling reservoirs in the spring and summer, and it is needed across a wider swath of the mountains.
"Sierra snowpack will likely remain near record low values even after heavy precipitation (mostly as rain) this weekend," Daniel Swain, a Stanford University PhD student who studies extreme weather events, said.
Outlandishly, nature is pissing on us and calling it rain. The process, though, was created and fed within a feedback loop, originating with us shitting on nature, and calling it…sunshine.
Piss poor.