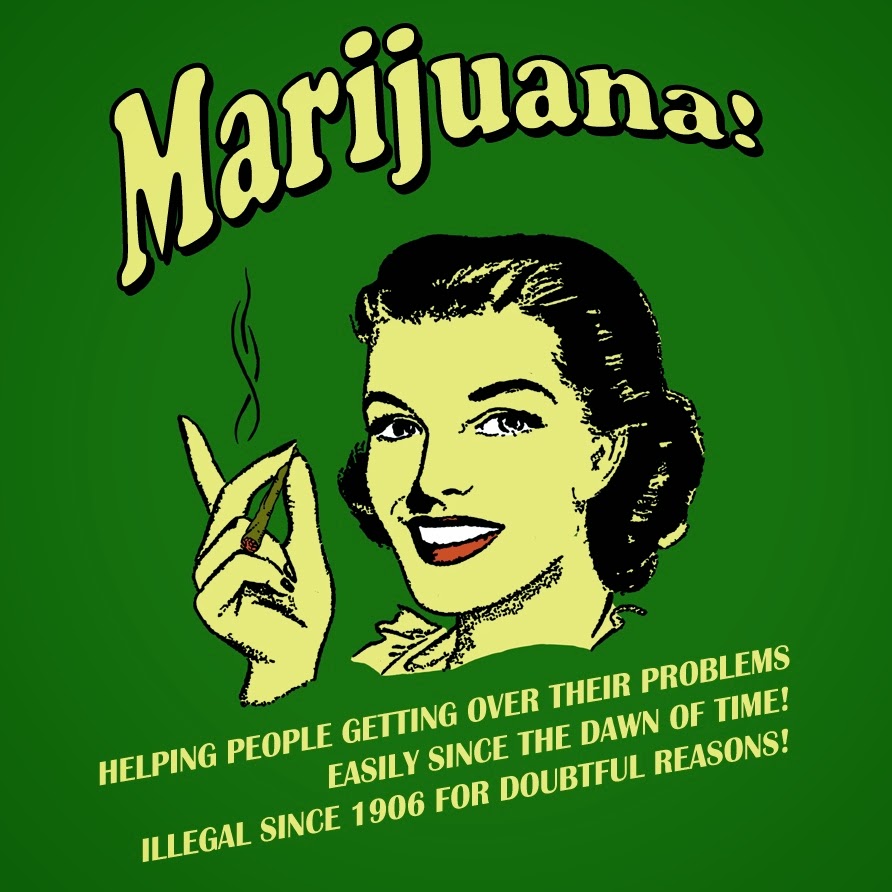 Overcast, fog-moist and quiet this early Tuesday on California's north coast, and appreciate it or not, we're quickly-churning through February, already a way-short, box-like month.
Although expected to be 'warmer' than yesterday, today's NWS forecast for 'partly sunny,' actually means here on the coast, 'mostly fog,' and wet-chilly — similar to yesterday afternoon, when warm, pleasant sunshine was quickly replaced by thick, moist ground fog, and accordingly, temperatures rapidly-descended.
One item standing out amongst the news chaos I spied this morning was another feature on the actual, real-time medical benefits of marijuana.
(Illustration found here).
In reality, though, a rehash of health advances made in use of pot beyond the…you know…the mental, sanity-stabilizing affect/effect of a toke or two, or maybe a whole bowl in handling a life/world getting more weird by the micro-second. The lessening of the false image of marijuana in both legal and social arenas has allowed medical research into a weed that can really, really help people where it really counts, your health.
And as an old, retired guy, a lot of this medicinal pot work has touched a shitload of elderly problems, especially with our bubbling gray matter.
Dana Larsen at AlterNet examines four big steps made via cannabis treatments for the mind — some snips:
Modern research is now proving the opposite.
The active ingredients in cannabis spur the growth of new brain cells!
Back in 2005, Dr. Xia Zhang at the University of Saskatchewan showed that cannabinoids cause "neurogenesis" — which means that they help make new brain cells grow!
"Most 'drugs of abuse' suppress neurogenesis," said Dr. Zhang. "Only marijuana promotes neurogenesis."
…
A 2014 study into cannabis and Alzheimer's was lead by Dr. Chuanhai Cao, PhD, a neuroscientist at the Byrd Alzheimer's Institute.
"THC is known to be a potent antioxidant with neuroprotective properties," said Cao, explaining that THC "directly affects Alzheimer's pathology by decreasing amyloid beta levels, inhibiting its aggregation, and enhancing mitochondrial function."
This confirmed earlier studies, such as one from 2008 which found that THC "simultaneously treated both the symptoms and progression of Alzheimer's disease."
This study concluded that, "compared to currently approved drugs prescribed for the treatment of Alzheimer's disease, THC is considerably superior."
…
Studies done in 2012 and 2013 found that a low dose of THC protected mice's brains from damage by carbon monoxide and head trauma.
Researchers found that THC "protected brain cells and preserved cognitive function over time" and suggested that it could be used preventively, for ongoing protection.
A 2014 study found that people with low amounts of THC in their system were about 80 percent less likely to die from serious head injuries than those without.
This last study is actually quite remarkable and should have been headline news.
Researchers analyzed blood samples from hundreds of people who had suffered head injuries, and found that people with small amounts of cannabinoids in their bloodstream were 80 percent less likely to be killed from head trauma.
…
Recent research includes a 2012 study showing that CBD stopped metastasis in aggressive forms of cancer,  a2013 study showing that a blend of six cannabinoids killed leukemia cell, and a 2014 study showing that THC and CBD could be combined with traditional chemotherapy to produce "dramatic reductions" in brain tumour size.
Using cannabis extracts for brain cancer is nothing new.
A 1998 study found that THC "induces apoptosis [cell death] in C6 glioma cells" – an aggressive form of brain cancer.
A 2009 study showed that THC acted "to kill cancer cells, while it does not affect normal cells" in the brain.
This is remarkable, considering the US government brands Mary Jane the same as heroin.
A nice side-effect of the US public shift in marijuana — from Texas Public Radio last December:
Made-in-America marijuana is on a roll.
More than half the states have now voted to permit pot for recreational or medical use, most recently Oregon and Alaska.
That number also includes the District of Columbia.
As a result, Americans appear to be buying more domestic marijuana, which in turn is undercutting growers and cartels in Mexico.
"Two or three years ago, a kilogram [2.2 pounds] of marijuana was worth $60 to $90," says Nabor, a 24-year-old pot grower in the northwestern Mexican state of Sinaloa.
"But now they're paying us $30 to $40 a kilo. It's a big difference.
"If the U.S. continues to legalize pot, they'll run us into the ground."
And we'll have clean, clear brains, too…