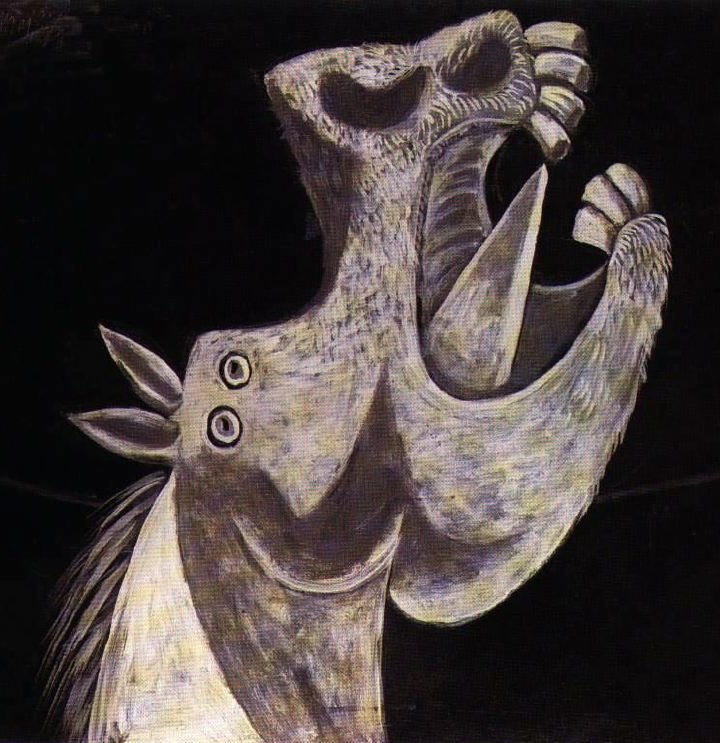 A near-ethereal sunrise this early Wednesday, at least as witnessed from my little back patio, situated not far from California's north coast, — sky to the east hazy, but above and roundabout seemingly clear as a bell.
Maybe rain forecast now for Saturday night, but till then, according to the NWS, continuing 'mostly sunny,' which is nice.
In a horror-paradox of a terrible black-humor joke, ISIS has reopened the former 5-Star Ninawa International Hotel in Mosul, Iraq.
Via LibreprensaExpress: 'Patrons risk amputation or beheading for failing to adhere to the Islamic rules that govern the area.'
(Illustration: Pablo Picasso's 'Head of a Horse,'  found here).
Funny, if those barbaric ISIS butchers weren't so into butchery.
And this ain't even phony-funny — supposedly, Saudi Arabia is dropping cluster bombs on targets inside Yemen, and supposedly, the US State Department is 'looking into' those allegations, though, we sold the Saudis the weaponry.
Cluster bombs are also barbaric and banned by 116 countries, but not the main characters in this particular terror tale, the US, Saudi Arabia and Yemen. Cluster bombs are actually many, many bombs, '…opening up in mid-air to release tens or hundreds of submunitions, which can saturate an area up to the size of several football fields,' indiscriminate and wide-ranging, and often these submuntions do not explode on impact, but remain in the area for long periods of time, maybe for children to later pick up, and are either blown to bits, of loose arms, legs.
A ghastly weapon. Last Sunday, Human Rights Watch said video and photographic evidence showed Saudi Arabia using cluster bombs on two separate occasions near villages in Yemen's Saada Province.
From Foreign Policy on Monday:
"We're looking into those details carefully. I don't have an outcome of that to report," State Department spokesman Jeff Rathke said in answer to questions about the HRW report.
"We take all accounts of civilian deaths in the ongoing hostilities in Yemen very seriously."
…
When Foreign Policy asked if cluster bombs were "appropriate" to use in the U.S.-backed air campaign in Yemen, Rathke said they were so long as they're used "against clearly defined military targets."
"That's our policy on those," he said.
…
During the press conference, Rathke said "we share the concerns regarding unintended harm to civilians caused by the use of cluster munitions."
"The United States remains the single largest financial supporter of addressing the explosive remnants of war," he added.
Another fine war-plagued mess the US is sliding into, and perpetual conflict clusters all over…so be it…might as well hit the pool at the Ninawa International, heard it's nice this time of year…