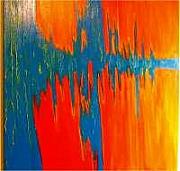 Already a blustery wind a-blowing on California's north coast, and bright, glaring sunshine — just returned from a run (totally a walk) to Safeway, and by the time I got back, my cheeks was stinging from the chilled, whipping breeze.
However, I'll take tingling cheeks over shaking ground any time, anyplace, especially right here.
Earlier this morning another earthquake south of where I'm located, a small one, a 2.5 on the Richter scale (USGS), but perks the paranoid antenna for more to follow. Mainly, because this one followed a 2.9 last night (USGS) about 50 miles south of me.
(Illustration: 'Earthquake,' by Jakara Art, found here)
And…wait for it…those followed a somewhat rare 3.3 near Redding Wednesday morning, all which were included a shaker holiday statewide yesterday.
Via CBS SF:
Before 8 a.m., three earthquakes — two with a 3-plus magnitude — struck the Bay Area city of Concord in a 30 minute span.
Earlier, two small earthquakes rattled the Hemet area of Southern California.
Hundreds people reported feeling the largest of the two, a 3.9-magnitude temblor, that struck at about 12:30 a.m. Wednesday
The probability California will experience a magnitude 8 or larger earthquake in the next couple of decades has increased, according to the U.S. Geological Survey.
And to make one feel worse — last month, a new geo-study (via LiveScience) the 'likelihood of a magnitude-8 earthquake in the next 30 years has increased from about 4.7 percent to 7 percent,' but also lowered the chance of smaller ones — WTF!
Incredibly good advice from Ned Field, lead author of the report and a U.S. Geological Survey research scientist in Golden, Colorado, though he was actually referring to the 40 million people living in earthquake country, could have been speaking to the nearly 9 billion folks everywhere: '"People should live every day like it could be the day of the big one."'
One should take that to heart, but excuse me, if I won't shake on it…