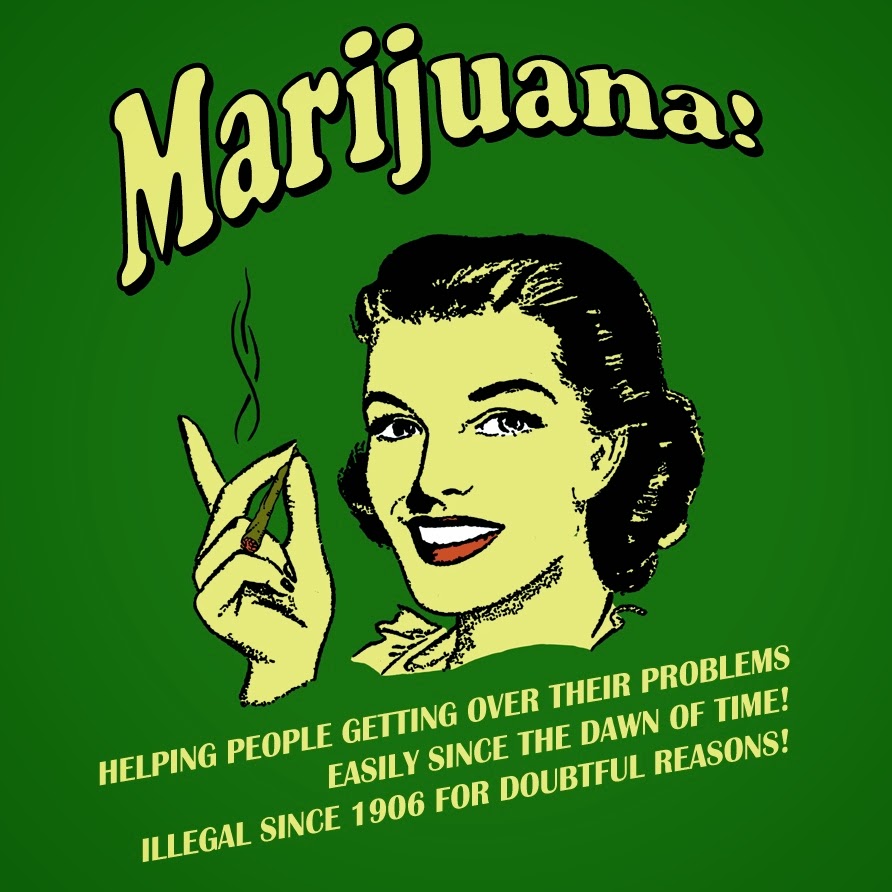 Thick, gray light this early Tuesday on California's north coast — a heavy, wet fog layer is blanketing the area, and although there's supposedly a warming trend for the end of the week, not much effort on the shoreline with this marine mantle covering us.
Also foggy is the infantile approach to marijuana, though, a new study indicates weed ain't no 'gateway drug' as supposed: '"We found that marijuana use within itself wasn't a risk factor for use of other drugs," said lead author Joseph Palamar, an assistant professor in the New York University Langone Medical Center's department of population health.'
(Illustration found here).
Palamar continued: '"People do generally use marijuana before other drugs, but that doesn't mean marijuana is a cause of [using] those other drugs."'
A point that's been made time and time again the past 40 years — the prohibition against marijuana is political and social in nature, but not a health issue, always has been the case.
And along with a realistic outlook toward Iran, marijuana should also face reality of harm:
Palamar warned this doesn't mean that experimenting with marijuana protects kids against other drug use.
Instead, it means that those who say they're trying it just to try it — rather than to meet some other need — are often at low risk for moving on to other drugs.
"Most teens who use marijuana don't progress to use of other drugs, and we believe this is evidenced in part by the fact that nearly two-thirds of these marijuana-using teens did not report use of any of the other illicit drugs we examined," he noted.
These results show that educators and counselors would do better to prevent drug use if they focus on the reasons that students give for trying illicit substances, Palamar concluded.
"We need to address the reasons why people use, the drives that lead people to use," he said.
"The majority of adults in the U.S. have at least tried marijuana, and we know the majority has never gone on to use another drug, yet we tend to treat all drug use as pathological."
And in a seemingly obvious move, and one that should have been done way-before now — a refined approach to marijuana research, especially in the huge medical field. Increasingly, weed has been found to aid in all kinds of health issues, from Alzheimer's to different types of schizophrenia.
Now Sen. Elizabeth Warren has lent her influence beyond the financial world — from The Hill:
Eight Democratic senators, led by Warren, are urging federal health and drug officials to address the "data shortfall" on potential health benefits of medical marijuana by making it easier for researchers to study the drug.
Medical use of marijuana is now legal in 23 states, though it is difficult to study because it remains one of the country's most tightly controlled substances.
It is important that we make a concerted effort to understand how this drug works and how it can best serve patients through appropriate methods of use and doses, like any other prescribed medicine," they wrote in a letter to government officials.
The letter was sent to the heads of the Department of Health and Human Services (HHS), the Drug Enforcement Administration (DEA), and the Office of National Drug Control Policy — all of which have control over marijuana-related rules.
…
Researchers must go through multiple layers of approval to use the drug.
Under current regulations, medical marijuana can only be grown at the University of Mississippi, which partners with the only organization permitted by the government to do so, the National Institute on Drug Abuse (NIDA).
Pointing to the growing number of users nationwide, the senators said the government agencies "have both an opportunity and a responsibility" to ensure adequate research.
The senators asked about the timeline for reconsidering marijuana's status as a schedule 1 drug, and about efforts to help other groups besides NIDA acquire permits to grow the drug for research purposes.
The letter comes less than a week after several House lawmakers tried to attach a medical marijuana research amendment to a 350-page drug development bill, 21st Century Cures.
The amendment was cosponsored by one of the House's biggest marijuana foes, Rep. Andy Harris (R-Md.) and Rep. Earl Blumenauer (D-Ore.), one of its biggest proponents of legalization.
The amendment was not added to the final legislation, which cleared the House on Friday.
Assholes in charge, blind and ignorant.
Marijuana research is ludicrous, especially coming from above-mentioned only "legal" pot grow in the country:
Despite the foregoing changes, the Ole Miss marijuana grow funded by the National Institute on Drug Abuse remains the only "lawful" marijuana grow in the U.S., and researchers must still acquire their seeds and plants from that grow, which is not easy.
But that's not all: researchers must also acquire a Schedule I license from the Drug Enforcement Administration, which is nearly impossible.
The DEA has issued only a single license to research marijuana, and that was to Ole Miss in 1968.
Just last week, House Republicans nuked a bill that would have re-scheduled cannabis so that laboratories "could conduct credible research on its safety and efficacy as a medical treatment" without all of the red tape that still impedes such efforts.
Crazy fog in the GOP brain…those need a 'gateway' to higher intelligence…