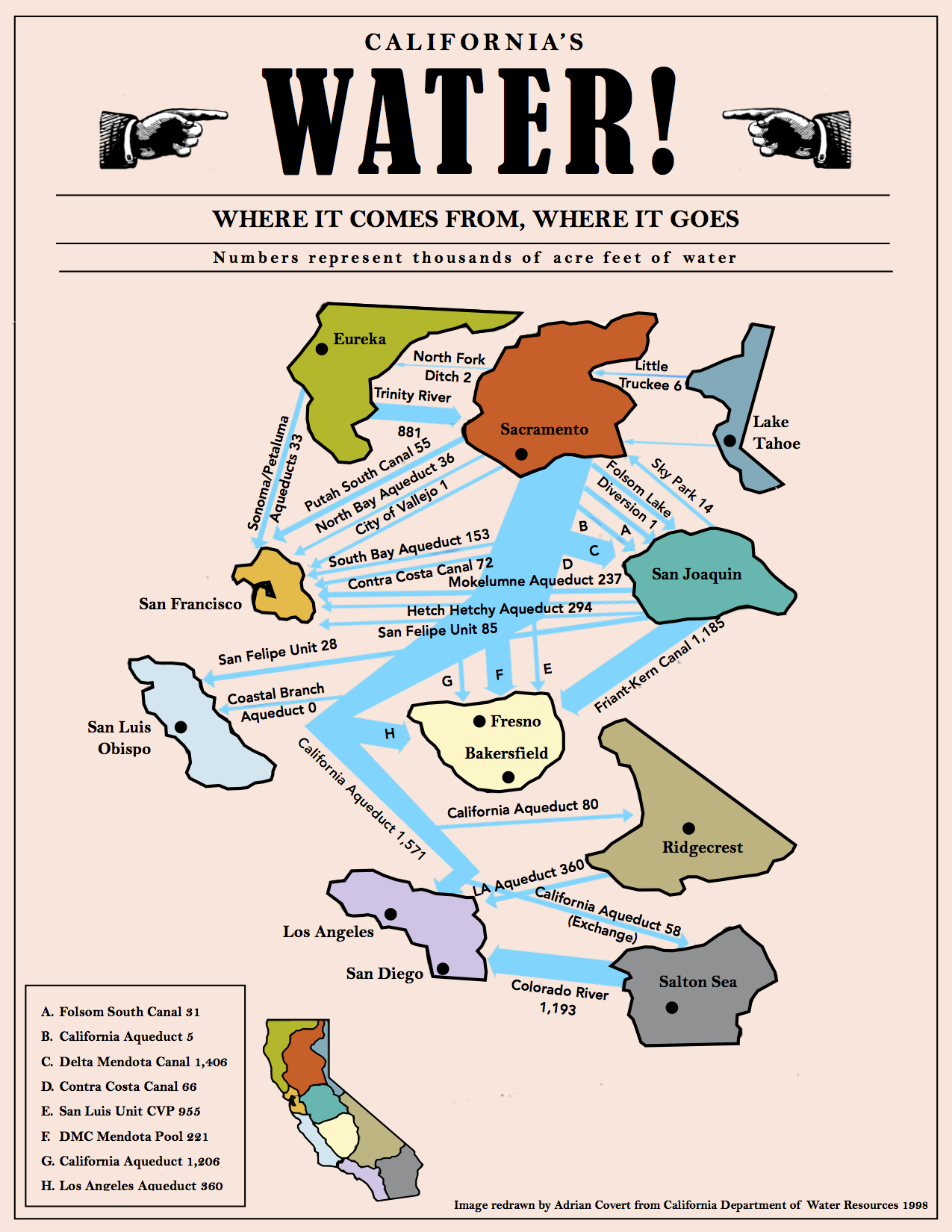 Bright and warm this Wednesday morning on California's north coast as the 'heat wave' continues — according to a 'Hazardous Weather Outlook' from the NWS: 'Some areas may reach well into the 80s.' Sarcasm — not!
Especially if just a mile or so eastward, and 'warm' becomes 'hot as shit.' And furthermore, such from a place with way-more water than it needs as the rest of California get way-drought-whipped ain't real funny.
Two weeks ago this from Southern Oregon University and Jefferson Public Radio, an interview with Carol Rische, the outgoing general manager of the Humboldt Bay Municipal Water District: '"We're using on average about 10-million gallons. We have water rights for 75-million gallons per day."'
And as people are finally getting worried.
(Illustration: 'California Water Map,' found here).
Duh! After four years and the central part of the state going drier-a-bone, Californians are perking up — in a survey conducted earlier this month by the California Water Foundation (results this morning via the LA Times), which included this instruction: 'Among other questions, voters were asked to rate their level of drought concern on a scale of zero to 100, where zero means "not concerned at all" and 100 means "extremely concerned. Half of the respondents rated their concern at 90 or higher, while 23 percent rated it at 100.'
And on a fiscal level, 62 percent okayed a willingness to pay $4 more a month for water if authorities got their shit together about its use.
Also noteworthy from the Times story:
When researchers inquired about a list of other issues facing the state, voters repeatedly put drought at the top.
Though 86 percent of respondents said they were either "very concerned" or "extremely concerned," about the drought, only 65 percent said the same about the quality of public education, and just 55 percent said the same for jobs and the economy, Snow said.
"This is probably the first time we've seen that kind of high margin for concern about the drought," Snow said.
…
When asked if they supported higher water rates on the largest water users in order to reduce fees on low-income consumers, 69 percent said they agreed strongly or somewhat.
And add insult to injury for us up here in north California is the much-anticipated, much-hoped-for El Niño effect slowly coming right now: 'But Northern California is where droughts are made and broken. The state gets 50 percent of its freshwater from snowmelt in the northern Sierra Nevada. If that region experiences drought, it hurts the whole state.'
What? Us worry…?