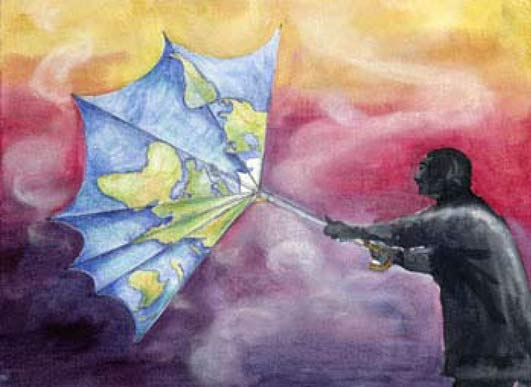 Some faded sunshine this Friday afternoon on California's north coast and a cool, wispy wind, too, as forest fires rage to the east and south of us..
After a dense marine layer hanging right on the shoreline earlier, the sea breeze pushed the heat away, but still way-pleasant here.
No so in the hot interior.– near noon today, Cal Fire reported 53 fires burning in our little zone, 'Some with potential of several hundred acres.'
And a local name with background — 'Humboldt Lightning Complex,' due to the spark (via Lost Coast Outpost): 'Thunderstorms blew across much of southern Humboldt yesterday afternoon and evening, hurling thunderbolts down onto dry tinder and setting dozens of mini-blazes. This morning, Calfire's Humboldt office tweets that it was located and controlled 37 such fires, and suspects that there are at least seven more out there yet to pin down.'
Although these fires are still considered small — one to six acres in size — doesn't take much time to get seriously serious. Supposedly, 14 large fires are burning right now across the northern part of California, with the biggest, the 15,000-acre Rocky Fire, down in Lake County, is only five percent contained.
Gov. Jerry Brown this afternoon declared a state of emergency: '"California's severe drought and extreme weather have turned much of the state into a tinderbox," Gov. Brown said. "Our courageous firefighters are on the front lines and we'll do everything we can to help them."'
Apparently, the immediate-future narrative for the US Pacific coast, not just California and it's environs.
A combo problem for all of us — not enough rain, and beetles.
Via Climate Progress a couple of months ago:
According to a new study conducted by the U.S. Forest Service, at least 12.5 million trees in California's national forests have died during the current drought — adding more brittle, dry vegetation to areas already threatened by potentially explosive wildfires.
"The situation is incendiary," William Patzert, a climatologist for the Jet Propulsion Laboratory, told the Los Angeles Times.
"The national forest is stressed out."
…
They found 999,000 acres of dead trees, a figure that they expect will grow as the drought continues into the summer months.
The last time that California saw such a massive die-off of trees was during the drought conditions of the mid-to-late 1970s.
Though no aerial surveys were conducted during that time, ground reports estimated that 14 million trees died between 1975 and 1979.
Scarce water isn't the only factor driving the death of California's trees — bark beetles are taking advantage of the stressed, dry trees.
Without proper hydration, the trees are unable to produce the sticky resin that is their primary defense against the beetles, which eat away at a tree's inner bark, leaving it dry and vulnerable to disease and death.
Bark beetles thrive in dry, warm conditions, and officials say they've seen an increase in the number of bark beetles after years of drought and warmer-than-average winters.
"It's scary in areas — the amount of dead and dying trees I am seeing," Tom Smith, a forest pest management specialist for the California Department of Forestry and Fire Protection who has studied bark beetles for 15 years, told the San Francisco Chronicle.
"This is the worst I've seen."
And we've already recorded 850 wildfires for California this year, a 70 percent increase from average.
Fires and beetles…coming to woods near you.
(Illustration above: UN's children Environment Program, 'Paint for the Planet' exhibit, by Charlotte Sullivan, age 13, from England, found here).