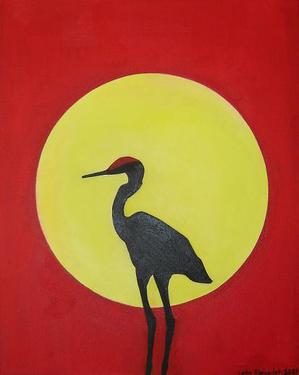 In a seemingly-short respite, sunshine this early Friday on California's north coast as get a rest from the 'conveyor-belt' rainstorms that have rolled across our region since maybe forever — according to the NWS, another strong system with heavy rain and 'gusty south winds' will strike again starting tomorrow afternoon and lasting through Sunday, as the rainy season continues.
The NWS also issued a 'Peak Winds Report' this morning for the wild ride yesterday in the area, with the strongest ripples hitting the coastline north of us, some at nearly 65 mph up there.
Gusts for my location were near 50 mph, though, they seemed to pack a bigger punch than that, but I'm no weatherman.
As a product of southeast Alabama tornado lands, I usually just wring my hands, and sob on occasion.
(Illustration found here).
I'm just an atomic-powered baby — wind gusts yesterday at Squaw Peak in southern Oregon recorded-in at 107 mph; Mount Lincoln, east of Sacramento, near the Nevada border, notched a mile slower at 106 mph, as high winds all over made my little spurts fairly toddler-sized. And will apparently continue (The Weather Channel):
A classic November-December setup featuring a powerful jet stream stretching from eastern Asia across the Pacific for 5,000 miles to the Pacific Northwest will act as the conductor for this storm parade ahead.
In fact, winds at jet-stream level over parts of the North Pacific well west of the U.S. were estimated at over 200 miles per hour Friday morning.
Talk about a quick flight from Tokyo to Seattle, albeit just a wee bit choppy.
Hopefully, all this shit will offer some relief to our drought. We need the rain, and the snow.
In a news story at Reuters this morning about the influence of El Niño on California's rainy season, and along with the normal-standard climate/weather data-whatnot for these type articles, included this graph that postulates the serious problem with handling climate change:
However, the situation is different this year because the entire northern Pacific Ocean is quite warm in addition to the El Niño-characterizing anomalies at the equator.
It is not certain precisely how the widespread ocean warmth may alter atmospheric circulation.
My underline for emphasis, even as COP21 plays itself out in Paris, understanding climate change is not an exact science — like for instance, a study I noted last week about a microscopic marine alga that's been found quickly growing in the North Atlantic, due probably to high-levels of CO2 in the water, and researchers really don't know if it's 'good or bad' for the planet.
Blowhard for the world…