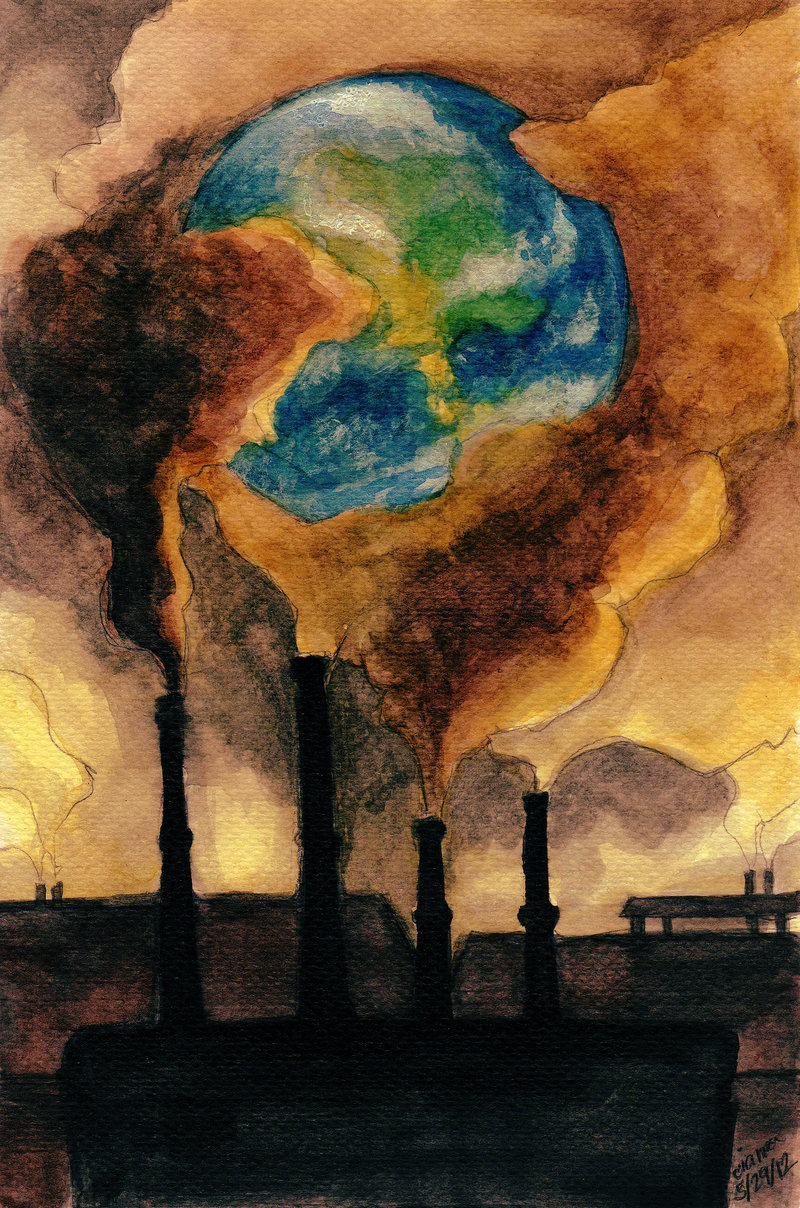 As COP21, the UN climate talks in Paris starts its second and final week of negotiations today, the outcome for people alive on earth right now is not so bright, despite any-type result from the conference.
Even maybe for those yet unborn…
In the face of that, rare, positive news (via Stanford.edu) — a new report published today in the journal Nature Climate Change, with detailed data published simultaneously in Earth System Science Data, revealed annual global carbon dioxide emissions will decrease a bit this year — a first: 'While CO2 emissions have slowed during times of economic recession, this would be the first decline during a period of strong global economic growth, Jackson said.' (Rob Jackson, professor of Earth system science at Stanford, lead author of the study).
Details: Carbon emissions could decline by 0.6 percent in 2015, an oddity after a decade of growing 2.4 percent per year.
(Illustration found here).
Limited in nature, apparently as whatever happens in Paris, maybe never happened in Paris. From a story on the emissions decline at Inside Climate News):
A flattening of emissions in 2014 and this year's expected decrease contrast with the rapid growth of emissions over the past decade.
It is, however, far from the zero or near zero emissions required to halt global warming.
Some say the trend in declining emissions is only temporary, but others counter that the finding offers a rare glimmer of hope in the fight against climate change.
As we plod onward, a certain point is reached where extra-martial science suspends nature — environmental writer Chris Mooney has a good, detailed update of COP21, and the reality of averting the worse of climate change at the Washington Post this morning — a plan of folly, or the 'negative emissions' strategy, created by devices/schemes to suck the carbon out of the air:
Indeed, those closely watching the carbon math behind the current pledges have been aware for some time that since these targets aren't enough on their own to keep temperatures below 2° C, negative emissions may be necessary at some point in the future.
…
And that's the problem.
The second new study, a large overview of negative emissions technologies penned by no less than 40 separate authors, finds that reliance upon them in the future to pull a lot of carbon out of the air (because we can't cut our emissions more in the present) is "extremely risky."
So back to Paris, and risky business — from today's Time magazine, though, another view of the real-true, keynote, bottom-line to our environment:
The most vulnerable developing countries are also pushing for the climate agreement to have a more aggressive target. Countries have previously agreed to try to keep temperatures from rising by more than 2°C (3.6 F) by 2100, but a push from some of the most vulnerable countries to change the target to 1.5°C (2.7 F) has gained traction with vital endorsements from Germany and France.
Even U.S. Climate Envoy Todd Stern showed support for the final agreement to "include reference" to that stronger target on Monday.
The 1.5°C (2.7 F) target, even if included in the final agreement, is unlikely to actually be met.
Temperatures are expected to rise by more than 3°C (5.4 F) even if countries follow through on their current commitments to cut greenhouse gas emissions.
Climate experts acknowledge that fact, but it doesn't seem to be stopping them.
Not to be a nabob of negativity…