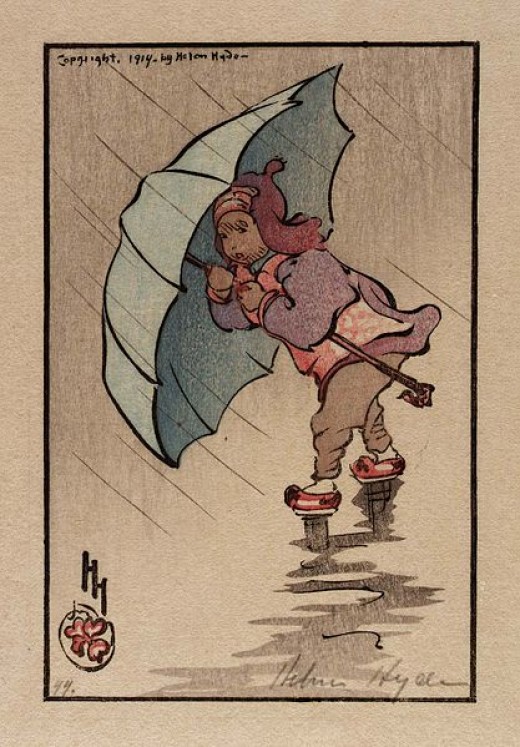 Overcast-gray this early Friday on California's north coast as our latest storm front readies itself — some occasional pellets of rain, more like strong drizzle. with the heavy stuff not slated until later on in the afternoon.
As pre-stated from the NWS forecast this morning, 'Rain Likely then Rain,' and so it goes…
Apparently, our seemingly weakened rainy season hasn't produced enough punch to really offset California's drought — via Bloomberg a little while ago:
"It has been extremely disappointing," said Rob Hartman, hydrologist in charge at the California Nevada River Forecast Center in Sacramento.
"January was quite good to us, February was not. Our water supply forecast for the spring period is falling like a stone."
A wet-weak El Niño…
(Illustration: 'The Blue Umbrella 1914,' by Helen Hyde, found here).
Although the rainfall has been sketchy the last few weeks, reportedly the snow-pack is decent, 115 percent of normal at last count. Yet, no respite from our now-five-year run of dry.
Further from the above Bloomberg piece:
Through last week, 99.57 percent of California was abnormally dry or in some form of drought, according to the U.S. Drought Monitor in Lincoln, Nebraska.
That's a micro-step up from Jan. 1, when the entire state met those conditions.
San Diego, Los Angeles and San Francisco have had lower-than-normal rainfall since October, National Weather Service data show.
All but one of the state's 12 big reservoirs are below their historical average depths for this time of year, the California Department of Water Resources said on its website.
And a note for our North Coast:
The few bright spots include Eureka, in northern California, and Fresno, in the San Joaquin Valley, which got more than the 30-year average. Folsom Lake, one of the smaller reservoirs, is at its flood control capacity, Hartman said.
Through Thursday, about 40.1 percent of the Sierra Nevada region was covered with snow to an average depth of 17.2 inches, according to the National Operational Hydrologic Remote Sensing Center in Chanhassen, Minnesota.
In 2010, the last time there was an El Nino in the Pacific, 57.8 percent of the area was covered to a depth of 32.7 inches on Feb. 25.
The state's in better shape than during last year's wet season, "but we're still below average," Hartman said.
"That doesn't help to overcome an extended period of drought."
And what water we receive, we're not saving enough of the water we already possess to somehow make up the difference in the water coming in, and overcoming our drought situation. Does this make sense, or not? We're lagging in reducing water use (Source): 'Water conservation slipped in January more than any month since mandatory cuts went into effect in June, bringing the state's cumulative savings to less than the governor's 25 percent reduction target.'
El Niño drizzle…the drought fall-back guy.