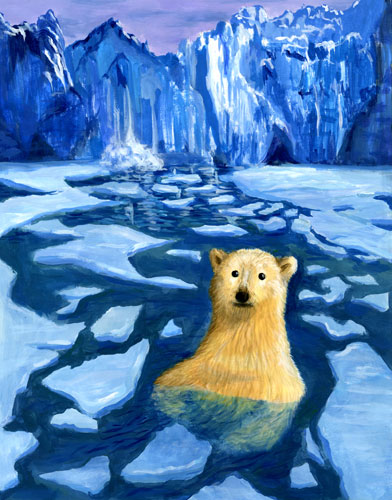 Scattered cloud cover with lots of sunshine this early Tuesday on California's north coast as we continue into a week of heat — at least the next couple of days; supposedly, we might even reach 80 tomorrow, though, most likely the mid-70s or cooler if the winds arise with any intensity. Style of the coast year round.
Reportedly, too, a regional development (Via SFGate this morning): 'Rising temperatures will hit an apex Wednesday, heating up the Bay Area with the hottest weather since October with numbers that could reach or shatter records set as far back as 1939.'
Meanwhile, a way-different story on the US East Coast with all kinds of shit hitting the weather-fan, tornadoes to blizzards.
A world in similar conditions…
(Illustration found here).
In real consequences, climate change is the biggest, most-humongous problem facing the planet right now — all other issues 'should' be viewed as secondary. If we continue at our current pace, and in a short space, we 'all' die.
All our problems then vanish, huh?
Yesterday, another scream of a wake-up call, this one from the White House.
Via the Miami Herald:
Global climate change will lead to hundreds of thousands of deaths and hospitalizations by 2030, a new federal report released Monday predicted, spurring the Obama administration to announce a series of new initiatives aimed at lessening that impact.
"This isn't just about glaciers and the polar bears; it's about the health of our family and our kids," said Gina McCarthy, administrator of the Environmental Protection Agency, one of eight U.S. agencies that contributed to the report.
"To protect ourselves and future generations, we need to understand the health impacts of climate changes that are already happening and those we expect to see down the road."
The report, the result of three years of research by nearly 100 health and science experts, attributed the likelihood of increased deaths and hospitalizations to more air pollution, extreme heat and severe weather brought on by climate change.
In a nutshell via Think Progress:
Among the range of physical health impacts, Americans can look forward to a future of more food and water contamination, increased asthma rates, and tenfold jumps in death from heat exposure, the report found.
The report also devotes an entire chapter to the mental health impacts of climate change, which are often symbiotic.
Mental health issues can limit someone's resilience in a disaster, making it more difficult to find shelter or access help, and living through a disaster can lead to depression, anxiety, and PTSD.
"I don't think we've ever seen a force that affects so many dimensions of health for so many people as climate change does," said Surgeon General Vivek Murthy.
And maybe eventually, even obesity — at the Guardian this morning:
Three decades of melting sea ice has led to significant weight loss among the world's southernmost population of polar bears, new data from Canadian researchers suggests.
"It's a red flag," said Martyn Obbard, a scientist with the Ontario provincial government and co-author of a recently published study in the journal Arctic Science.
…
The drop in weight was strongly correlated with melting sea ice.
Since 1980, the ice season in Hudson Bay has fallen at a rate of about one day a year, forcing polar bears to spent more time on dry land rather than hunting seals — their main source of food — on sea ice.
Polar bears now get some 30 fewer days each year on ice than previous generations.
"That's 30 days less out on the sea ice when they're actively hunting seals," Obbard said.
…
While the dramatic loss of weight has not led to a decline in the population of polar bears, that could change as a warming Arctic continues to melt away sea ice.
"These changes that we're seeing now are a warning that there are major changes happening in that whole marine system of Hudson Bay," said Obbard.
"Who knows when it's going to happen — it might be 50, maybe 100 years and the bears will be gone from Hudson Bay."
How many 'Red Flags' does it take…?