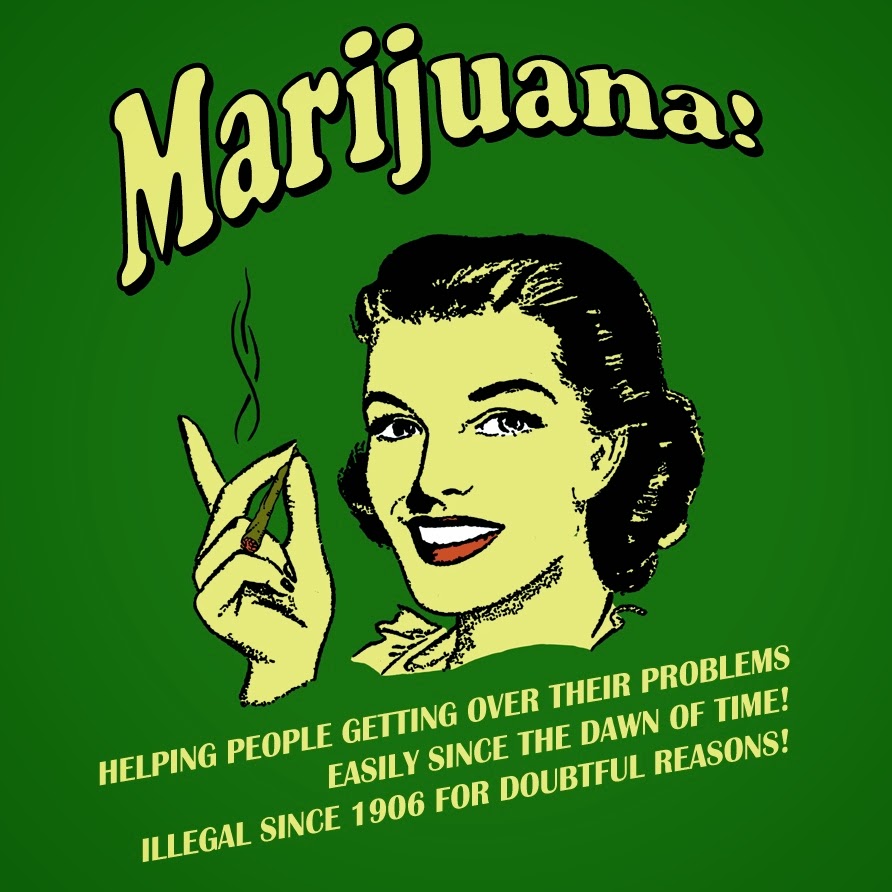 Patchy-sunshine mingled with patchy-fog this early Thursday on California's north coast — a fairly-good chance of some rain showers starting late tonight and light-wetness possibility on/off through the weekend.
And we summer along…
Beyond the madcap news cycle this morning — there's so much shit going on worldwide even as I type, it would take two Internets to handle it all — and to most-interesting developments in the continuing celebratory exhibition of the health benefits of marijuana.
The weeding of medicine, one might say.
Maybe now, the tide is turning healthy.
(Illustration found here).
In the last few years, a shitload of study and research into the medicinal uses of marijuana has opened the door to pot being a really-great way to reduce pain, treat diseases, and otherwise promote better health.
Asshole problem is the US DEA, which has classified marijuana a Schedule 1 drug, meaning it has "no currently accepted medical use in the United States, a lack of accepted safety for use under medical supervision, and a high potential for abuse" — right along side freaking heroin.
Even in the face of science…
Newest research indicates pot can really help us old folks, too.
From Popular Science late last month:
While there has been research and trials to use compounds to treat chronic pain, cancers, epilepsy, and oother diseases and illnesses, this laboratory study is the first of its kind to test tetrahydrocannabinol (THC), a main component in marijuana, against the plaque buildup of the brain associated with Alzheimer's disease.
The researchers took human neurons that they grew in a lab and altered them so that they created the plaque buildup (comprised of proteins such as beta-amyloid).
The researchers then subjected the neurons to amounts of THC and other marijuana compounds.
What they found was that not only did the THC cause a breakdown of the protein buildup, but a reduction in inflammation in the cells. Inflammation is bad because it makes it harder for your neurons to communicate with one another correctly.
"Although other studies have offered evidence that cannabinoids might be neuroprotective against the symptoms of Alzheimer's, we believe our study is the first to demonstrate that cannabinoids affect both inflammation and amyloid beta accumulation in nerve cells," says Salk Professor David Schubert, the senior author of the paper said in a statement.
And this week, an even-more glaring example of the health benefits — real sickness, and real medications.
Yesterday, from WebMD:
People are actually using medical marijuana as a treatment for health problems, not simply as an excuse to get high, a new study suggests.
States that pass medical marijuana laws tend to experience a significant decline in prescriptions for ailments that could be treated with cannabis, said study senior researcher W. David Bradford.
He's the chair of public policy with the University of Georgia's Department of Public Administration and Policy.
At the same time, there hasn't been a decline in prescriptions for drugs that treat conditions for which marijuana wouldn't help much or at all, Bradford said.
"There was a substantial shift away from the use of [U.S. Food and Drug Administration]-approved drugs when states turned their medical marijuana laws on," Bradford said.
Further from LiveScience, also on Wednesday:
Researchers found an estimated $165.2 million in savings in 2013 in Medicare spending on the prescription drugs that treat some of the same conditions that marijuana may be used to treat, according to the study.
That was the same year that 17 states and the District of Columbia implemented medical marijuana laws.
…
"The results suggest people are really using marijuana as medicine and not just using it for recreational purposes," Ashley Bradford, a student researcher at the University of Georgia (UGA) and the lead author of the new study, said in a statement.
A conclusion from off a most-helpful plant: '"This has created a truly unique and an unnecessary paradox in modern medicine, in which physicians are authorizing treatments to patients, and patients are regularly using medication without a scientific basis of knowledge on patient outcomes, forced rather to rely only on scientifically invalid or anecdotal information," Vigil and Stith said.'
Ludicrously ridiculous…