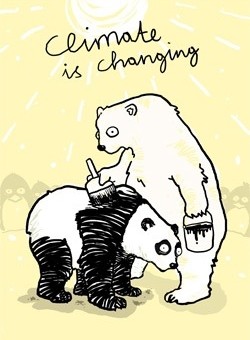 Overcast-gray and chilly this early Friday on California's north coast, but the standard continues as sunshine is slated for later today, and warmth.
Yesterday, however, it was well into the afternoon before fog/clouds abated and the sun shone — a hard push-back from the shoreline weather cycle.
If Donald Trump is elected in November, we're totally, and completely fucked, and the "shit stain" reinforced the fucked-sense by naming Indiana Gov. Mike Pence as his VP choice — From Mother Jones this morning: 'In a 2014 interview with Chuck Todd, Pence said he doesn't know if man-made climate change "is a resolved issue in science today" and later added, "We'll leave the scientific debates for the future."'
(Illustration by Handoko Tjung, found here).
And if we continue on our brilliant path, what about our future — from the Guardian last week:
The US experienced its warmest ever June last month, with a scorching summer set to compound a string of climate-related disasters that have already claimed dozens of lives and cost billions of dollars in damage this year.
Worldwide, heat records have been broken for 13 months in a row, an unprecedented streak of warmth that has stunned climate scientists and heightened concerns over the future livability of parts of the planet.
The average temperature for the contiguous US was 71.8F (22.1C) in June — a full 3.3F (1.8C) above the 20th-century average and breaking a record set in 1933.
According to the National Oceanic and Atmospheric Administration (Noaa), the first six months of 2016 have been the third warmest on record in the US.
Drought conditions "remain entrenched across much of California" according to Noaa, with 16 percent of the contiguous US in drought — up 3.5 percent compared to May.
The US has already suffered a number of climate-and weather-related calamities in 2016, with Noaa recording eight events that have each cost at least $1bn in damages.
More than 30 lives have been lost in disasters including flooding in Texas, tornadoes across the south-east and wildfires in the west.
…
"How much more record heat and how many more unprecedented extreme weather disasters must be witnessed before we all recognize this simple fact: climate change is real, it is human-caused, and it is already posing an extreme risk to us and the planet," Michael Mann, a leading climatologist at Penn State University, told the Guardian.
"The good news is that there is still time to act to avert the most dangerous impacts. But not a whole lot of time."
And the looming disaster-horror of The Donald coupled with Mike Pence — from Gabriel Filippelli, professor of earth sciences at Indiana University-Purdue University Indianapolis, on Pence (via Scientific American): '"I don't think he is crazy anti-science, anti-climate change. I basically think he doesn't care. He was opposing these things because [to him] the science is not settled, not that we're all fraud scientists, which is at least better than some people."'
As I stated, if…