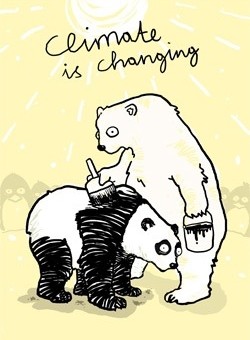 Monday morning here on California's north coast, and once again a thick mat of gray outside as the routine-like marine layer continues to hold sway.
Temperatures are supposed to cool, though Willow Creek is expected to top 90-degrees today — the interior stays hot, while we along the shoreline calendar-through another weather-pattern of fog-to-sunshine, which does create some gorgeous afternoons.
Not-so-pretty is what makes the weather — climate. Last week at the DNC, our own Jerry Brown made the case: '"What America needs today are not deniers, but leaders. Not division, but common purpose. Not bombast, but bold action…Trump says global warming is a hoax. I say Trump is a fraud."'
I would've said 'turd,' though, 'fraud' seems to work in subject-matter context.
Despite a shitload's shitload of horrific situations nowadays, the overall, way-major-horrendous issue for all of humanity is climate change — everything/anything else is superfluous.
No matter who you are, wherever you be, we're all fucked together.
Although climate change itself is nearly-out-of-control, it's main emphasis comes from the word, 'exacerbate,' which means to worsen already bad shit — so, then, an apt transference to Republicans, and The Donald's blather on climate change.
Via CleanTechnica this morning:
The Republicans continue to sow doubt on whether the climate is changing.
They reject the findings of the United Nations' Intergovernmental Panel on Climate Change, calling the UN "a political mechanism, not an unbiased scientific institution" with "intolerance toward scientists and others who dissent from its orthodoxy."
For an analysis of the Republican rejection of the Paris agreement, see Evan Lehmann's article for Scientific American via ClimateWire two weeks ago.
…
In other words, the party has no stated policy at all — only a repudiation of all forward progress made during President Obama's term.
In fact, as Greg Dotson points out in ThinkProgress, the Republican platform eight years ago was more progressive than in 2016.
The party now comes out strongly in favor of loosening restrictions on the oil and gas industries.
Its platform also describes coal as a "clean" source of energy, an untruth that sends Democrats and others worldwide rolling on the floor laughing.
Trump has made his positions very clear.
He only mentions the subject of climate change in order to bait and mock the Democrats.
Donald Trump has also pledged to renegotiate or cancel the Paris climate agreement, gut President Obama's Climate Action Plan, and approve the previously rejected Keystone XL pipeline
Hillary Clinton, polar-opposite — Democrats at least have it high on their agenda and would most-likely make some inroads toward getting a handle on this environmental nightmare no longer a future dream, but happening now.
And in recent days, some new studies/research/episodes in this calamitous, terrifying phenomena to make you worry:
First, one I missed somehow, from the UK's Independent a couple of weeks ago:
Animal and plant species are declining so quickly that world biodiversity loss is no longer within a "safe limit" and could start to threaten much of the planet's ability to support humans, according to a major new study.
Experts analysed nearly 2.4 million records about more than 39,000 species at 18,600 different places around the world.
They discovered that for 58.1 per cent of the world's land surface the loss of biodiversity was serious enough to call into question its ability to sustain the 5.3 billion people who live there.
The research, published in the prestigious journal Science, comes as scientists are considering redefining the current geological epoch as the Anthropocene — because of humanity's dramatic effects on the Earth, including what many fear will be the planet's sixth mass extinction of life.
Closer to home, and Lake Tahoe, located along the California-Nevada line — getting hotter.
Via the Las Vegas Review-Journal last Saturday:
The average surface temperature of Lake Tahoe has risen faster over the last four years than any time on record — 15 times faster than the long-term warming rate over the past half century, scientists say.
Continued warm and dry conditions contributed to several record-breaking measurements at Lake Tahoe in 2015, raising concerns about the ecological impacts of climate change on the second deepest lake in the United States, according to an annual report issued Thursday by the UC Davis Tahoe Environmental Research Center.
"Lake Tahoe experienced a year like no other," according to the research center, which started keeping water temperature records in 1970 when it averaged 50.3 degrees.
Even more — from the Washington Post last Thursday:
Temperatures have soared in western Russia's Yamal tundra this summer.
Across Siberia, some provinces warmed an additional 10 degrees Fahrenheit beyond normal.
In the fields, large bubbles of vegetation appeared above the melting permafrost — strange pockets of methane or, more likely, water.
Record fires blazed through dry Russian grassland.
In one of the more unusual symptoms of unseasonable warmth, long-dormant bacteria appear to be active.
For the first time since 1941, anthrax struck western Siberia.
Thirteen Yamal nomads were hospitalized, including four children, the Siberian Times reported.
The bacteria took an even worse toll on wildlife, claiming some 1,500 reindeer since Sunday.
According to NBC News, the outbreak is thought to stem from a reindeer carcass that died in the plague 75 years ago.
As the old flesh thawed, the bacteria once again became active.
The disease tore through the reindeer herds, prompting the relocation of dozens of the indigenous Nenet community.
Herders face a quarantine that may last until September.
…
"As a consequence of permafrost melting, the vectors of deadly infections of the 18th and 19th centuries may come back," the scientists warned, "especially near the cemeteries where the victims of these infections were buried."
Cattle grave sites should be monitored, they concluded, and "public health authorities should maintain permanent alertness."
Anthrax microbes are not the only permafrost bacteria that have environmental scientists' hackles raised.
As University of Florida geologist Thomas S. Bianchi wrote at the Conversation in October, as the Arctic warms up it provides more organic matter for cold-climate bacteria to eat.
Although the organic matter is ancient, it appears modern bacteria can still digest it.
And as they consume the permafrost, the microorganisms excrete carbon dioxide — adding to the greenhouse gases already present in the atmosphere.
And finally, to tie-up the noose — via Climate News Network last Tuesday:
Some scientists think the world will find it difficult to achieve even the 2°C limit Paris aimed for, and that preventing warming of more than 1.5°C is almost certain to remain an unachievable aspiration.
But the authors are convinced that it is essential to research what the effects of going beyond 1.5°C, even briefly, could be, and that the world should find out without delay.
"In the light of our findings of discernible impact differences between 1.5°C and 2°C, we urgently require a better scientific understanding of the potential impact legacy of temporarily exceeding the 1.5°C limit," says Michiel Schaeffer, co-author and scientific director at Climate Analytics.
The analysis agrees that early peaking of global emissions around 2020 and rapid decline towards zero emissions are critical for achieving the Paris goal.
But governments' near-term mitigation targets for 2020-2030 are not enough to achieve the temperature limit, so the Agreement includes a mechanism aimed at increasing climate action over time.
As anyone with walking-around sense can see, if nothing's done and way-quickly, bye-bye us.
If Trump is elected president in November, we'll be way-so-fucked on so-many-different levels…
(Illustration above by Handoko Tjung, found here).