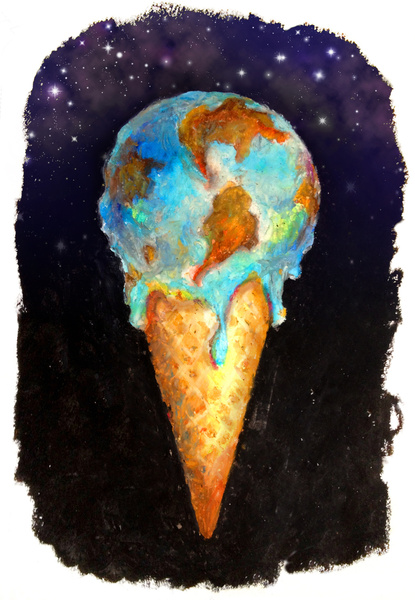 Foggy-damp and chilly this near-noon Tuesday on California's north coast — opposite poles for the interior, as Willow Creek could top 107-degrees today.
Hot doesn't feel the heat…
No wonder, the whole-wide-world is heating — last month was the hottest July (and/or month) ever.
Via Climate Central this morning
The reign of record hot months in 2016 continues, with last month claiming the title of hottest July on record globally, according to data released by NASA on Monday.
This July was also the hottest month on record for the world.
The streak means that 2016 is still well on its way to upsetting last year as the hottest year on record.
The tenth hottest month in a row…
(Illustration above found here).
The climate isn't changing, it's being really, really altered in a quick-heated way.
Continuing with Climate Central:
Every month so far this year has been record hot.
In NASA's data, that streak goes back to October 2015, which was the first month in its data set that was more than 1?C hotter than average.
In NOAA's records, the streak of hottest months goes back to May 2015. If July is record warm in its data (which will be released Wednesday, July will be the 15th record-warm month in a row.
By NASA's reckoning, July 2016 was 1.27-degrees F (0.84-degrees C) hotter than the 1951-1980 average.
It was 0.2-degrees F (0.11-degrees C) above July 2015, the next warmest July in records that go back to 1880.
The record July heat also means this was the hottest month the planet has seen over the course of NASA's records.
That's because July is also generally the hottest month of the year due the fact that it's summer in the northern hemisphere where there's more land.
And the warmth is so captivating, and so quick-upon-us, the UN deal in Paris might already be in trouble:
The Earth is so hot this year that a limit for global warming agreed by world leaders at a climate summit in Paris just a few months ago is in danger of being breached.
In December, almost 200 nations agreed a radical shift away from fossil fuels with a goal of limiting a rise in average global temperatures to well below 2 degrees Celsius (3.6 Fahrenheit) above pre-industrial times while "pursuing efforts" for 1.5°C (2.7°F).
All coming down to the local — via the Guardian this morning:
On Tuesday, the National Oceanic and Atmospheric Administration (NOAA) is set to classify the Louisiana disaster as the eighth flood considered to be a once-in-every-500-years event to have taken place in the US in little over 12 months.
Since May of last year, dozens of people have been killed and thousands of homes have been swamped with water in extreme events in Oklahoma, Texas, South Carolina, West Virginia and Maryland.
NOAA considers these floods extreme because, based on historical rainfall records, they should be expected to occur only once every 500 years.
The Louisiana flooding has been so exceptional that some places in the state experienced storm conditions considered once-every-1,000-year events.
Close to 2ft of rain fell over a 48-hour period in parts of southern Louisiana, causing residents to scramble to safety from flooded homes and cars.
Even as the Rio Olympic games continue — might be the last of the 'normal,' as we know it — from CleanTechnica, also this morning:
A new commentary published in The Lancet, entitled The last Summer Olympics? Climate change, health and work outdoors, authored by UC Berkeley professors Kirk Smith and John Balmes, Alistair Woodward of the University of Auckland, and Cindy Chang, the physician in charge of UC Berkeley's athletic teams and the chief medical officer for Team USA at the 2012 London Olympics (among others), concludes that only eight Northern Hemisphere cities outside of Western Europe are likely to have temperatures cool enough to host the Summer Olympics beyond 2085.
They're way-falling short…