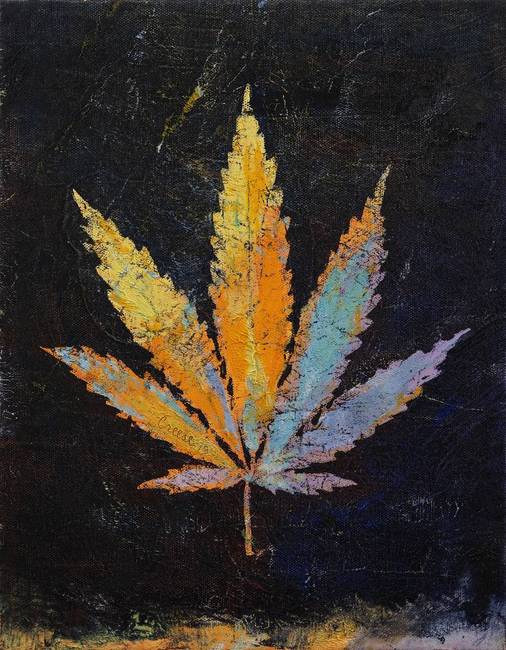 Fog-bound once again this near-noon Wednesday on California's north coast, though, the NWS forecasts today as 'Sunny' — maybe later.
This area is in the near-heart of the cannabis life-industry, so we're watching the appearance of Proposition 64 — the ballot-initiative this November to make it legal for people over 21 to hold up to an ounce of pot — and its chance at the public box;
Supposedly, Prop 64 should fairly-easily be passed by voters; polls support legalization from 55-60-percent.
However, in recent days campaigns for-and-against Prop 64 have convoluted into '"…a twisted logic pretzel…"' and could cause the measure to fail.
Political pot posturing…
(Illustration: 'Cannabis,' by Michael Creese, found here).
Titled, the Adult Use of Marijuana Act (AUMA), the initiative is long over due — California tried to legalize cannabis twice before (1972, failing 66-to-33-percent; and 2010, voted down 53-to-46-percent), so maybe third-time the charm.
Marijuana should be legal, even with the limits of Prop 64.
In it would come a Bureau of Medical Marijuana Regulation, handled by the State Department of Consumer Affairs — to fund it, a 15-percent cash-register tax at the cash register would pay for that agency and benefit police. Prop 64 would also influence the number of dispensaries, recreational or not.
The race for the vote has maybe altered the scene a bit. A good, detailed account in yesterday's LA Weekly:
But when pollsters hired by opponents of legalization asked likely voters if they approved of some of the specifics spelled out in Proposition 64 — the upcoming November ballot initiative that would make it legal for adults over the age of 21 to hold up to an ounce of weed –— only 36 percent said they'd "definitely" vote yes.
And after likely voters heard the opposition's argument that "marijuana smoking ads could be allowed on all broadcast primetime shows," 52 percent of respondents said they'd definitely or likely vote no, according to the poll, conducted by SmithJohnson Research.
"Latino support dropped considerably, with a swing of over 13 percent in opposition," the campaign said in a statement.
"This survey reveals why Proposition 64's supporters fought tooth and nail to keep voters from hearing about their plans to advertise on TV and radio — including filing a lawsuit to prevent information about this provision from appearing on the ballot," said Kevin Sabet, co-founder of Smart Approaches to Marijuana, which has a political arm (SAM Action) that's helping to fund opposition to the measure.
Despite my old age, I'm weird:
The poll also found the obvious, that as likely voters get older, support for the initiative gets weaker: 79.1 percent of likely voters ages 18 to 34 just say yes to 64.
But as you get to the 75-and-older demographic, nearly 61 percent are opposed.
As we all know, Grandma votes — and she tends to be fairly conservative, which should be alarming if you think 64 is a shoo-in.
The Public Policy Institute of California says only about half of eligible adults ages 18 to 25 register to vote in California; for those older than 65, that rate is a whopping 86 percent.
Odd, and we'll see — old-assholes…
In other cannabis-like news — Via Reuters:
A federal appeals court on Tuesday said police officers cannot stop and search vehicles belonging to out-of-state motorists simply because of where they reside, including states where marijuana use is legal.
By a 2-1 vote, the 10th U.S. Circuit Court of Appeals in Denver said two Kansas Highway Patrol officers violated the constitutional rights of Colorado motorist Peter Vasquez in December 2011 by pulling him over and searching his car after he had been driving alone at night on Interstate 70.
The officers relied heavily on Vasquez's residency to justify the search, which uncovered nothing illegal, saying Colorado was a known "drug source" where marijuana is legal.
But the court said that would justify searching motorists from the 25 U.S. states that permit marijuana use for medical purposes, and the four states, including Colorado, plus Washington, D.C., where recreational use is allowed.
"It is time to abandon the pretense that state citizenship is a permissible basis upon which to justify the detention and search of out-of-state motorists, and time to stop the practice of detention of motorists for nothing more than an out-of-state license plate," Circuit Judge Carlos Lucero wrote.
"Absent a demonstrated extraordinary circumstance, the continued use of state residency as a justification for the fact of or continuation of a stop is impermissible," he added.
And a gender approach — per PsyPost last Thursday:
Researchers from Columbia University Medical Center (CUMC) found that men had greater pain relief than women after smoking marijuana.
Results of the study were recently published online in Drug and Alcohol Dependence.
"These findings come at a time when more people, including women, are turning to the use of medical cannabis for pain relief," said Ziva Cooper, PhD, associate professor of clinical neurobiology (in psychiatry) at CUMC.
"Preclinical evidence has suggested that the experience of pain relief from cannabis-related products may vary between sexes, but no studies have been done to see if this is true in humans."
Cannabis couples cometh…