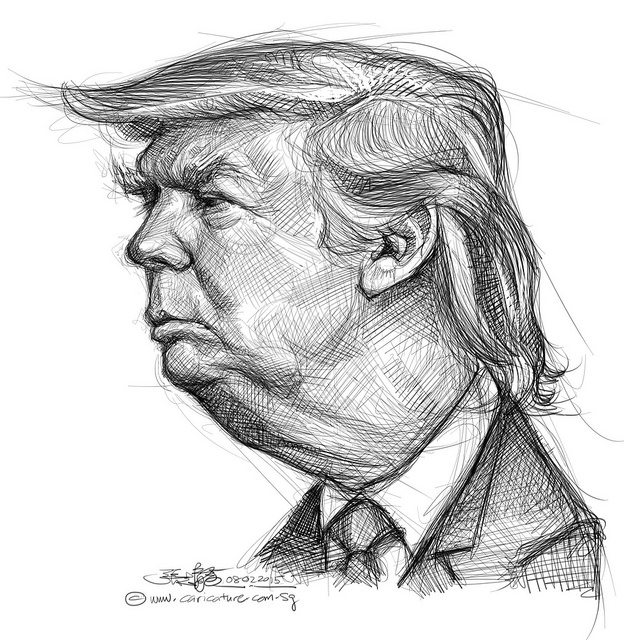 Sunshine and breezy this afternoon, but the actual fact is Donald Trump comes from a place where the sun don't shine.
In the summer of 2015, Daily Show correspondent Jordan Klepper placed the butt where it lie: '"Donald Trump could very well be our first openly asshole president," he said. While Richard Nixon was more of a "closest asshole," Trump "says it loud and proud: 'I'm here, I'm an asshole, get used to it, you Mexican rapist losers!'"'
Now more than a year later, the asshole is stretching the limits of being an asshole…
(Illustration: Donald Trump, 'Basic Shapes,' by caricaturist/illustrator Chong Jit Leong, found here).
Horrible the man, unimaginably the horror as a candidate for the most-powerful job on the planet. As a stand-alone asshole, The Donald is in a class of his own, as presidential contender he's off the charts — WTF!
Just a dinky example — The Donald stiffed the cute kids.
Last January, a dance troupe of 10 girls who called themselves the USA Freedom Kids, performed at a Trump rally in Florida, and became overnight sensations — since then, more than 6 million YouTube viewers have seen the routine.
Beyond near-believe, but not, the Freedom Kids filed suit against Trump's campaign this week, citing a shaft in payment, despite a verbal agreement — via Bloomberg this past Wednesday:
The troupe alleges Trump reneged on a pair of agreements, including a deal to provide space to sell their album and T-shirts during their first campaign performance in Pensacola, Florida, on Jan. 13.
The space, agreed to as a substitute of the group's $2,500 performance fee, was never made available, according to the complaint.
"As discussed, we are not able to pay the girls or cover travel, however, we have coordinated with the event space to allow the girls to set up a table and pre-sell their album, shirts, etc. if this is helpful to you," Trump campaign regional field director Stephanie Scruggs wrote in an e-mail on Jan. 5.
The e-mail is signed 'Deus Tecum,' Latin for 'God be with you.'
…
A week later, the group boarded a flight to Chicago en-route to a scheduled performance at a Trump rally in Des Moines, Iowa, on Jan. 28, paying for their own transportation and lodging.
Upon landing in Chicago, the girls were told their performance had been canceled.
The troupe rented a van and drove to Des Moines, where they were prohibited from performing or speaking with the media, according to the complaint.
Jeff Popick, the group's manager and the father of one of the performers, said he isn't sure he'll vote for Trump in November.
Whaaat? Popick ain't sure?
Meanwhile, this story popped up yesterday, and is making the InterWeb rounds this afternoon — Trump people high and low have had to sign a way-severe nondisclosure agreement, which made them 'legally prohibited from criticizing Trump, his family, or any of his businesses.'
Corey Lewandowski, and former senior campaign consultant Sam Nunberg, might be require a NDA, but guys on the phones?
From yesterday's Think Progress:
Both Lewandowski and Nunberg were high-ranking Trump staffers, and it's somewhat understandable Trump wants to prevent the sort of sensitive information they're privy to from going public.
But on Thursday, the Cincinnati Enquirer reported that even online volunteers who merely want to phone bank for Trump must sign that same more than 2,200 word NDA, even though most of them will never meet Trump or his family.
And once signed, the signer can never, ever say anything mean about Trump or anything-at-all involving Trump, forever and ever — or get your ass sued for $10 million: 'No Disparagement. During the term of your service and all times thereafter you hearby promise and agree not to demean or disparage publicly the Company, Mr. Trump, any Trump company, any Family Member, or any Family Member Company or any asset any of the foregoing own, or product or service any of the foregoing offer, in each case by or in any of the Restricted Means And Contexts and to prevent your employees from doing so.'
Asshole!
And further the hole of the ass — this afternoon from Reuters:
Republican presidential nominee Donald Trump has run an unusually cheap campaign in part by not paying at least 10 top staffers, consultants and advisers, some of whom are no longer with the campaign, according to a review of federal campaign finance filings.
…
But not compensating top people in a presidential campaign is a departure from campaign finance norms.
Many of the positions involved might typically come with six-figure annual paychecks in other campaigns.
"It's unprecedented for a presidential campaign to rely so heavily on volunteers for top management positions," said Paul Ryan, an election lawyer with the campaign finance reform advocacy group Campaign Legal Center.
The Trump campaign said the Reuters' reporting was "sloppy at best" but declined to elaborate.
One of the 10 who were unpaid, Michael Caputo, told a Buffalo radio station in June after he resigned from the campaign, that he was not volunteering.
Rather, he said he just had not gotten paid.
Caputo confirmed to Reuters on Thursday that the Trump campaign has still not paid his invoices.
T-rump is one-huge, atomic-powered asshole, and him as president is.nightmarish at best…