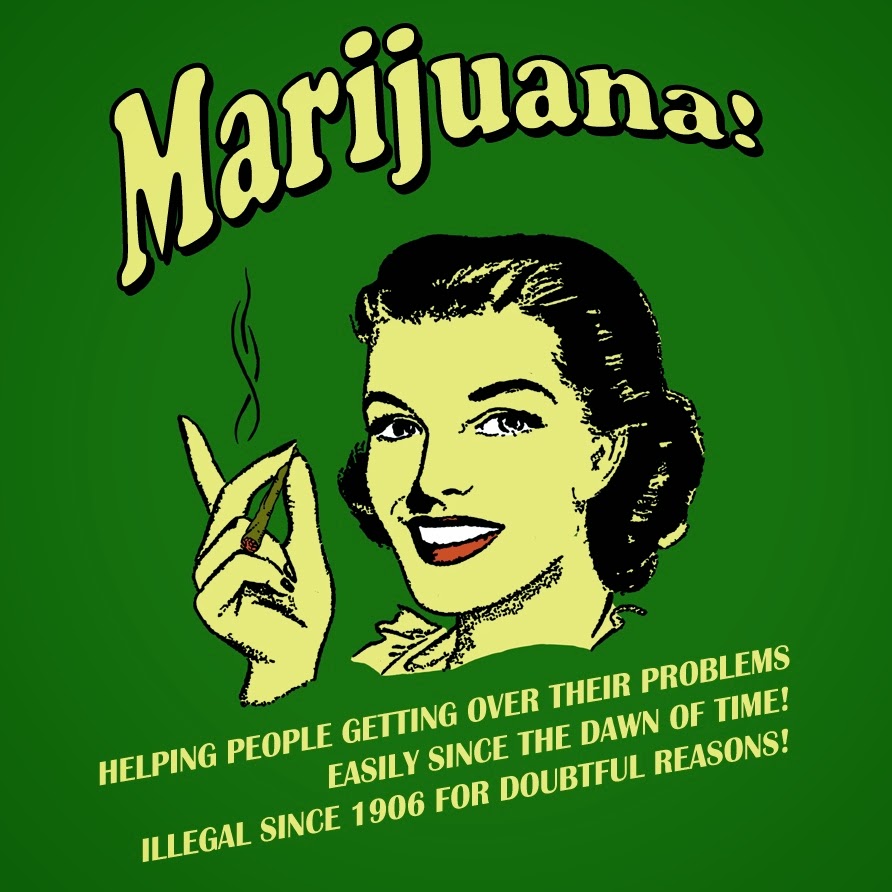 Fog returns this early Wednesday on California's north coast as the year falls forward — most-likely sunshine soon.
Yesterday was about as good-as-it-gets around here with tons of afternoon sun and nearly-clear skies. Even with a brisk ocean breeze, the warmth felt actually warm — supposedly, we should be in the 70s by Friday.
As if normal — from 24/7WallSt this morning: 'For the year to date, the spot price for marijuana has averaged $1,914 a pound, compared with last week's average of $1,637 per pound. The forward price for October delivery dropped by $25 a pound last week to $1,525.'
(Illustration found here).
And as if the report was about oil shares…
Not only has pot reached an actual legit-biz level, actual knowledge of cannabis has reached a point where medical marijuana (MMJ) has spread — oldsters in an usually-conservative group calls for the DEA to change its stance on pot in order to battle PTSD.
From Marijuana.com, also yesterday:
The American Legion, which has more than 2 million members, passed a resolution at its annual convention last week urging Congress to "amend legislation to remove marijuana from schedule I and reclassify it in a category that, at a minimum will recognize cannabis as a drug with potential medical value."
Dr. Sue Sisley, one of the researchers for the first federally-approved study examining medical cannabis's benefits for people with Post-Traumatic Stress Disorder (PTSD) and a driving force behind the effort to get the American Legion on board, said the organization's support will propel the debate about the issue.
"I consider this a major breakthrough for such a conservative veterans organization," she told Marijuana.com.
"Suddenly the American Legion has a tangible policy statement on cannabis that will allow them to lobby and add this to their core legislative agenda. The organization has a massive amount of influence at all levels."
…
The American Legion resolution, which was sponsored by the group's Louisiana department, also calls on DEA to begin issuing more licenses to cultivate cannabis for research into its medical benefits, a move which the agency announced it was making on the same day as its denial of rescheduling.
Medical marijuana access for military veterans is an issue that is gaining traction and bipartisan support.
In May, the U.S. House approved an amendment to let veterans get medical cannabis recommendations from Department of Veterans Affairs (V.A.) doctors by a vote of 233 – 189.
On the same day, the Senate passed its version of legislation to fund the V.A. through 2017, which included a medical marijuana provision that had already been attached to the bill by the body's Appropriations Committee in a vote of 20 – 10.
And MMJ continues to impress — via MassRoots yesterday:
The herb probably can't help you teleport around town or swim faster than a shark, but according to scientists, it might be able to increase your night vision capabilities.
In a recently published study from eLIFE, an online science publication for professionals specializing in bioscience, a group of researchers found a connection between Type 1 cannabinoid receptors (CB1Rs) and eyesight stimulation.
…
The results of the tests revealed that marijuana increased the connection between the eye and the brain.
When an individual smokes weed, special cannabinoid receptors become activated, which makes one's eyes highly sensitive to light.
This phenomenon improves visual stimulation and light detection, resulting in enhanced eyesight.
Of course, this was all tested on tadpoles and further trials need to be conducted on mammals, specifically humans, to seal the scientists' findings.
In an unrelated experiment conducted by The Observer columnist Sue Arnold, who was found to be officially blind by doctors from a retinitis pigmentosa diagnosis, cannabis was personally tested for its eyesight-improving benefits.
Arnold uncovered that smoking Jamaican skunk temporarily contributed to visual clarity.
Tadpoles a small leap to mankind…
Although pot is an incredible substance utilized in varied ways, it's still ingested, which has varied effect and a change in brain work,
From Boston University Research last week:
Daily marijuana users report more sleep disturbance than people who use marijuana less often or not at all, countering the perception that the drug helps to treat insomnia, according to a new study co-authored by a Boston University School of Public Health (SPH) researcher.
The study, published in January 2016 in the Journal of Addictive Diseases, found that daily marijuana users scored higher on the Insomnia Severity Index and sleep-disturbance measures than non-daily users.
Ninety-eight marijuana users, most in their early 20s, participated in the study, which is co-authored by Michael Stein, SPH chair of health law, policy, and management and the study's principal investigator.
And another from the Washington Post last Sunday:
A massive study published this month in the Journal of Drug Issues found that the proportion of marijuana users who smoke daily has rapidly grown, and that many of those frequent users are poor and lack a high-school diploma.
Examining a decade of federal surveys of drug use conducted between 2002 and 2013, study authors Steven Davenport and Jonathan Caulkins paint one of the clearest pictures yet of the demographics of current marijuana use in the U.S.
They found that the profile of marijuana users is much closer to cigarette smokers than alcohol drinkers, and that a handful of users consume much of the marijuana used in the U.S.
MMJ to save the day…