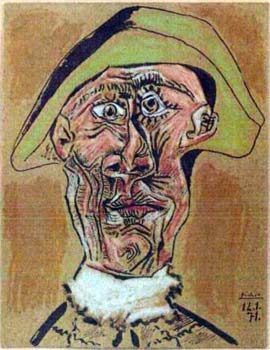 Today 15 years ago was a Monday.
Unemployed at the time and living in San Luis Obispo, down on California's Central Coast — left the local newspaper in a downsizing/single-option dispute-episode three months earlier — and was still without a job (I re-joined that same newspaper three months later) and so usually drove my oldest daughter to work.
That particular morning, she'd expressed some anxiety during the drive about her fiancé being in the Navy, being concerned about his safety. He was then stationed in Norfolk, Va.
Main ingredient: "The service is good right now," I told her, "and really good with education, the GI bill and whatnot, There's not much happening." Glancing over at her, adding with a little smirk, "Unless there's a war…"
(Illustration: Pablo Picasso's 'Harlequin Head,'  found here).
Of course, what happened the next morning made my words an example of the worst foretelling, ever…