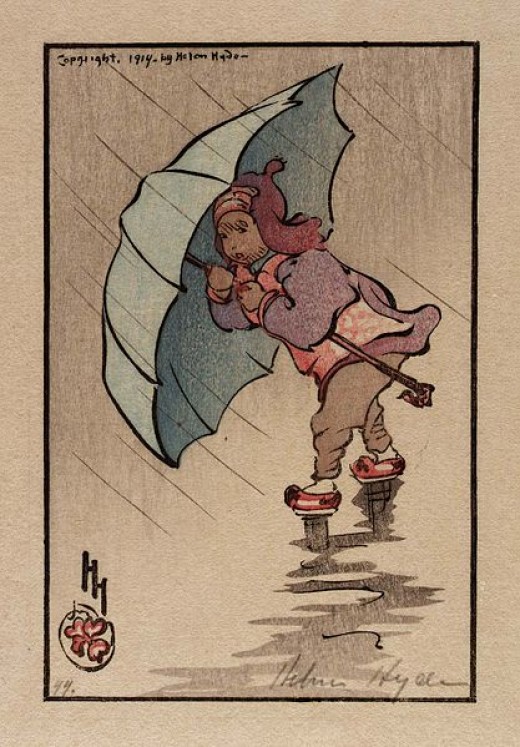 Rain and rain this early Monday on California's north coast as the first major storm of the season plops its way across the region — supposedly, we're on the final shower this morning as one of those 'atmospheric rivers (ARs)' has been washing us clean.
Via the Times-Standard last night:
"Right now we're on the back edge," National Weather Service Eureka meteorologist Richard Lam said of the latest system.
Showers are forecast to persist until Tuesday, he said.
"There's the potential for lightning with those," Lam said.
"After that it looks like we'll be dry … at least through the week," he added.
The storm stomped in last Thursday and left 1.39-inches of rain on the initial blast here in Mckinleyville, and kept hammering away all weekend.
(Illustration: 'The Blue Umbrella 1914,' by Helen Hyde, found here).
The big downpour was at Cooskie Mountain south of Petrolia, where more than 4-inches fell on Thursday, and then a couple of inches Saturday and Sunday.
Of course, more rain is forecast today, but by tomorrow afternoon reportedly, we should see some sunny skies — we'll wait and see on that one.
This particular AR was the first of the season, and was fueled greatly by a very strong storm — formerly known as Typhoon Songda — which even from the vast reaches of the faraway western Pacific Ocean can thunder on us.
Last week, UCLA climate researcher Daniel Swain, at the California Weather Blog, explained that influence — key points:
Tropical cyclones in the warm West Pacific can occasionally "recurve" from their predominantly east-to-west trajectory, veering northward and then eventually eastward as they approach the active west-to-east storm track region and associated upper-atmospheric jet stream.
Such recurving cyclones can affect West Coast weather via one or both of two possible mechanisms–either by strengthening and "extending" the East Asian jet stream further eastward over the North Pacific basin or less commonly by transitioning into a "hybrid" extratropical cyclone and arriving largely intact (but in weaker form) in the Pacific Northwest.
In the present case, it appears that Songda will do a little of both–strengthening the overall storm track and persisting as a powerful remnant surface low as it treks eastward across the Pacific.
It might be a bit surprising to learn that former West Pacific typhoons can have such a profound influence upon West Coast weather.
But history suggests that there is a relatively narrow window in autumn–mostly during the month of October–when a rare confluence of events can produce truly extreme storm conditions.
One of the most significant California events of this kind in recent memory occurred in October 2009, when the remnants of Typhoon Melor re-intensified as an extratropical cyclone off the coast of Northern California and brought extraordinary rainfall and damaging winds to a wide region.
But even the 2009 event pales in comparison to the incredibly destructive Columbus Day Storm of 1962, which drew its energy from the remnants of former Typhoon Freda.
The so-called "Storm King" brought winds well in excess of 120 mph to much of coastal Oregon and near-hurricane force winds from the California border to Vancouver, BC–an event that would be even more disastrous today, given the large increase in population and human infrastructure that has occurred in that region since 1962.
Fortunately, as disruptive as the upcoming event may be in Washington and Oregon, nothing even close to the magnitude of the 1962 event is anticipated.
And we're just starting…