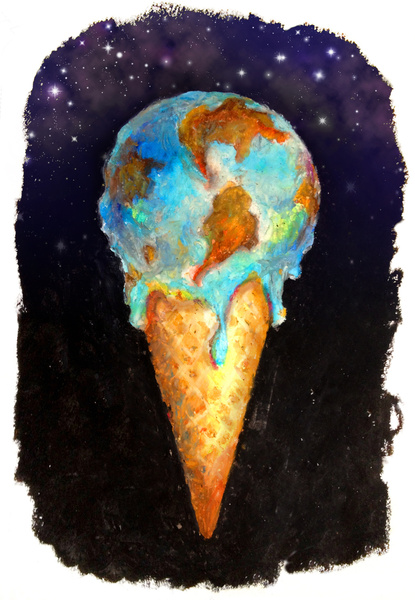 Sunshine this early Tuesday on California's north coast, as apparently we ease out of the wet and into the dry and warm — supposedly above-average temperatures the next couple of days.
Rain maybe toward the end of the week.
According to five-day rainfall totals from the NWS out this morning, my little spot in Mckinleyville received more than 6-inches of rain since Thursday, and seems the whole area got nailed pretty hard-and-good.
Warmth the big story, though — and not just here, with most of the US currently experiencing record-breaking heat.
And the world (via Climate Central): 'New data from NASA shows that yet again, the planet had a record-warm month. September set a record with temperatures 1.6°F (0.91°C) above normal, besting the previous mark set in September 2014. It's the latest in a run of months — and years — where freakish global warmth has become the norm.'
(Illustration above found here)
Normal 'freakish' as last month came on the burned-heels of August, which had tied the record for hottest August ever — the tie was for the month before, and so on.
NASA points in the upward direction — further from Climate Central:
As early as May, there was a 99 percent chance that 2016 was going to go down as the hottest year on record, besting 2015, which bested 2014, because the planet has been on a heat bender since last year.
With September's record, the odds crept a little higher still.
NASA climate scientist Gavin Schmidt said on Twitter that 2016 "seems locked in" to set a record for hottest year with it likely to end somewhere around 2.25°F (1.25°C) above the late 19th century average.
The global average temperature will stop setting records at some point, but that's besides the point.
The past 12 months has been a long string of exclamation points at the end of a sentence that reads the world has been warming since the the late 19th century due in large part to human carbon pollution.
So onward we tranverse…