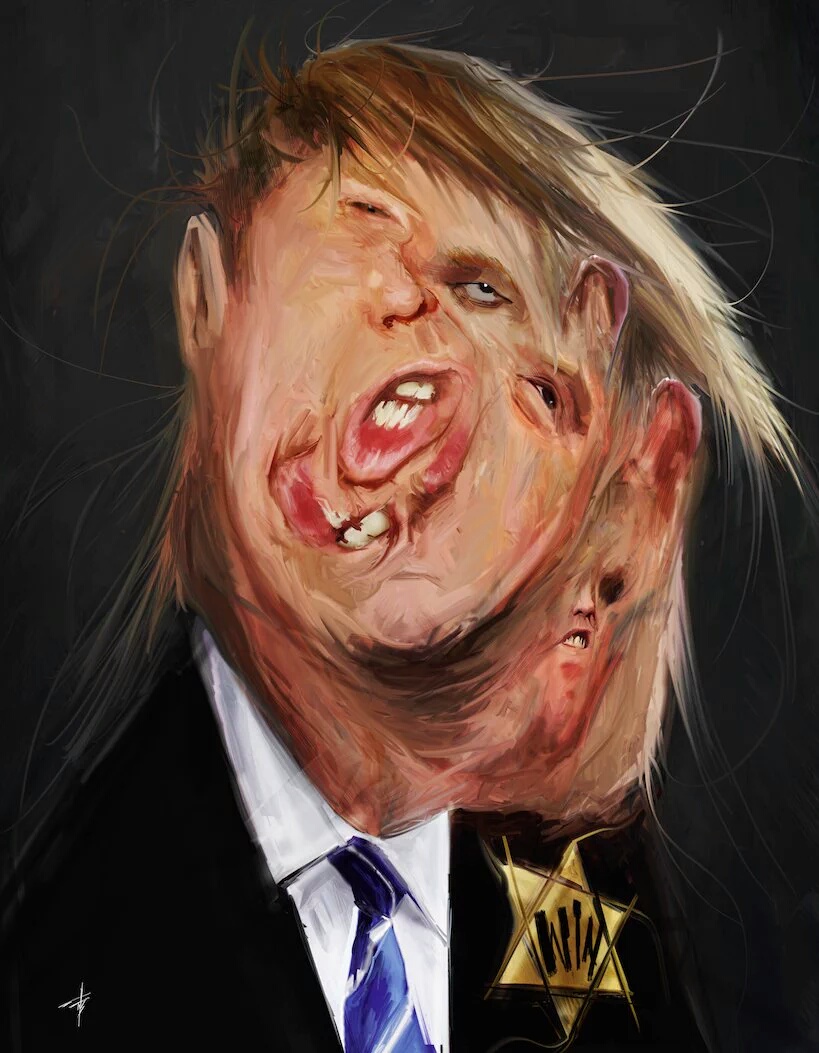 Overcast with an occassional light drizzle this Wednesday morning on California's north coast — supposedly, the wet should evaporate by noon, then sunshine all the way through the weekend.
According to the NWS, we're to shift from 'Chance Rain,' to 'Mostly Sunny' today to usher in the nice-weather stretch.
Transition word for this post could probably be, 'usher.' As we 'usher' — like a funeral service — another day in the antics-life of the most-powerful bipolar-asshole on the planet.
Yet there's a hopeful backlash (HuffPost):
'A graphic designer in Miami Beach has designs on turning Donald Trump's last name into a new euphemism for "poop."'
Maybe force T-Rump to "…get unhinged about it."
(Illustration: 'President Trump,' by Jonathan Bass, found here).
Not out of the realm of reality — horror of a piece of human shit taking control. An idea enough to loosen bowels.
Just this morning, T-Rump's went Tweet about his yuugly business conflicts-of-interest as president — an asshole barks nonsense.
Per the Washington Post:
But it remained unclear whether the new arrangement would include a full sale of Trump's stake or, as he has offered before, a ceding of company management to his children, which ethics advisers have said would not resolve worries that the business could still influence his decisions in the Oval Office.
"I will be holding a major news conference in New York City with my children on December 15 to discuss the fact that I will be leaving my great business in total in order to fully focus on running the country in order to MAKE AMERICA GREAT AGAIN!" Trump tweeted.
"While I am not mandated to do this under the law, I feel it is visually important, as President, to in no way have a conflict of interest with my various businesses. Hence, legal documents are being crafted which take me completely out of business operations. The Presidency is a far more important task!"
And the bullshit bipolar-ism (also from the Post story):
Buffeted by entanglement worries, Trump has largely dug in, arguing "the law's totally on my side, meaning, the president can't have a conflict of interest" last week in an interview with the New York Times.
"In theory I could run my business perfectly, and then run the country perfectly," Trump said. "But I would like to do something. I would like to try and formalize something, because I don't care about my business."
An undercurrent of totally fucked.
We're in for some hard times ahead, on many different levels, areas, regions, everywhere. Maybe something pretty-ugly has been unleashed onto the great, unwashed mass of Americans, splintering-out to touch every living creature.
Fairly heavy…
Last week, I spied an excellent view of our current nowadays by award-winning writer Ben Fountain at the Guardian, and this T-Rump phenomenon a kind of opening a can of toxic shit, ushering in a monarchy of medieval-like dark.
Fountain, also author of "Billy Lynn's Long Halftime Walk," encapsulated our era — a couple of snips:
If ever a monument is erected to the Trump presidency, then surely these words — shades of Gettysburg! — will be carved into the marble walls, along with "blood coming out of her wherever", "fifty bucks a steak" and "I would bring back a hell of a lot worse than waterboarding."
In true demagogic fashion, Trump bypassed the head and spoke directly to the gut, to the biles and bubbling acids of raw emotion.
He said things that many civil, temperate Americans hardly dared to admit we carried in ourselves — were hardly aware of just how deeply we resented our own niceness, how angry our interior lives with all this stuff bottled up, years and years of internalized micro-aggression from a culture that kept insisting on diversity, inclusiveness, tolerance.
Many discovered just what a drag political correctness was all these years, and to be free of it, freed from this code that was jamming us up?
That was relief akin to a lung-puncturing primal scream.
From the start Trump's rallies had the air of the tent revival, that same hot thrum of militant exorcism and ecstasy.
…
Ego will be the guiding principle of the Trump presidency.
In this respect he's much more like a monarch than the duly elected public servant of a representative democracy, and, as monarchs do, he will keep his heirs close to the center of power, Ivanka, Don Jr, Eric, and that budding Cardinal Richelieu of a son-in-law, Jared Kushner.
Top security clearances and advisory roles are contemplated for the kids, who at the same time will be running the for-profit entities of the sprawling Trump Organization.
It's hard to imagine a more ethically fraught, legally explosive situation for the children, managing a vast consortium of transnational businesses while being privy to the country's most sensitive secrets, along with easy access to the most powerful man in the world.
How will it all play out?
Badly.
Look to Shakespeare for a taste of the awful potential here, to the tragedies and history plays, those coils of ego and empire and wealth (and sex and sex and sex!) that often end with bodies all over the place.
The best thing Trump could do for his children would be to put his assets in a genuine blind trust, and send the kids away — far, far away from Washington — to do their own thing.
Limit visits to holidays and weekends, bounce the grandkids on his knee, not breathe a word about business or affairs of state.
Yeah, right.
Just the fortune of us all — bipolar Shakespeare in one really-bad act…