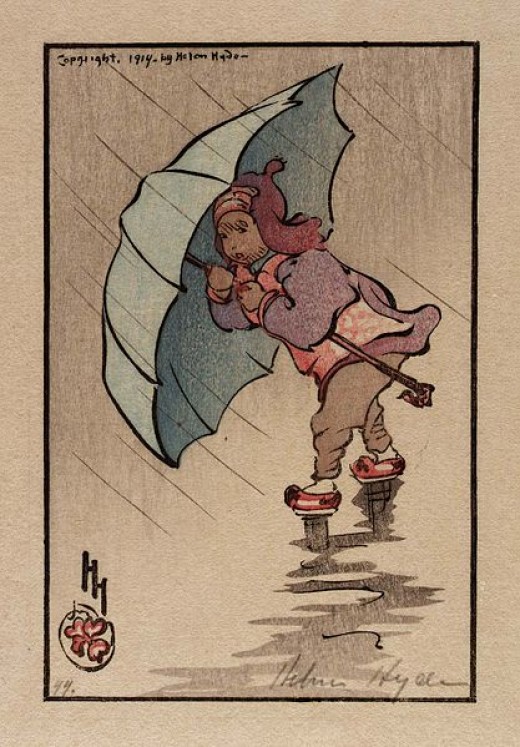 Water, and more water from the sky this Wednesday morning on California's north coast — the NWS calls it 'Heavy Rain,' and it has indeed been that for several hours now.
Supposedly, another cycle right-behind this one, bringing more 'Heavy Rain' until sometime tomorrow afternoon. Starting Friday, though, fair, sunshine days expected through the weekend, maybe even to Monday.
So far, a way-wet season. October preliminary rainfall totals were off-the-charts — for my little area, we were 419-percent of normal for the period. I haven't seen the November totals yet.
All of northern California has been way-wet —
NWS forecaster Bob Benjamin (Press-Democrat): '"For rain connoisseurs, this has been an excellent year."'
Our rainstorms this morning, though, are warm…
(Illustration: 'The Blue Umbrella 1914,' by Helen Hyde, found here).
Meanwhile right-now on the opposite side of the US, the near-exact opposite situation, only similarity the weather being wet — snow vs rain. However, give me the warm rain any day.
Just hit the pipe a couple of times off the back patio, and the atmosphere outside is of warmth, especially compared to the near-freezing temperatures around here only hours past.
The West Coast, for sure the northern section of California, is right-now getting drenched by an atmospheric river, which pulls water vapor out of the tropics — colorfully called the 'Pineapple Express' due to its flow of humid Hawaiian air right-up our way. And ARs are way-wet: 'A strong AR transports an amount of water vapor roughly equivalent to 7.5–15-times the average flow of liquid water at the mouth of the Mississippi River.'
Hence, the 'Heavy Rain' designation, but despite the time of year, and location, near-balmy in reality.
Yet location the key.
Right now, we're at 55-degrees, with a high today maybe above 60 for my spot here in Mckinleyville, California — and a long meanwhile from the middle-to-the-eastern-seaboard of America, it's crazy-cold as shit, getting stomped by another episode of the polar vortex, a large, permanent area of cold air surrounding both of earth's poles, which sometimes shifts further south into the jet stream, forcing below freezing norms for a big chunk of the country.
Via Gizmodo this morning:
Subzero temperatures are expected across the Upper Midwest today and tomorrow.
By Thursday morning, Minnesota, Wisconsin, parts of the Dakotas, and Chicago are set to feel wind chills colder than -20 degrees F (-29 degrees C).
Records for cold temperatures are also expected in northern Illinois, Michigan, Ohio, Kentucky, and West Virginia.
Parts of Canada are also bracing for the big chill, including Manitoba and Ontario.
New England and parts of the US East Coast can expect the cold temperatures to hit hard on Thursday and Friday, with wind chills ending up in the -10 to -25 degrees F range.
Shit, that's some nasty. ("vortex" refers to the counter-clockwise flow of air that helps keep the colder air near the Poles).
And as our climate warms, more of the same.
Per IBTimes on Monday:
Over the past three decades, the polar vortex has weakened due to Arctic sea-ice loss that has been caused by global warming patterns resulting from human-created greenhouse gasses that trap heat in the atmosphere, according to a study in October in Nature Climate Change that analyzed the impact on Europe.
That weakening means that the vortex has shifted and that unusual cold spells will hit more frequently and later in winter.
Odd the horror of climate change…
Further on this rain/snow-infested study-subject of  'extreme precipitation,' which has increased in the US, with  a '…general idea that it should continue to increase by about seven percent for each degree Celsius the climate warms.'
Via ArsTechnica yesterday:
As for what's ahead, the researchers wanted to use their model to understand the environment's "breaking point" — the temperature above which the precipitation rate stops increasing and starts to decline.
The concept was not well understood before, but the researchers wanted to know whether global warming may shift this breaking point.
According to their model — which assumes that future weather patterns look more or less like current and past weather patterns — extreme precipitation events in the future "are projected to significantly increase in almost all North American land regions," the authors write in their paper.
That's because climate change creates warmer and moister environments, which in turn produce more extreme precipitation events—shifting the "breaking point."
…
Their results still produce a general rate of roughly seven percent per degree Celsius, in line with other studies done elsewhere in the world.
So, unfortunately, their results do not mark a contradiction of the aforementioned worrisome rate.
The researchers warn that these extreme precipitation events cause a hazard to society, one we should take seriously.
"The increase in the intensity and frequency of extreme precipitation would cause major challenges for existing infrastructure systems, as well as demand fundamental reassessments of planning approaches to intense precipitation, local flooding, landslides, and debris flows," they write.
Maybe an eddy of ambiance…