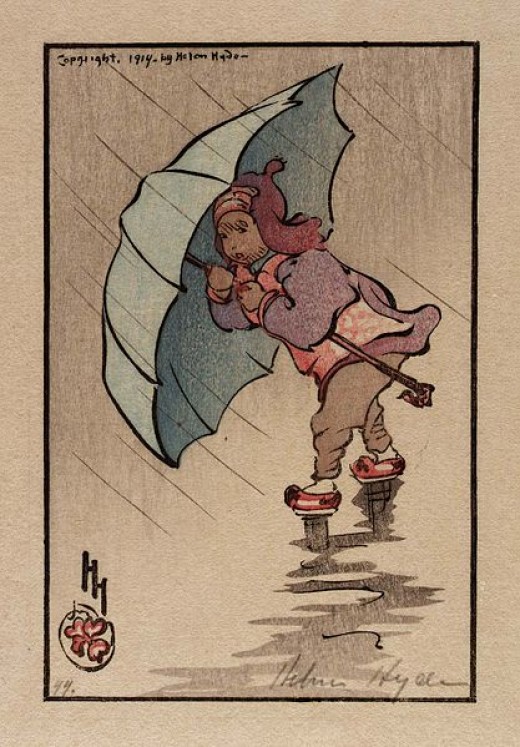 Heavy rain gushing through gutters this Friday morning on California's north coast — we're in the wet midst of a fairly-decent storm cycle, all propelled by some blustery winds.
We could see gusts above 20-mph, and although forecast for maybe half-an-inch of rain today, so far from the looks of it, the end-result should be higher.
Snow levels are forecast to be down near 2500 feet by this afternoon, right now we're under a 'Hazardous Weather Outlook,' maybe with small hail and occasional lightning thrown into the mix. — heavy rain slated for this afternoon and supposedly into Saturday.
Also from the NWS this morning, the 'preliminary rainfall totals' for November, and we did good again. My little spot not too far from the Eureka/Arcata Airport was 107-percent of normal with 7.2-inches of rain last month.
(Illustration: 'The Blue Umbrella 1914,' by Helen Hyde, found here).
Yet not like October — we hit 419-percent of normal — last month did keep the rain-ball going, especially in this drought-prone era.
Overall so far this year, my area is at 39-percent of normal, and at 200-percent of norm through November, which indicates an above-average rainfall total. Upper-northern California is currently pretty-much drought free, and these rains will help statewide, hopefully — however, we need about three rain-heavy years in a row to really ease the dry.
Good marks, so far.
Via the SFExaminer this morning:
Almost a third of California is not experiencing drought conditions for the first time since 2013, according to new numbers the U.S. Drought Monitor released Thursday.
…
The new numbers show that just under 30 percent of the state is not in a drought.
About 15 percent of the state is drought-free while another 15 percent is "abnormally dry," meaning in the preliminary stage of a drought but not in one.
While bits of Northern California are in the clear for now, much of Southern California and the Central Coast are experiencing shades of "extreme" or "exceptional" drought, though to lesser extents than last year.
Today a fifth of the state is in an exceptional drought compared to more than double that at this time last year.
"It's certainly indicative that the northern part of the state is doing better," said Mike Anderson, state climatologist with the Department of Water Resources.
"That's where our big water project reservoirs are, so that's a good sign."
Maybe the only 'good sign' in the whole, wide world…