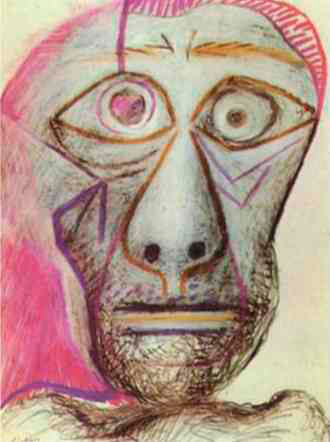 Clear and sunshine this early Thursday on California's north coast as we catch a break from the wet weather — supposedly 'Mostly Sunny' through early next week.
Surreal is a tip-top word to continue into 2017 — freakish, near-illusory fright of T-Rump's press conference yesterday makes 'surreal' essential to understand this bizarre scene of an example in our chattered chaos in reality, a disaster-glitch in the matrix.
In this surrealistic mode while watching the presser live, the image on my TV's screen blurred, appeared clipped, or faded to black altogether — with no cable and with just an HD antenna, the weather can highly-influence reception, and when it gets nasty outside, the screen can suddenly become a flash drawn from a Salvador Dali landscape.
Or a Picasso full-frontal — originally crayon on paper, the 'selfie' at the right supposedly took several months to complete.
Illustration: Pablo Picasso's 'Self Portrait Facing Death' (June 30, 1972), was originally found here).
A twist in the surreal of looking at the future of yourself. Time is in the art, and reflection (via art-site Pallimed):
A friend, Pierre Daix, tells of his memory of the piece on a visit to Picasso, "[Picasso] held the drawing beside his face to show that the expression of fear was a contrivance."
Then on another visit 3 months later, Pierre recalled that the harsh colored lines were even deeper, and Pierre writes, "He did not blink. I had the sudden impression that he was staring his own death in the face, like a good Spaniard."
In T-Rump's presser, and still now a day later, America stared at a face of life frightfully run amuck, an ugly glimpse into a scattered-brained, yet arrogant, approach to running the country. Expect major governmental fuck-ups in the coming weeks, months, years, just in routine business — a crisis of any size, catastrophic. If the press conference was any indication, bullshit-opera is the key to T-Rump's entire operation.
The event was originally slated to be about T-Rump and his immeasurable conflicts of interest — the Russkies popped-up again, however, and the domient feature was that 'dossier,' dropping stink upon shit. In that financial regard, the noted legal work on separation of T from the Rump appeared bogus.
Way-interesting story at the UK's Independent this morning:
The papers that Donald Trump made the centre of his first press conference in six months actually appear to have been blank.
The conference also appears to have been filled with staff members who were expected to laugh and applaud throughout the event.
The President-elect claimed that the documents, which were placed next to him as he spoke, were evidence of the preparations he had made to give over control of his businesses to his sons.
That move has been claimed by Mr Trump and his lawyers as a way of avoiding any conflicts of interest during his time as President, but it hs been criticised as inadequate by the Office of Government Ethics.
Both Mr Trump and his lawyer Sheri Dillon pointed at those documents and claimed they were just part of the various papers required to separate Mr Trump from his business.
They each pointed at the pile repeatedly as proof that the preparations were being made.
But reporters were not allowed to look at any of the documents, which all were held in folders meaning that the actual paper was hidden.

And the pages themselves appear to be blank.
While the majority of the sheets were hidden, some of them were visible — and there was no sign of page numbers or the sticky notes that lawyers tend to use to mark places in large documents.
The paper itself also appeared to be the wrong size, printed on A4 rather than legal size sheets, and appears to have fallen like fresh sheets of paper.
And the folders themselves were also entirely blank, despite Mr Trump suggesting that each of them related to a different business that Mr Trump was moving himself away from.
It is possible that the documents had been printed precisely for the press conference, but the fact that reporters weren't allowed to check the details of the documents led to concern that they didn't include any information at all.
Typical of the T-Rump, though — all bluster, bullshit and spit. In situations sometimes coming internally in a national sense, foreign news organizations usually make better reporting on what's really going on — a big example, factual, real coverage of how the Iraqi war unfolded came from media-places like the Brits' Independent, or Guardian, or Reuters, maybe Germany's Spiegel for background, and the best way to know at least a little something of reality is to monitor overseas journalism.
Coupled to several news platforms in the US, and keeping the head inclined to the truth, the best way to handle such wind-blown bullshit coming flash-banging off the T-Rump nightmare.
A distorted dream of a repulsive-creepy incubus snorting mucus — from the Washington Post, also this morning a little while ago: 'President-elect Donald Trump named former New York mayor Rudolph W. Giuliani as an informal adviser on cybersecurity, according to the presidential transition office.'
Just way to say, 'we be fucked…'