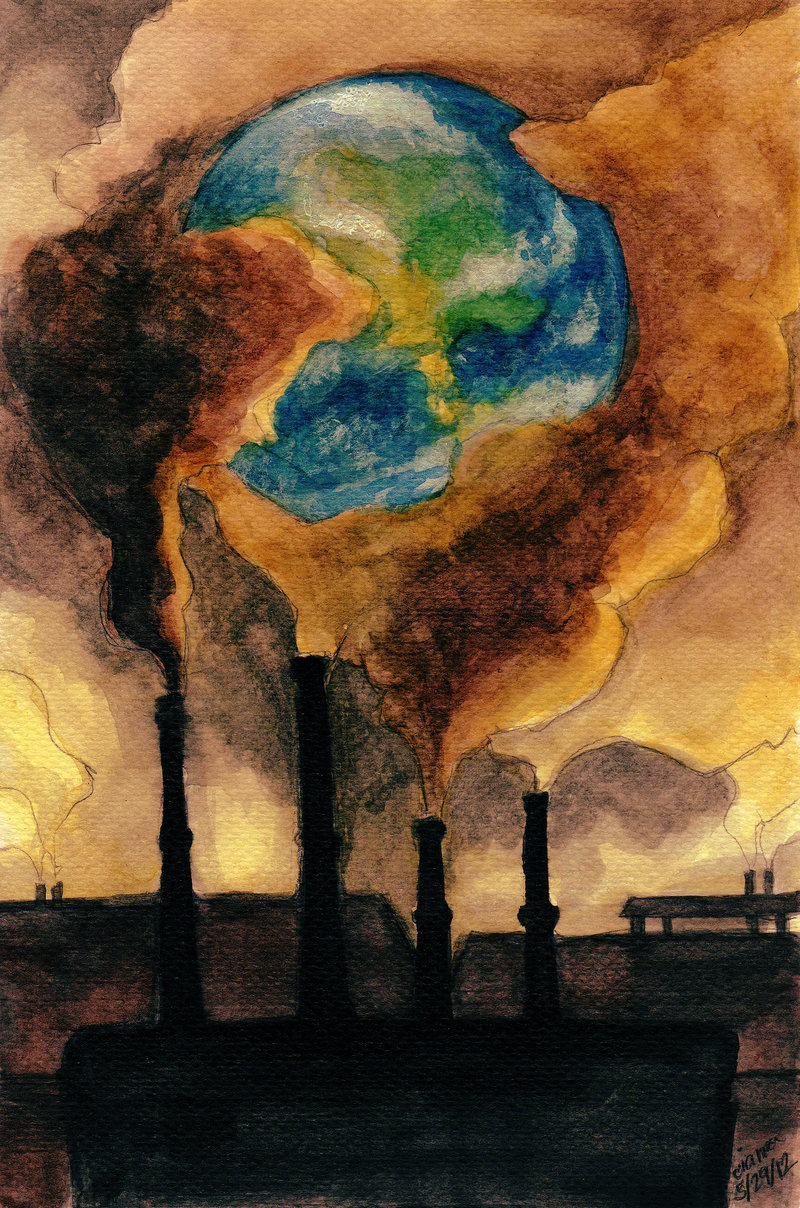 Clear and chilly this early Monday on California's north coast, maybe the last sunshine in the morning for at least a week — big storm due on Wednesday, rain and gusty wind.
Return to normal…
And of way-not normal, T-Rump and chaos in his wake — from airports to walls of shit. This past weekend found another tear in the fabric.
Via the Independent yesterday morning:
Members of the Republican politician's staff have warned that Prince Charles, Queen Elizabeth's son, should not "lecture" him on climate change during the visit in case the fiery politician "erupts" in return, The Sunday Times reports.
He has reportedly expressed a preference that the younger generation of royals, such as Prince Charles' sons William and Harry, meet him instead.
Can anyone 'lecture' the T-Rump on anything?
We're in bad waters…
(Illustration found here).
In a week, T-Rump has indeed become the president of chaos. As witnessed this past weekend and the horror of a off-the-cuff ban on travelers, there's even worse shit a-coming.
He's changing the climate of life on this planet.
And climate change waits for no asshole.
New research indicates we're actually in deeper shit than we figured, even worse than the horrible shit already figured…
As T-Rump reflects an ugly, nasty face, so do all things 'white,' like clouds, or ice.
What was good, now through 'feedbacks,' can be really, really bad. A twist in the the albedo effect (albedo is a measure of the reflectivity of a surface, and is derived from the Latin for 'whiteness').
When applied to the earth it's a measure of how much of the sun's energy is reflected back into space. A new study from the American Geophysical Union worsens the measure —
Found at BC3Research.org this past weekend:
The study's authors conclude that, due to the future increase in the sea ice-albedo feedback, global carbon dioxide emission levels would need to reach zero 5 to 15 years earlier than expected to meet targets set by the agreement, substantially increasing mitigation costs.
They also show the target of limiting the increase in global temperatures to 1.5 degrees Celsius set by the Paris Agreement would be unachievable without negative carbon emissions.
The new study, published today in Earth's Future, a journal of the American Geophysical Union, explores how different scenarios of an ice-free summer in the Arctic Ocean could affect efforts to keep global temperature change below 2 degrees Celsius.
The research, conducted by Mikel González-Eguino and colleagues from the Basque Centre for Climate Change (BC3), a research center based in Bilbao, Spain, took place within TRANSrisk, a project funded by the European Union´s H2020 research program.
…
"Bringing forward by 5–15 years the full decarbonization of the global economy is going to be challenging," González-Eguino said.
"Existing energy infrastructures would have to be replaced quicker and policy instruments that make such transition feasible would need to be adopted earlier.
"According to our simulations, the global tax on carbon dioxide that would be needed by 2020 would be between $50 and $70 per ton of carbon dioxide, and we are currently very far from that point."
The results also show that achieving the 1.5 degree Celsius target of the Paris Agreement is practically unachievable if the sea ice-albedo feedback is considered.
Due to T-Rump's fucking over environmental research and regulation, we're most-likely way-fucked…
Even from the top tiers — environmental writer/activist Bill McKibben with a sobering account of our times at RutlandHerald on Saturday, and despite a forced optimism, there's a dark horror.
Key points:
One possibility is, we've lost.
It's a real possibility, and we should consider it carefully instead of ignoring it because it's emotionally unpalatable.
I think the argument would go like this: The idea that humans would move quickly enough off coal and oil and gas to salvage the planet's climate was always a long shot.
When I wrote the first book on all of this back in 1989, I interviewed a political scientist who said "it's the problem from hell," with so many interests at odds, and so much money invested in the status quo, that it was hard to see a real path forward.
And that was back when we thought global warming would roll out somewhat slowly — when we feared the consequences that would unfold in the second half of this century.
The scientists, it turns out, had been much too conservative, and so "ahead of schedule" became the watchword for everything from polar melt to ocean acidification.
Already, only 17 years into the millennium, the planet is profoundly changed: half the ice missing from the polar north, for instance, which in turn is shifting weather patterns around the globe.
…
The other reality is darker, but no less real: Global warming will happen on a spectrum.
It's not like everything is okay up to 2 degrees, and then everything is hell.
Hell is breaking loose now, and we're barely past 1 degree.
Two degrees will be exponentially tougher — but 3 degrees will be exponentially tougher than that.
The battle never really ends: You just keep falling back to the next redoubt, finding some new weapon with which to fight, yielding no more ground than you must.
We're never going to reach the point where it can't get any worse.
It can get worse, and it will if we don't battle.
One huge hope is the resistance shown against the T-Rump shit — the woman's a week ago, and the protests this past weekend against the 'Muslim ban.'
And wonderfully, resistance can come from the great outdoors, even via our own natural people — via Lost Coast Outpost last week:
The official Twitter account for Redwood National and State Parks has joined a growing list of National Park Service Twitter feeds that have "gone rogue" by posting messages that run counter to statements and proposals from President Donald Trump.
Shortly before 10 a.m. Wednesday the Redwood N&S Parks account tweeted, "DYK [Did you know] redwood groves are #1 carbon sink / acre in nature? About 200 tons an acre. More redwoods would mean less #climatechange #climate
As such a resistance from within beyond the wildlands (the Guardian):
The tweets went beyond climate change.
Death Valley national park tweeted photos of Japanese Americans interned there during the second world war, a message that some saw as objecting to Trump's pledge to ban Muslims from entering the country and a proposal to restrict the flow of refugees to the US.
The South Dakota park posted tweets Tuesday that accurately quoted climate science data, including the current record-setting high concentrations of carbon dioxide in the atmosphere. Trump has called climate change a hoax.
The tweets were shared thousands of times, and the Democratic National Committee circulated the message by email with the subject line "Resist."
A sliver of hope…