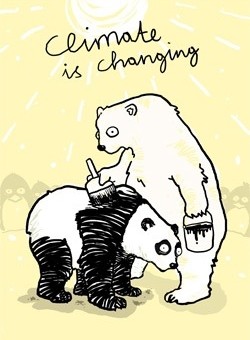 Dark-overcast and rainy this mid-morning Tuesday on California's north coast, as we brace for the next wave of storms due today, tonight, and apparently feels like will last forever.
According to the NWS this morning, along with some heavy rain today, the region is also under a Thunderstorm Watch: 'Any thunderstorms that do develop will be capable of producing small hail, damaging wind gusts, lightning, and waterspouts over the ocean. Remember, when thunder roars go indoors!'
Yes…
No hiding, though, from the immediate future. The heavy-wet weather we've been experiencing this season is just another off-shoot of climate change — the big gushers, those 'atmospheric rivers,' are just going to get worse. An AR can carry about 10 times as much water vapor as the Mississippi River at its mouth.
Quick-turnaround, drought-dry to flood-soaked..
(Illustration by Handoko Tjung, found here).
California is like many, many parts of the world nowadays, a product of the 'new abnormal,' produced by a warming environment. In the past, we went through maybe a couple ARs a season, this year supposedly 10 times that number.
Marty Ralph, director of the Center for Western Weather and Water Extremes at the University of California, San Diego (The Verge):
"When we get a sequence of them, or we get too many and the soils are real moist and the rivers are high and the reservoirs are full, then they can go from being largely beneficial — because we need water in the West — to hazards," Ralph says.
That's the situation we're in now, Ralph says, with about 30 atmospheric rivers since October 1st — and it's something we can expect to see more of.
As global temperatures continue to climb, the air can hold more water vapor — which means calmer winds, but warmer and wetter atmospheric rivers, more often.
And that means more flooding.
In the heat rising, more ARs.
From TechTimes this morning:
Weather events can likewise become more intense in a warmer world because warmer air can hold more moisture and lead to bigger atmospheric rivers.
A warmer world could mean stronger moisture transport and heavier rainfall.
…
Researchers of a new study published in the journal Nature Geoscience also found that between the years 1997 and 2014, about half of the top 2-percent of the most extreme storms that occurred in the world's coastal regions were tied to atmospheric rivers.
Between 40 and 70 percent of extreme winds as well as snowfall and rainfall events across coastlines worldwide were also linked to these so-called "rivers in the sky."
"Atmospheric rivers produce the extreme rainfall because this moisture is lifted above mountain ranges. The lifting of the air initiates some rainfall, but this then feeds off this huge quantity of water in the atmospheric river to lead to much heavier rainfall," explained climate scientist Richard Allan, from the University of Reading in the UK.
…
U.S. Geological Survey hydrologist Mike Dettinger explained that climate change could also affect mountain snowfall patterns as it raises the elevation at which it is cold enough for snow to fall, which means that more rain than snow will fall, which could also lead to more flooding.
"That's not good, because more rain means more flood risk," Dettinger said.
"California's atmospheric rivers are every bit as big as land-falling hurricanes."
And add to the woe, this via ScienceNewsJournal yesterday on results of a study published in the journal Environmental Research Letters:
In the article, it is reported that surface melt from glaciers and ice caps of the Queen Elizabeth Islands grew from an average of three gigatons to 30 gigatons per year between 2005 and 2015.
This is an increase of a massive 900 percent.
Romain Millan, an Earth system science doctoral student and lead author of the paper, noted that surface melt has increased dramatically in the past decade because of the air temperatures warming up.
The team found that the overall ice mass has decreased markedly in the past decade, turning the region into a major contributor to sea level change.
Canada holds 25 percent of all Arctic ice, with only Greenland holding more.
Yet as we face a becoming way-obvious disaster with our environment, the GOP wants a '"rebalancing"' of NASA's working budget — gut climate research.
And we merrily AR our way home…