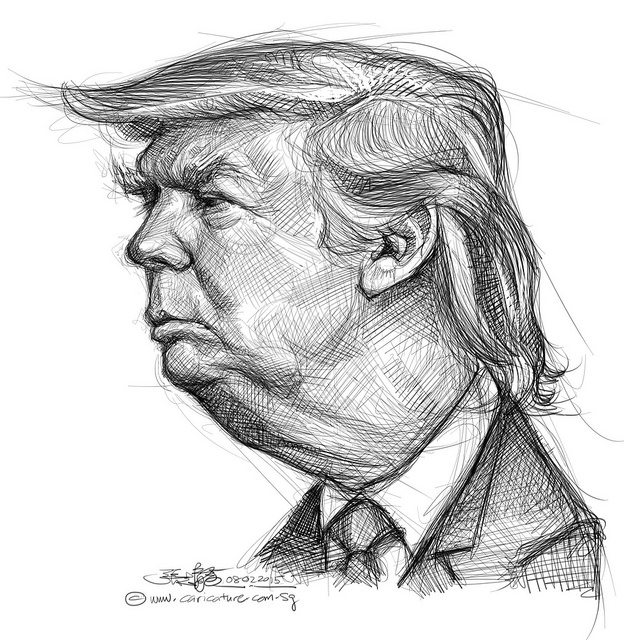 Overcast/light-fog with some sporadic-misty drizzle this Monday afternoon on California's north coast, and to complete the environmental picture, an occasional dull slice of faded-yellow sunshine brightens the scene/scenario.
According to the Eureka NWS, a strong offshore High system will slowly cycle-up Thursday and Friday, bringing supposedly real-good, springtime-like weather for awhile.
Even thoughts of 'spring-like weather,' however, can't overcome the anxiety-soaked image pictured at the right — one of the most repulsively-repugnant characters to ever occupy the Oval office, or really for anywhere.
The drawing near-perfectly captures the bile-and-bloat…
(Illustration: Donald Trump, 'Basic Shapes,' by caricaturist/illustrator Chong Jit Leong, found here).
As we roll toward the 100-day mark for the T-Rump experience — seems way-too 'normal' to call it an 'administration,' or even, 'presidency,' although true in a physical sense, somewhat, the whole operation screams bullshit, bogus-show of self-centered incompetence.
And a horrifying glimpse into the T-Rump brain is to read his speech/interview transcripts — how does the fucker operate?
The latest comes from the Associated Press (via Mediaite):
The AP has been releasing excerpts from Trump's conversation recently, but on Sunday, they released a complete readout of what he had to say to White House reporter Julie Pace.
The interview has garnered significant media attention, not only because of the wide range of topics discussed, but also because of how many times Associated Press noted that Trump's recorded remarks were "unintelligible" to their transcribers.
Read the whole transcript at the AP site. It's a word-fuck doozy. The word 'unintelligible' pops up 16 times, all strung through hanging sentences, and near-childish gibberish.
Including a pause to ask if Ms Pace wanted a Coke.
She declined…
Good view/wrap-up on the interview from the Washington Post, and  at Vanity Fair, plus all over.
T-Rump did expose a frightful sense of a bubbled-life — Josh Marshall at TPM yesterday also examined the interview, noting the petulant dream:
TRUMP: "I'll tell you the other thing is (unintelligible). I used to get great press. I get the worst press. I get such dishonest reporting with the media. That's another thing that really has — I've never had anything like it before. It happened during the primaries, and I said, you know, when I won, I said, "Well the one thing good is now I'll get good press." And it got worse. (unintelligible) So that was one thing that a little bit of a surprise to me. I thought the press would become better, and it actually, in my opinion, got more nasty."
Marshall then nails the deep-set problem: 'What strikes me more is not so much the entitlement, that he thinks it should happen, but the fact that he really thought it would happen.'
Dangerous waters we're navigating nowadays…