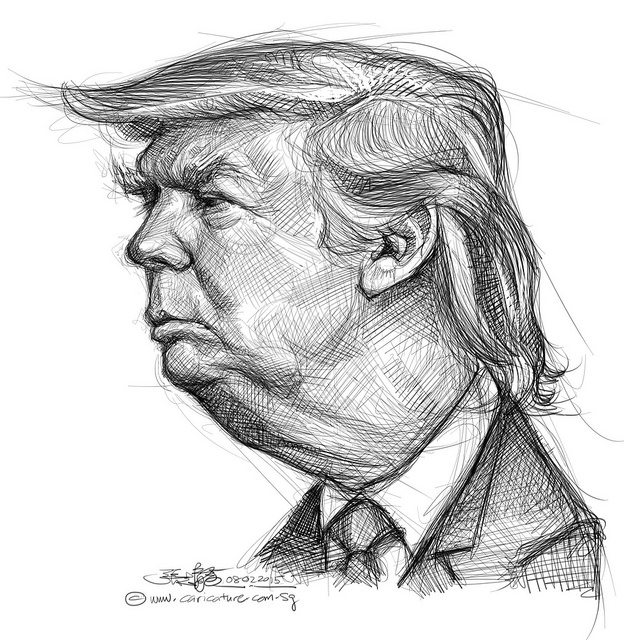 A gorgeous, sunshine-filled Tuesday afternoon here on California's north coast — onward we go…
In just one sentence on his show last night, Stephen Colbert nailed the T-Rump persona:
'"You're not the Potus, you're the Bloatus, you're the glutton with the button, you're a regular Gorge Washington, you're the presi-dunce, but you're turning into a real prick-tator, sir, you attract more skinheads than free Rogaine, you have more people marching against you than cancer, you talk like a sign language gorilla who got hit in the head, in fact the only thing your mouth is good at being is Vladimir Putin's cock holster, your presidential library is going to be a kids menu on a copy of Jugs magazine, the only thing smaller than your hands is your tax returns."'
The DC scenario has become almost dream-like, with events fluttering out of sense in place and time, like from a crazed-Aaron-Sorkin-tinted episode of 'The Twilight Zone,' depicting a West Wing zombie apocalypse.
And the fashion in which T-Rump dismissed John Dickerson's interview this past weekend is way-indicative of how the shithead will handle reality — dismiss it outright, and remove the inquisitor. Check Dickerson's face in the video as the T-Rump strides behind his desk. Bad vibes for America…
Just as the prick-face tweeted this morning, '"Our country needs a good 'shutdown' in September to fix mess!"' a cold-hearted nutcase is apparently erupting in asshole mania — this yesterday from Politico:
President Donald Trump questioned why the Civil War — which erupted 150 years ago over slavery — needed to happen.
He said he would be "honored" to meet with Kim Jong-Un, the violent North Korean dictator who is developing nuclear missiles and oppresses his people, under the "right circumstances."
The president floated, and backed away from, a tax on gasoline.
Trump said he was "looking at" breaking up the big banks, sending the stock market sliding.
He seemed to praise Philippines strongman President Rodrigo Duterte for his high approval ratings.
He promised changes to the Republican health care bill, though he has seemed unsure what was in the legislation, even as his advisers whipped votes for it.
And Monday still had nine hours to go.
"It seems to be among the most bizarre recent 24 hours in American presidential history," said Douglas Brinkley, a presidential historian.
"It was all just surreal disarray and a confused mental state from the president."
…
The comments took politicians of both parties — and some of his aides — by surprise.
They came after Trump had earlier surprised foreign policy experts with a "very friendly" conversation with Duterte on Saturday night, and an invitation to visit the White House.
Duterte has not accepted and said he might be too busy to come.
Crank-head like.
And the whole narrative would be hilarious if the orange-twit wasn't president of the United-fucking-States. Which leads to worrisome problems — a key note from an opinion piece at CNN this morning by Ruth Ben-Ghiat, professor of history and Italian studies at New York University, on a future plot line:
Authoritarians are often ungenerous people, but they do give us one gift: they tell us what they are going to do before they do it, both as an intimidation and as a challenge.
Trump always follows this rule.
At his weekend rally, he recited the lyrics of a song by Al Wilson about a woman who rescues an ailing snake, only to find that as soon as the snake feels better he bites her.
When she protests, he grins and says, "Oh shut up. You knew damn well I was a snake before you took me in."
We're living through a most-interesting, and way-terrifying period…
(Illustration above: Donald Trump, 'Basic Shapes,' by caricaturist/illustrator Chong Jit Leong, found here).