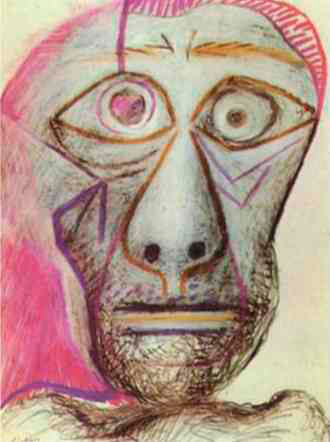 Gray with a chilled air this early-evening Tuesday here on California's north coast — contrast the way-ugly weather elsewhere.
And a frame to the life under the T-Rump — Americans are swiftly-feeling the chill. Even well before all the ominous North Korean war news today, and before T-Rump's '"fire and fury"' blather, a big chunk of respondents in a new CBS News poll have already developed a growing anxiety:
Nearly three-quarters of Americans are uneasy about the possibility of conflict with North Korea, and most feel that way about President Donald Trump's approach to the situation.
Worse even, that 'unease' is colored by politics — 87-percent of Democrats feel the worry, while only 22-percent of Republicans.
(Illustration: Pablo Picasso's 'Self Portrait Facing Death' (June 30, 1972), was originally found here).
After it was reported this morning the North Koreans can now miniaturize nuclear-bomb innards to fit on a ICBM, T-Rump acted the douche-prick — via NPR:
"North Korea best not make any more threats to the United States," the president warned at a meeting on the opioid crisis held at Bedminster, N.J., where he is on an extended working vacation.
"They will be met with fire and fury like the world has never seen," he said, adding that North Korean leader Kim Jong Un "has been very threatening beyond a normal state, and as I said, they will be met with fire, fury and frankly power, the likes of which this world has never seen before."
Hours later, North Korea responded to the latest remarks by Trump by saying it was "carefully examining" a plan to strike the U.S. territory of Guam.
The state-run KCNA news agency said a strike plan the Pacific island would be "put into practice in a multi-current and consecutive way any moment" pending Kim's decision.
We be fucked — Charles P. Pierce observing this afternoon at Esquire from America's nuclear silo-land, Lincoln, Nebraska, and nailing the dread: 'This is the way Saddam Hussein used to talk, or the way some 12-year old gamer crows after reaching Level 900 of Nuclear Zombies In Heat.
To hear the president* of the United States spout off like this has the potential to have half the world hiding in the basement.
For me, I'm going to walk carefully around here for a couple of days. You can never tell what might pop out of the ground.
We will be lucky to live through this.'
One nasty sonofabitch setting-up here…