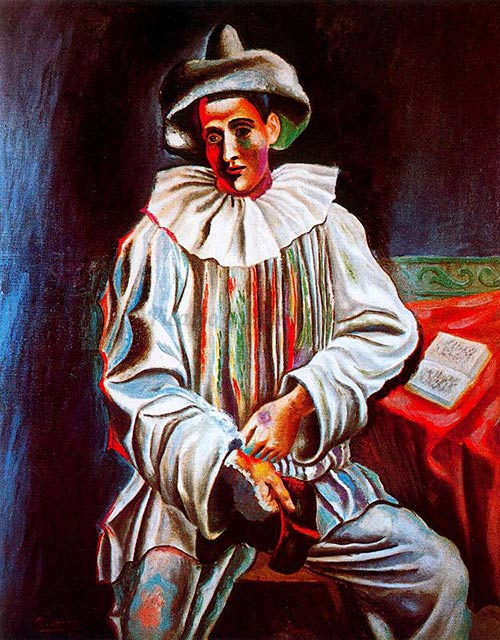 Via Slate this afternoon:
CNN refused to take criticism from the president's son.
Donald Trump Jr. slammed the news network Saturday, claiming in a tweet that it had refused to run a racist immigration-related ad that had been sponsored by Donald J. Trump for President.
"CNN refused to run this ad… I guess they only run fake news and won't talk about real threats that don't suit their agenda," Trump Jr. tweeted.
…
CNN responded through its public relations account, noting that the editorial coverage on the network had made it "abundantly clear … that this ad is racist."
When the network was "presented with an opportunity to be paid to take a version of this ad, we declined," noted @CNNPR.
"Those are the facts."
(Illustration: Pablo Picasso's 'Seated Pierrot,' found here).
Real truthful overall:
As Wemple noted, after the ad was released, a slew of media outlets dispensed with the usual equivocations — "racially charged," "racially tinged" and the like — and described the commercial as outright "racist" (CNN), "divisive" (NBC News) and "fearmongering" (HuffPost).
Junior pitching a fit over an obvious display of shit-for-brains political noise — a slap-after to the bottom-base of deplorables who swallow whole the fearful antics of a sorry-ass bunch of grifters. The commercial is not only repulsive, and not only to a few, either.
From ABC News last Thursday:
But the president's critics also took to Twitter to critique the ad.
Al Cardenas, a former chairman of the Florida Republican Party and former chair of the American Conservative Union, was one of them.
"It's all about you," Cardenas wrote in a tweet responding to Trump's tweet with the ad.
"Attacking the GOP Speaker a week before the elections is egomaniacal & counterproductive. I really, really despise your politics & your harmful impact on our country's social fabric."
Hence, one can see the importance of next Tuesday's election — the future of history depends on the outcome, and if we can't stop the T-Rumpster and his GOP allies in their tracks, we be fucked badly. There's maybe never been such an insidious bunch of crooks, sons-of-grifters and those so-without-morals about anything, and I mean, anything, in charge of as large a contraption as America.
Probably with a business, or maybe a small country, but not the whole enchilada like this, capable of great harm, and laughing all the while at the chaos they've already accomplished.
Noted linguist and political critic Noam Chomsky, in an interview at EcoWatch shortly after the election in 2016, due to various elements, mainly the crisis of climate change, said the Republican Party is"the most dangerous organization in world history."
Fast-forward and another interview published today in Scientific American, Chomsky continued: "There have been many monsters in the past, but it would be hard to find one who was dedicated to undermining the prospects for organized human society, not in the distant future — in order to put a few more dollars in overstuffed pockets."
And onward to Tuesday…