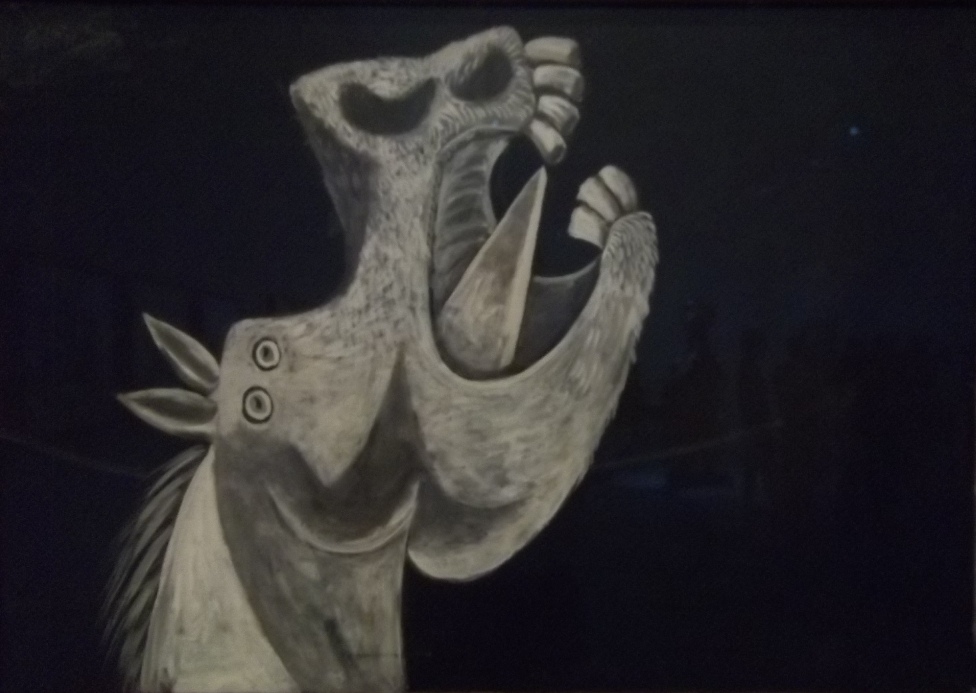 Overcast on a slightly-gray Sunday evening here on California's north coast — during the day, however, amidst breaks in cloud-cover, there'd be sparks of sunshine in shades from bright to faded-yellow. (Returning depressingly-too-quickly back to the aforementioned gray).
And two days prior to the mother of all ballot boxes. Since the T-Rump was  "elected with aggressively reactionary themes," the midterms are anger in madness…
(Illustration: Pablo Picasso's 'Agonizing Horse,' found here).
John Dean, a major player in Watergate, the most-compared US scandal nowadays to the T-Rump, this morning noted a major difference between the one nearly 50 years ago, and the horror of now:
"Trump's is making the long nightmare of Nixon's Watergate seem like a brief idyllic daydream," Dean tweeted, referencing the major political conspiracy and cover-up in the early 1970s.
"History will treat Nixon's moral failures as relatively less troubling than Trump's sustained and growing decadence, deviousness and self-delusive behavior.
"Nixon=corrupt; Trump=evil," he added.
Also today, an ABC News review has identified at least 17 criminal cases where Trump's name was invoked in direct connection with violent acts, threats of violence, or allegations of assault.
Sixteen of those cases carried 'direct evidence reflect someone echoing presidential rhetoric, not protesting it. ABC News was unable to find any such case echoing presidential rhetoric when Barack Obama or George W. Bush were in the White House.'
And it's been telling since the get-go — from the UK's Independent nearly two years ago and an incident in a Brooklyn restaurant where a T-Rumpster punched a woman in the face because she 'expressed disappointment over Mr Trump's victory.'
Jonas Leon, the manager on duty at Bar Tarmac:
"It's the worst thing ever — a guy in front of kids punching a girl in the face…"
…
"The guy came back almost running, and he started pushing some customer and the high-chair next to him with the baby because he couldn't reach the girl…Then he punched the girl."
…
"I tried to keep him to let the cops catch him, but he was really aggressive with me — he said he could kill her…I think it's going to be more and more frequent, this kind of situation."
Interesting, Mr. Leon's insights, a study published from last March indicated when one of Trump's campaign rallies is in a town/locale, the area experiences a rise in violence.
The report just confirmed stat-wise what we already knew: 'A city that hosted a Trump rally saw an average of 2.3 more assaults reported on the day of the event than on a typical day, according to the study, led by researchers at the University of Pennsylvania and published in the journal Epidemiology. The authors found no corresponding link between assaults and rallies for Mr. Trump's Democratic rival, Hillary Clinton. "…a phenomenon that's unique to Donald Trump's rally,"' and hence the state in which we're currently engulfed.
On Friday, Barack Obama hit the rally-campaign trail again, this trip swinging through two Southern states stumping for a couple of side-by-side gubernatorial candidates; Stacey Abrams in Georgia, and Andrew Gillum in Florida.
During an appearance in Miami, however, he encountered the same irrational bite-back, and presented obvious differences between Democrat and Republican campaigns:
When a protester interrupted his speech with profanities, Obama chided him, "Sir, sir, don't curse in front of kids, come on. Don't do that in front of them, come on."
As the heckler was escorted out, the crowd began chanting the former president's name.
"We're OK, we're OK, we're OK," he said, trying to calm the crowd.
Obama then cracked a joke: "You know what? This is what I look forward to, is having a few hecklers to get me back in the mood. You know, it's like, I enjoy that. You always gotta have a few in order to know that you're on the campaign trail."
And then a crazy, though seemingly way-logical question:
"Why is it that the folks that won the last election are so mad all the time?" he asked, adding, "It's an interesting question. I mean, when I won the presidency, at least my side felt pretty good… It tells you something interesting that even the folks who are in charge are still mad, because they're getting ginned up to be mad."
Really, really bizarre…
Digby had a good post from two years ago on the incident in the restaurant (she re-posted it this afternoon):
This is just one random incident but it raises the question: who gets that mad when they've won?
It's not as if those women were rubbing his nose in defeat.
Why would something so ordinary as complaining about the election cause a man to hit a a stranger, a woman, in the face?
Just reason to go vote on Tuesday…