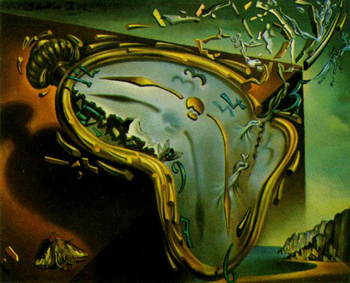 Two days later doth display our misplaced American system (via the Guardian this morning):
Among the most eye-catching was a statistic showing Democrats led Republicans by more than 12 million votes in Senate races, and yet still suffered losses on the night and failed to win a majority of seats in the chamber.
…
"The rise of minority rule in America is now unmistakable," said Laurence Tribe, a constitutional law professor at Harvard University.
(Illustration: Salvador Dali's 'Soft Watch at the Moment of First Explosion,' found here).
Along with those tilted regulations, this past midterm was also a public-at-large whopper –a definite wave, according to early data:
Voter turnout in the 2018 midterm elections topped 113 million people, the highest rate of turnout for a midterm election since 1966, according to a report from the U.S. Election Project.
The figure, first reported by NBC News, would rank voter turnout in 2018 at 48.1 percent of all eligible voters, the highest since 48.7 percent of eligible voters participated in the 1966 midterm elections, which saw Democrats retain both houses of Congress despite losing seats to Republicans at the time.
…
University of Florida Professor Michael McDonald, who runs the project, attributed the high level of turnout to high emotions centered around President Trump's presidency from voters on both sides of the aisle.
"Let's give Trump some credit: He inflames passions for both Democrats and Republicans," he told NBC News.
'Credit' isn't the word I'd use for the T-Rump, only as chaos-mongering, loud-mouth murderous asshole.
Plus this from the Washington Post, also this morning:
Democrats will pick up at least 26 seats and take a majority in the House of Representatives if preliminary results from Tuesday's midterm elections hold.
But partisan gerrymandering is still a major issue.
Our analysis of one state's results shows that the party would almost certainly have won more if Republicans hadn't deliberately drawn districts to limit Democratic chances.
A problem that will persist for years.
And a reality-TV scenario in the Jim Acosta/CNN/video idiocy — per The Hill this afternoon:
Rep. Gerry Connelly (D-Va.) declared Thursday that CNN's Jim Acosta was "deliberately set up" by President Trump in a "staged" event involving an intern on Wednesday that led to the CNN correspondent getting his press pass suspended by the White House.
…
"When you say staged, do you think he came in to distract?" TMZ followed.
"I believe they had an intern deliberately set up Jim Acosta. Yeah, I think that was pretty clear," Connelly argued.
Either Hucklberry Sanders and company aren't way-bright, or they just don't give a fat-rat's-ass about being obvious about an obvious edited/doctored video — serious as shit either way.
Probably the most-apprehensive, embedded strain of heinous DNA found in the entire Republican brand is the obvious act of hypocrisy of behaving like lying assholes in the guise of serious dialogue, but it all be bullshit.
Case in point, Florida's Marco Rubio, who in a lengthy Tweet string of shit this morning, claimed Democrats of conspiring with election officials to sway the election.
Tonight, two of the biggest spots on the Florida ballot are under possible review due to shit in problems in counting — Andrew Gillum seemingly lost the governor's race to Republican Ron DeSantis, while Bill Nelson conceded a Senate race to Republican Rick Scott. Yet there's bullshit still to brush away (New York Magazine this evening):
More significantly (and alarmingly), irregularities began to emerge in Nelson's pattern of support.
Specifically, an aberrant percentage of voters in Broward County marked their ballots for gubernatorial candidates — but left the Senate ballot-line blank.
…
If ballot design produced the undercount, than nothing can be done to rectify the error.
But it is also possible that vote-processing machines in Broward suffered a technical glitch that caused them not to read Senate votes that were properly marked on paper ballots — and if that is the case, then a recount would very likely tip the Senate race to Nelson.
For this and other reasons, lawyers for Nelson and Gillum decided to call on the state of Florida to honor its statutory obligation to perform a recount.
And Rubio then tossed his cookies into the mix:
Rubio offered no evidence to support the claim that Democratic lawyers have been very clear that they don't want every vote to count, and are merely seeking to win the election by any means necessary (even if that involves not counting all the votes), nor did he specify what "ongoing" violations of the law Broward County election officials were engaged in.
He also neglected to mention that the election supervisor who is supposedly trying to rig the election for Nelson was appointed by former Republican governor (and Rubio ally) Jeb Bush.
Many #NeverTrump conservatives like to fantasize about a world in which Marco Rubio won the 2016 GOP nomination — and, as a result, the Republican Party retained its commitment to civility over demagoguery, and democratic ideals over the raw pursuit of power.
There are many problems with this fantasy.
But two conspicuous ones are that Rubio spent much of his 2016 campaign baselessly accusing America's first black president of deliberately sabotaging the country ("he knows exactly what he's doing"); and that he is now telling his supporters, without evidence, that if Bill Nelson wins a recount they should regard the outcome of the 2018 Florida Senate race as illegitimate. Which suggests that an affinity for reckless demagoguery, and hostility to liberal democratic norms, weren't qualities that Trump introduced to Republican politics — they were actually embedded deep inside the party all along.
And this last, but not least — Alexandria Ocasio-Cortez, who on Tuesday became the youngest women in history elected to Congress, can't afford a place to live in DC until the federal check kicks in. Also from The Hill:
She explained that the transition period will be "very unusual, because I can't really take a salary. I have three months without a salary before I'm a member of Congress. So, how do I get an apartment? Those little things are very real."
Ocasio-Cortez also told the Times that she had saved money before leaving her job at a restaurant and had planned accordingly with her partner.
"We're kind of just dealing with the logistics of it day by day, but I've really been just kind of squirreling away and then hoping that gets me to January," she said.
Ocasio-Cortez explained on Twitter after the interview's release that while everything with her housing is being figured out, her struggle with housing costs is one of "many little ways in which our electoral system isn't even designed (nor prepared) for working-class people to lead."
She was a bartender before jumping into New York politics.