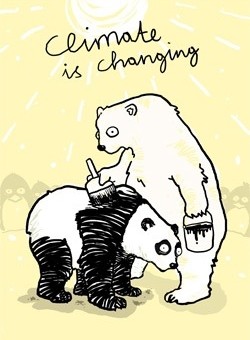 Insult to injury sort of, climate change continues unabated — new report yesterday on greenhouse gases from the World Meteorological Organization
Bad bottom line per Common Dreams:
"The last time the Earth experienced a comparable concentration of CO2 was 3-5 million years ago, when the temperature was 2-3°C warmer and sea level was 10-20 meters higher than now," said Petteri Taalas, secretary-general of WMO, a climate-focused United Nations agency.
"The science is clear," he added.
"Without rapid cuts in CO2 and other greenhouse gases, climate change will have increasingly destructive and irreversible impacts on life on Earth. The window of opportunity for action is almost closed."
However, the big snag right now is that. 'science is clear' part…
(Illustration by Handoko Tjung, found here).
The findings are on the three top players to atmospheric warming — carbon dioxide, methane, and nitrous oxide, with CO2 being the daddy.
Further:
The WMO findings come on the heels a recent report from the Intergovernmental Panel on Climate Change (IPCC) that emphasized the need for "rapid, far-reaching, and unprecedented" action to avert a human-caused climate catastrophe.
That report, which examined what the planet could look like if the global temperature rises to 1.5°C versus 2°C above pre-industrial levels, "shows that deep and rapid reductions of emissions of carbon dioxide and other greenhouse gases will be needed in all sectors of society and the economy," said IPCC chair Hoesung Lee.
"The WMO Greenhouse Gas Bulletin, showing a continuing rising trend in concentrations of greenhouse gases," he concluded, "underlines just how urgent these emissions reductions are."
Other forms of 'urgent,' pressing, dire, desperate, critical, serious, grave, and so forth…
And today, a 'federally mandated study was supposed to come out in December but was released by the Trump administration on Friday, at a time when many Americans are on a long holiday weekend, distracted by family and shopping.' (CNN).
The report states:
Coming from the US Global Change Research Program, a team of 13 federal agencies, the Fourth National Climate Assessment was put together with the help of 1,000 people, including 300 leading scientists, roughly half from outside the government.
It's the second of two volumes. The first, released in November 2017, concluded that there is "no convincing alternative explanation" for the changing climate other than "human activities, especially emissions of greenhouse gases."
On Wednesday, Trump tweeted, "Whatever happened to Global Warming?" as some Americans faced the coldest Thanksgiving in over a century.
But the science explained in these and other federal government reports is clear: Climate change is not disproved by the extreme weather of one day or a week; it's demonstrated by long-term trends.
Humans are living with the warmest temperatures in modern history. Even if the best-case scenario were to happen and greenhouse gas emissions were to drop to nothing, the world is on track to warm 1.1 degrees Fahrenheit.
As of now<, not a single G20 country is meeting climate targets, research shows.
…
"The findings in the Trump administration's NCA report show how the health and daily lives of Americans are becoming more and more interrupted because of climate change," said Beverly Wright, founding director of the Deep South Center for Environmental Justice and a professor at Dillard University.
"We challenge the administration to finally begin using this information to rebuild and strengthen the communities in the direct path of the atrocities wrought by the fossil fuel industry and decades of poor policies that have neglected our concerns.
"The science is undeniable, let's fix it."
And fuck the T-Rump: 'Releasing the report on Black Friday "is a transparent attempt by the Trump Administration to bury this report and continue the campaign of not only denying but suppressing the best of climate science," said study co-author Andrew Light, an international policy expert at the World Resources Institute.'
Ahead, one hard road to hoe…