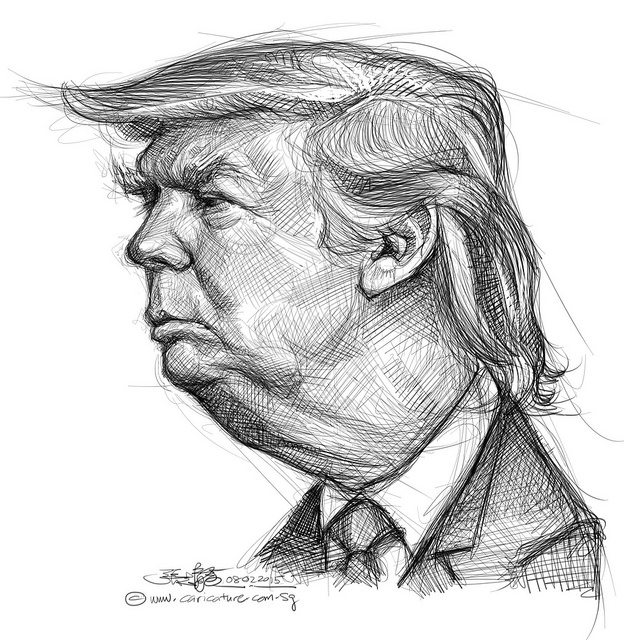 Another Monday here on California's north coast, and another lark of sorrow — the T-Rump's hard-headed, bat-shit-crazy take on that devastating climate-change report from last Friday (HuffPost):
"I don't believe it," he told reporters outside the White House before boarding Air Force One for a flight to Mississippi.
The president also attempted to place the blame for global warming on China, Japan and "all these other countries."
"Right now, we're the cleanest we've ever been," he claimed.
You couldn't make this shit up…yet the terrible danger…
(Illustration: Donald Trump, 'Basic Shapes,' by caricaturist/illustrator Chong Jit Leong, found here).
If you're not familiar with the study (the T-Rump's people tried to bury the news of its release), NPR has a good over-view, with this serious note:
The report is required by Congress every four years and is issued by 13 federal agencies and the U.S. Global Change Research Program.
This one marks the most detailed and blunt assessment yet of the dangers of unchecked global warming.
"Climate change is happening here and now," co-author Katherine Hayhoe of Texas Tech University told Weekend Edition Saturday.
"It is affecting all of us no matter where we live. And the more climate changes, the more serious and even more dangerous the impacts will become."
The study's findings carry a heavy-dose of down-to-earth concepts of blood and treasure lost, and a sense time's way-quickly churning away, fleeting time to avert, or at least minimize, the worse parts of 'global warming.' — losing our environment should be far-and-away the number-one concern to everybody. One major problem is right now,, of course, climate change is just the worse of a shit-list of concerns..
Nobody on earth can run from what's actually coming, and in cruel-irony, has actually already arrived.
And: 'The report, like most climate studies, offers different scenarios for how fast the climate will change and by how much. The bigger the change, the greater the consequences for everything from heat waves to hurricanes.'
Only two noted narrative-schemes listed — one a most severe view, in which the T-Rump's people way-hinder with little or no effort made to cut emissions, and a 'more moderate scenario' of optimism, with 'more aggressive actions to reduce emissions.' One in which we die, the other we live.
This from Discovery last night:
In fact, adaptation is no mere afterthought — it comes up time and again in the report, including in the title.
Why is it important to prioritize both mitigation and adaptation?
Most obviously, climate changes like hotter heat waves, drier droughts, rising sea levels, intensifying storms, and nastier wildfire seasons, are already very much part of the new normal on our planet.
…
There's another reason why the National Climate Assessment emphasized adaptation as much as mitigation of greenhouse gases: Even if we were to magically slash emissions to zero overnight, wildfire and other climate change impacts would not quickly cease.
In fact, the climate would continue to change for quite some time.
However, in all appearances, a worst-case scenario is approaching — via a New York Times analysis from yesterday:
"This report will be used in court in significant ways," said Richard L. Revesz, an expert in environmental law at New York University.
"I can imagine a lawyer for the Trump administration being asked by a federal judge, 'How can the federal government acknowledge the seriousness of the problem, and then set aside the rules that protect the American people from the problem?' And they might squirm around coming up with an answer."
…
That view is supported by Steven J. Milloy, a member of Mr. Trump's E.P.A. transition team who runs the website junkscience.com, which is aimed at casting doubt on the established science of human-caused climate change.
"We don't care," he said.
"In our view, this is made-up hysteria anyway."
…
"This moment tells you that there is a difference between the White House and the president," said Douglas Brinkley, a presidential historian at Rice University.
The White House has "lawyers and policy experts that don't want to go down in history as falsifying data."
In light of Friday's report, Mr. Brinkley drew a parallel between Mr. Trump's statements on climate science and President Lyndon B. Johnson's false statements to the American public a half-century ago about the Vietnam War.
"Johnson used to tell people everything was going well in Vietnam, and then you'd turn on the news and see the mayhem," he said.
"It was this giant disconnect."
Yet, is there any connecting rod within the T-Rump?
This afternoon, the orange-tinted malefactor exposed the sad illusion — in a rally in Tupelo, Mississippi, for nasty, ignorant Republican Cindy Hyde-Smith, the Trump fostered the guise of a weird-ass moron — Tupelo is Elvis Presley's birthplace (Newsweek):
"Tupelo, home of thousands of hard-working American patriots, and the proud birthplace of the king of rock n' roll, Elvis. Elvis! We love Elvis," Trump said in an appearance alongside Hyde-Smith.
"I shouldn't say this, you'll say I'm very conceited because I'm not but other than the blonde hair, when I was growing up they said I looked like Elvis.
"Can you believe it? I always considered that a great compliment."
Somehow, Hyde-Smith is an even more dumber, and racist version of the T-Rump. She's in a run-off election with Democrat Mike Epsy. Voters go to the polls tomorrow.
The T-Rump's shit-words reminded me of the Counting Crows tune, "Round Here," off their best-ever album (and their first), "August and Everything After" (1993). T-Rump's story is way-way worse, though, and not real sad one either:
Maria came from Nashville with a suitcase in her hand
She said she'd like to
Meet a boy who looks like Elvis.
And she walks along the edge of where the ocean meets the land
Just like she's walking on a wire in the circus
She parks her car outside of my house
And takes her clothes off
Says she's close to understanding Jesus
Snd she knows she's more than just a little misunderstood
She has trouble acting normal when she's nervous
There's always tomorrow…until there's not…