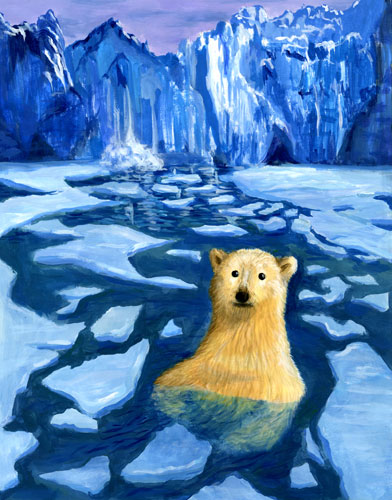 (Illustration found here).
Climate change issues can't be shouted enough — another nasty view of our rapidly changing world:
New studies and reports issued this week at a major Earth sciences conference paint one of the bleakest pictures yet of dramatic warming in the Arctic and Antarctica.
Alaskan scientists described to The Associated Press Tuesday never-before-seen melting and odd winter problems, including permafrost that never refroze this past winter and wildlife die-offs.
The National Oceanic and Atmospheric Administration Tuesday released its annual Arctic report card, detailing the second warmest year on record in the Arctic and problems, including record low winter sea ice in parts of the region, increased toxic algal blooms, which are normally a warm water phenomenon, and weather changes in the rest of the country attributable to what's happening in the far North.
"The Arctic is experiencing the most unprecedented transition in human history," report lead author Emily Osborne, chief of Arctic research for NOAA, said Tuesday.
What's happening is a big deal, said University of Colorado environmental science program director Waleed Abdalati, NASA's former chief scientist who was not part of the NOAA report.
"It's a new Arctic. We've gone from white to blue," said Abdalati, adding that he normally wouldn't use the word "scary" but it applies.
…
But it's not just the Arctic. NASA's newest space-based radar, Icesat 2, in its first couple of months has already found that the Dotson ice shelf in Antarctica has lost more than 390 feet (120 meters)in thickness since 2003, said radar scientist Ben Smith of the University of Washington.
Another study released Monday by NASA found unusual melting in parts of East Antarctica, which scientists had generally thought was stable.
And our self-made environment waits not…