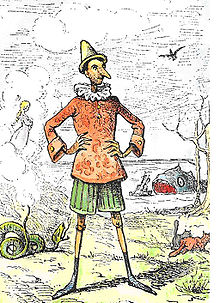 (Illustration: 'Pinocchio,' by Enrico Mazzanti (1852-1910), found here).
Overcast-gray skies this late-afternoon Monday here on California's north coast — deep-cloudy just about all day, but the NWS forecasts 'Widespread Rain' (1-3-inches at least) with 'Strong Winds' (35-to-50-mph, gusts to 60 in some spots) starting tonight and flowing into Wednesday — winter be here.
Meanwhile, today in Sacramento and also in damp-like weather, Gavin Newsom took over as California governor and will thusly-continue moving the state further out of the T-Rump's sphere of illusion — 'at a time when much of California openly embraces Newsom's more liberal program for this expensive, unequal state.' (Washington Post:
What? 'expensive, unequal'
During Newsom's inaugural address, as an optic epic, his 2-year-old son, Dutch, wandered about the stage carrying a blanket and pacifier, a cute-soft reminder of reality (CNBC):
"Here in California, we will prove that people of good faith, and firm will can still come together to achieve big things," Newsom said.
"We will offer an alternative to the corruption and the incompetence in the White House. Our government will be progressive, principled and always on the side of the people."
…
Early in his remarks, Newsom thanked House Speaker Nancy Pelosi, D-Calif., but then added that "there is an administration in Washington that is clearly hostile to California values and California's interests."
…
The new governor called the nation's most populous state "a giant engine of commerce — the most creative and entrepreneurial in the world."
He also sought to contrast the blue state's values with division elsewhere in the country.
"At a time when so much of America is divided, we are united," Newsom said.
"Our people are big-hearted [and] fair-minded, and those qualities are more vital now than ever."
Good sentiments, but how much real..?
And reality-based facts is what's on the line.
Also today, the T-Rumps's White House announced the turd will be blubbering a speech tomorrow night about "the Humanitarian and National Security crisis on our Southern Border" — bullshit alert, Will Robinson. The TV folks are worrying about whether they should let the humongous liar get control of the networks.
Greg Sargent at the Washington Post this afternoon:
The networks cannot feign innocence about the near-certainty that Trump is going to use this speech to lie relentlessly about immigration and the border.
It is now a mostly accepted fact among many journalists and producers that Trump's use of disinformation, as distinct from conventional political lying — in particular, his endless repetition of lies and distortions after they have been debunked — has combined with his relentless attacks on the media's legitimacy into something that poses special challenges to the institutional role of the press.
This did not achieve sufficient acceptance during the 2016 campaign. (I tell this broader story in my new book.)
In a sense, this decision by the networks is perhaps best seen as a preview of whether the news media will reevaluate its treatment of Trump as we head into the 2020 campaigns.
In an important Twitter thread, New York University journalism professor Jay Rosen makes a good case that the big news organizations and media professionals urgently need to overhaul their approach to campaign journalism from the bottom up.
This requires a recognition of the unique challenges that Trump's innovations — full-saturation disinformation with the deliberate end of corrupting our political discourse and democracy — pose in the context of their imperative of maintaining a posture of objectivity and neutrality, which Rosen dubs the "production of innocence"…
…
Perhaps some form of prominent, aggressive and real-time fact checking could do the trick.
But no one should pretend to be unaware that simply airing the speech will be tantamount to giving Trump a platform to spew what will certainly amount to dozens of unfiltered lies into the political bloodstream, which would send a truly awful signal of what we can look forward to heading into 2020.
First there's 2019 — yet the odds continue (MarketWatch just awhile ago): .'Representatives for ABC, CBS, CNN, Fox News Channel, Fox Business Network, MSNBC and NBC confirmed plans to air Trump's address Tuesday night. Trump tweeted that he will speak at 9 p.m. Eastern.'
WTF — Vox on the idiotic hypocrisy:
And while there no doubt are various innovative coverage formats that could be used to fact-check the speech or otherwise detract from Trump's tendency to deliberately misinform the public, there is no indication that any of them are going to be used.
Instead, millions of people will see the president lying and misleading in various ways with no rebuttal, and at least some of them will come to believe some of the false things he says.
The question of whether, or how, to treat Trump differently from other presidents in light of his relentless dishonesty is an interesting one.
But it's noteworthy that just a few years ago, the networks were comfortable refusing to air a primetime Barack Obama speech about immigration on the grounds that the topic was "overtly political."
Shame-a-stain on journalism.
But the time it is changing, and people change in the face of a liar: 'Trump's rating fell in 43 states in December, the survey, which was updated last Friday, shows, and six of the seven biggest drops from the previous month were in states that Trump won in the 2016 election.'
Not only the rank-and-file, but those new Congresscritters have uprooted the old, white shit — like Rep. Rashida Tlaib, saying she 'always speak truth to power' when she exclaims '"…because we're gonna go in there and we're going to impeach the motherfucker,"'
In adding to the arsenal, last night Samuel L. Jackson — synonymous/author with-and-of the Mofo motif — jumped into the fray with a dash of righteous motherfucking, tweeting:
@RashidaTlaib I just wanna Wholeheartedly endorse your use of & clarity of purpose when declaring your Motherfucking goal last week.Calling that Muthafukkah a Motherfucker is not an issue,calling that Muthaffuqah President Is!!!#motherfuckeristoogoodtowasteonthatcankersore
And we're not quite a week into the new year…