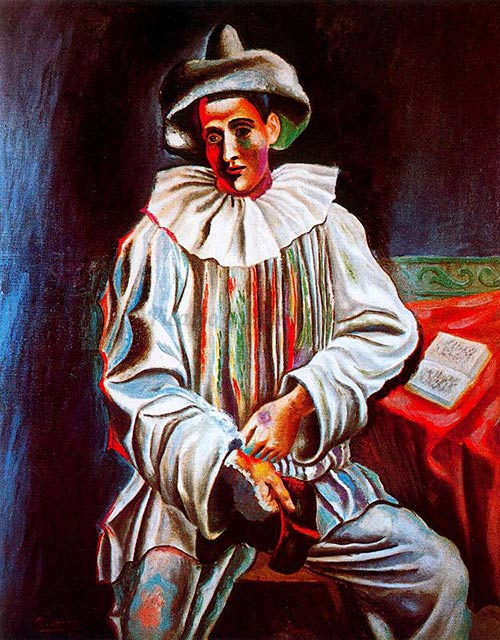 (Illustration: Pablo Picasso's 'Seated Pierrot,' found here).
As predicted by the NSA: Early-afternoon Tuesday here on California's north coast can be summed-up in two words — rain and wind, though so far, seemingly more wind than rain.
Maybe dry on Thursday, but we'll just wait and see…what else's to do?
Farther adrift, life may not be as fearsome as we think when there's a strong, youthful shout-out of the truth (The Hill this morning):
Parkland, Fla., school shooting survivor and outspoken gun control activist David Hogg slammed President Trump on Tuesday for saying he may "call a national emergency" to build his long-desired U.S.–Mexico border wall.
"If we really want to start talking about the national emergency like the president likes to talk about, 40,000 Americans dying annually from gun violence is a pretty damn good one to start off with," Hogg said during an appearance on CNN on Tuesday.
The kid was responding to T-Rump's bullshit "crisis on our Southern Border," a non-problem he's supposed to talk about tonight in an Oval Office speech, supposedly basis for the federal government shut-down we're experiencing — although it's been reported he's not expected to declare a national emergency (origin of Hogg's retort), the biggest concern to anybody with sense is all the freaking-fucking lying.
TV networks are concerned about the T-Rump's constant need to lie.
View on this dilemna from ivory-towered New York Times this morning, an amnesia-influenced nuance on print-vs-broadcast journalism — newspapers are just as guilty as networks in carrying a shitty-virus of the 'Both Sides Do It' disease:
What is normally an easy decision for network executives — granting airtime to a sitting president to address the nation — led to hours of hand-wringing by journalists and producers wary of giving a platform to a president whose public remarks, particularly on immigration, have been marked by untruths and misleading claims.
Liberals wondered why news outlets would defer to a president who, hours earlier, had taken to Twitter to label journalists as "the Enemy of the People," "the real Opposition Party" and "crazed lunatics."
Eventually, ABC, CBS, NBC and Fox agreed to a request by Mr. Trump for the airtime, forgoing their 9 p.m. entertainment shows — and millions of dollars in associated ad revenue — for his Oval Office appearance, in which he plans to address the government shutdown.
The networks said on Tuesday that they would also broadcast a response from Democratic leaders, including the House speaker, Nancy Pelosi, and Senator Chuck Schumer of New York.
The decision was controversial and predictable at the same time.
Executives at the major networks, who spoke on the condition of anonymity to describe sensitive private discussions, cited the government shutdown — and the millions of Americans affected by it — as the primary reason for airing the president's remarks.
This was also Mr. Trump's first formal request that the networks carry a prime-time address, a rarely used arrow in the presidential quiver.
…
Stephen Colbert, the late-night host, went so far as to criticize his own employer for agreeing to broadcast the speech.
"My network will be carrying Trump's Wall speech live," he wrote on Twitter.
"So at 9pm Tuesday, tune into CBS to See B.S."
…
"There are so many sources of news now, but the networks' policies haven't changed very much," said Andrew Heyward, a former president of CBS News.
"One very attractive option would be to promote the fact that it's live with a crawl, and then if it turns out to be newsworthy, you can do a special report.
"You then pull selected sound from it and give it context, as opposed to having to get trapped in something and having to react to it."
Mr. Trump's aides have told networks to expect the president to speak for eight minutes.
The debate over whether it was responsible to air the speech is likely to last much longer.
That debate should have never happened to start-off, and it really should've been way-settled before now. The entire media coverage of reality and facts needs to be bigly-overhauled — of course, journalism didn't have a precedent for covering such an unrepentant. nasty-ass, habitual liar, especially one in the Oval office. There's been asshole-liars before, but way-nothing compared to the T-Rump and his crowd.
Yet even this small-bit of anxiety about the truthfulness of our president on live television is a reveal of the total-fucked-up level of our 'new normal' in dealing with such a repugnant situation. But the time is now.
Jamil Smith at Rolling Stone earlier today:
We don't know precisely what he'll say, because the White House won't tell us.
But Trump will lie to us, that much can be presumed.
It's a sucker's bet that his address will be, as Democratic leaders Nancy Pelosi and Chuck Schumer said in a joint statement, "full of malice and misinformation."
(They plan to deliver a joint rebuttal speech after Trump is finished.)
Throughout the decades of his public life, Trump has had an adversarial relationship with facts that are inconvenient to his interests.
Trump's entire case for the wall, to the extent that he has bothered to even make an argument, is based on deliberate misinformation.
And his lies about immigration are only increasing in frequency as his presidency progresses.
The decision to air his address live represents a failure of creativity on the part of news executives.
What should have been done, they might ask?
Former Obama senior adviser Dan Pfeiffer, now of Crooked Media, tells Rolling Stone that networks should air it on tape delay with fact-checking on the screen.
Karine Jean-Pierre, MoveOn's chief public affairs officer, agrees.
"The only responsible decision would be to show video of the address after it has happened, not live, with proper fact checks and context," she says.
"Or to reject the request outright, which is what all the networks did when President Obama requested primetime airtime to discuss immigration in 2014."
…
But even Pelosi and Schumer's rebuttal doesn't solve the real problem at hand: news networks playing by the old rules when the president is mocking them aloud.
Trump continues his stress test of this republic and its norms, and the people in charge of our institutions — blinded by their privileges, hopelessly naive or simply incompetent — keep failing us.
Besides, do we really think that this is the last time that he will do this?
Next up: a primetime address on the Mueller witch hunt!
Tune in, America.
Which channel? Every channel.
On pins-and-needles…